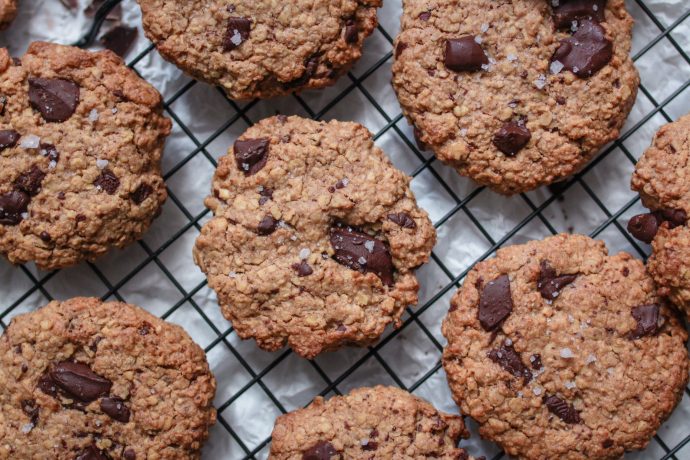 Zu meinen Favoriten hinzufügen!
It's cookie time lovelies! Who is in? Really delicious chocolate cookies are simply irresistible, aren't they. But baking the perfect cookie vegan AND gluten-free is not as easy as you might think. Because the perfect cookie must not only convince in terms of taste. Especially with chocolate cookies, the right consistency is extremely important. For me, the perfect chocolate cookie has to be slightly crispy, but needs to be also a bit chewy and soft in the middle. To get exactly this consistency vegan and gluten-free, I actually needed four attempts. Because first the cookies became too crispy, another time they were even crumbly. Instead of slightly "chewy" they then became too greasy on the third attempt and also lacked taste balance between sweet and salty. But on the fourth try it worked out awesomely. Finally! The result was a chocolate cookie that is delicious all around – perfect taste, perfect consistency. Also important in this recipe is "salt". Do not omit it in any case. Because only in the "triad" of "chocolate, maple syrup and salt", this typical, slightly caramel-chocolatey pleasure unfolds, which you simply want to have with your cookies. I wish you the best cookie enjoyment! All the best, Lea.
Ingredients (approx. 12 Cookies, depending on size)
50 g (1/2 cup) gluten free oats (we grind them to flour for this recipe)

100 g (1 cup) gluten free oat (use "fine" oats, not grinded)

50 g (1/2 cup) ground almonds

30 g (1.05 oz) rice flour

2 tsp. tapioka starch

2 tsp. baking powder

1/2 tsp. cinnamon

1/2 tsp. salt

50 g (1.76 oz) margarine/ vegan butter

130 g (4.58 oz) maple syrup

100 g (3.52 oz) almond paste (I used dark almond paste, but also light almond paste can be used)

50 g (1.76 oz) apple sauce

1 tsp. vanille extrakt

Some sea salt flakes for garnish
Instructions (20 minutes preparation + 15 minutes baking time)
Grind 1/2 cup of oat flakes in a blender to get fine oat flour.

Mix the ground rolled oats, unground rolled oats, ground almonds, rice flour, tapioca starch, baking powder, 1/2 tsp cinnamon and 1/2 tsp salt in a bowl.

Heat margarine in a saucepan and let it melt. Remove melted margarine from heat. Add maple syrup, almond paste, apple sauce and vanilla extract and stir well. Add the liquid ingredients to the dry ingredients and mix everything together well, but briskly. Place cookie dough in fridge and let it sit for about for 15 minutes.

Preheits oven to 180 °C/ 356 °F fan and line a baking tray with parchment paper.

Chop the couverture and fold it into the cookie dough.

Form twelve small balls with your hands and place them on the baking tray. Flatten dough balls with a slightly moistened spoon. Smooth the edges of the cookies with the spoon as well. (Tip: If the cookie dough is too wet to form small balls, add a little more rolled oats).

Bake cookies in preheated oven at 180 °C/ 356°F for approx. 12-15 minutes. The cookies are ready when they start to brown at the edges and are still slightly soft inside.

Remove cookies from oven. Enjoy immediately or simply let them cool down and store them a cookie jar. Before eating, sprinkle the cookies with a little sea salt.
I'm sure, some of you may would like to replace some of the ingredients here. What exactly is possible is difficult for me to answer here. Because it took me four attempts until I succeeded in making these cookies the way I really love them. Baking vegan and gluten-free cookies that turn out really great in both taste and texture is harder than it seems. In my first attempts, the cookies were often too crumbly or too greasy or too crunchy. Because I think cookies should be crispy, but they must have a bit of a "chewy" feel to them. Therefore, I would be very careful to replace individual components or to change weight proportions in the ingredients. But here is a small list of substitution possibilities:
Ground almonds can be replaced with ground hazelnuts.
The dark almond paste can of course be replaced with light almond paste. Cashew butter should also work. You can also use tahini, but that changes the flavor quite a bit, but will also be very tasty.
The vanilla extract can be replaced with ground vanilla. You can also omit vanilla completely and use a bit more cinnamon.
The apple pulp can possibly be replaced with the same amount of mashed banana. I haven't tried this myself yet, but it should work without a problem.
I would not replace the margarine in this recipe with coconut oil, for example. Because it ensures that the cookies get a nice, slightly chewy consistency. I had used coconut oil in a cookie attempt before and the cookies became far too crumbly.
Feel free to substitute the vegan couverture with chocolate drops. It works just fine.
You should not leave out the salt in this recipe. Because it's the combination of "very sweet" and slightly salty that creates this incredibly delicious, typical chocolate cookie treat. I also add a little extra pinch of salt to my cookies before I eat them. It tastes simply delicious.
Difficult to substitute in this recipe are rolled oats, rice flour and tapioca starch. If you find a gluten-free alternative to these, feel free to write me in the comments. I haven't discovered any suitable alternatives here yet. Good luck, enjoy it!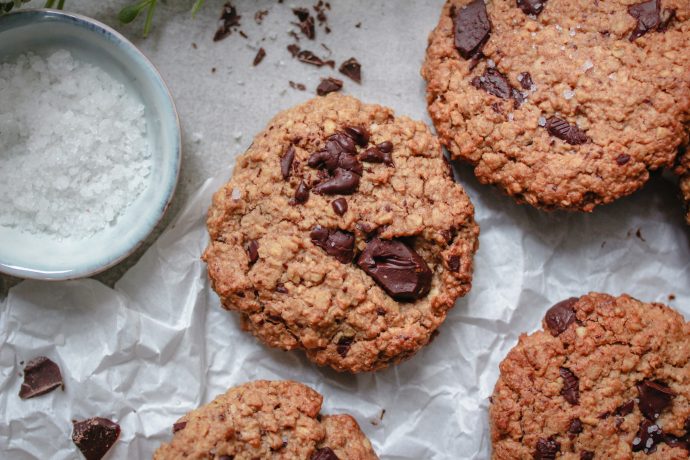 I'm looking forward to your feedback! Write me in the comments below or get in touch via Instagram or Facebook.