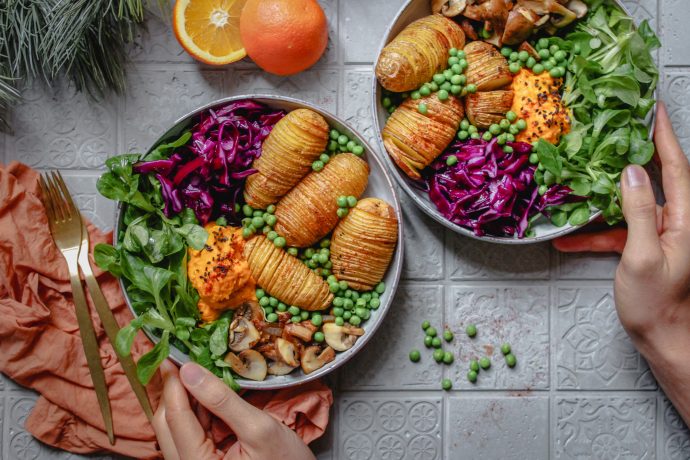 Zu meinen Favoriten hinzufügen!
Let's cook seasonal and create a delicious winter bowl with Hasselback potatoes! Maybe it's not only a "winterbowl", but even a "Christmas Bowl". What do you think? Because this rich and regional bowl not only tastes awesome, but is a real "eye-catcher" with its pretty colors and crispy baked potatoes. Wouldn't it make a great holiday meal?  In case you do not know the term yet: "Hasselback" is the name given to the preparation of potatoes, but also sweet potatoes or pumpkin, where the vegetables are very finely fanned, marinated and roasted in the oven until golden brown. It's extremely delicious and is very easy to prepare. To make sure that the delicious bowl is really seasonal and regional, we use aromatic lamb's lettuce here, which also thrives well during the cold season and is still available fresh from the field. Red cabbage, a fine pumpkin puree, a few crunchy frozen peas and hearty mushrooms tossed in balsamic vinegar make the bowl simply perfect. Of course, you can vary the ingredients according to your taste or choose ingredients that you simply have in stock or as left over. For example, try sweet potatoes instead of classic potatoes, hummus or bean dip instead of pumpkin puree, and salads or leafy greens of your choice. Enjoy and I'm looking forward to your feedback! xoxoxo Lea.
Ingredients (serves 2)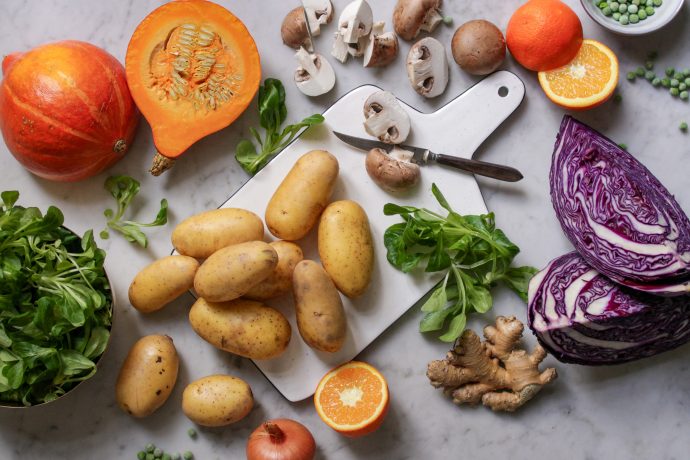 For the Hasselback potatoes
900 g (31.7 oz) small to medium (waxy) potatoes (4-6 potatoes per portion depending on appetite)

1 clove of garlic

3-4 tbsp. olive oil

1 tsp. salt

1 small tsp. cumin

1/2 tsp. paprika powder

1/2 tsp. harissa (or chili flakes or simply pepper)
For the pumpkin puree
300 g pumpkin (type: Hokkaido, weight unpeeled without seeds)

1 tbsp. vegetable oil

1 small tsp. paprika powder

1 pinch of salt

1 tsp. Ras-el Hanout

Optional: 5 g (0.17 oz) fresh ginger, peeled (or a pinch of ginger powder)

1 tbsp. cornflour (can be omitted, but makes the puree somewhat "firmer")

1 pinch turmeric

Salt to taste

Lemon juice to taste

Optional for Garnish: 1 tsp black sesame sees or black cumin seeds
Other Bowl ingredients
200 g (7.05 oz) red cabbage

Juice 1/2 orange or 2 tablespoons apple vinegar/herbal vinegar

1 pinch of salt

250 g (8.81 oz) mushrooms

1 small/half onion (approx. 30-50 g/ 1.05 – 1.7 oz)

1 small/ half clove of garlic

1 small tbsp. vegetable oil

1-2 tbsp. balsamic vinegar

1 tbsp. soy sauce ( or Tamari for a gluten free bowl)

80 g (2.8 oz) frozen peas

2 handfuls of lamb's lettuce
Instructions (25-30 minutes preparation +  35 minutes baking time)
Wash the potatoes thoroughly and fan them finely on a work surface without peeling. For this you should place two wooden spoons on both sides of each potato to prevent a "complete cut".

Preheat oven to 200 °C/ 392 °F fan. Cover a tray with parchment paper.

Peel one clove of garlic. Mix olive oil, salt, cumin, paprika powder and harissa. Press the garlic clove and stir all ingredients.

Place the potatoes next to each other on the baking tray and brush them thoroughly with the marinade. Let the marinade also run into the "compartments"/cuts. Salt the potatoes again and dust with paprika powder.

Bake potatoes at 200 °C/ 392 °F fan for about 35 minutes until golden brown. Depending on the size and variety of the potatoes, the baking time may vary slightly. The Hasselback potatoes are ready when they are nicely golden brown and firm to the bite. The fans should brown nicely, but not burn.

Wash pumpkin, halve, remove seeds and dice 300 g (10.58 oz) pumpkin. Mix the pumpkin cubes with 1 tbsp. vegetable oil, some paprika powder, salt and Ras el-Hanout and put them into a baking tin.

Add the pumpkin cubes to the Hasselback potatoes in the oven at 200 °C/ 392 °F fan and bake simultaneously/parallel with them for about 15 minutes until the pumpkin cubes are soft. Then puree the pumpkin cubes in a blender with a little salt, a small pinch of turmeric, a small piece of peeled ginger, and cornflour. Season the puree with salt and lemon.

While potatoes and pumpkin pieces are roasting in the oven, wash red cabbage and slice finely. Knead (massage) the red cabbage strips with the juice 1/2 orange and a pinch of salt and let it marinate until served.

Cut the mushrooms into cubes. Peel 1 small onion and clove of garlic and dice finely. Heat 1 tbsp. of oil in a frying pan. Sauté onion and garlic cubes briefly. Then add the mushrooms and fry them for 2-3 minutes until they are slightly tender. Deglaze the mushrooms with balsamic vinegar, let it simmer down briefly and season with soy sauce (or salt & pepper).

Defrost peas briefly in very warm water and then drain. Sort the lamb's lettuce, clean and wash thoroughly.

Put lamb's lettuce, marinated red cabbage, fried mushrooms and a large portion of pumpkin puree in two large bowls. Add the Hasselback potatoes and the defrosted peas. Sprinkle black sesame seeds over the mashed pumpkin, sprinkle potatoes with harissa (or paprika powder) and salt as desired. Enjoy!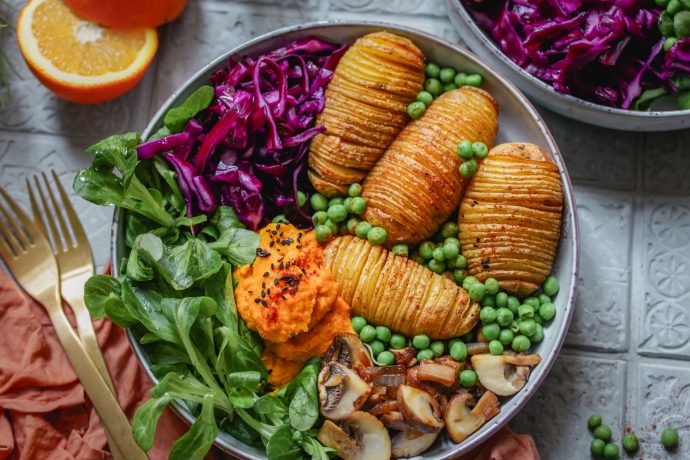 Of course you can vary your Hasselback Winterbowl to suit your taste. Instead of lamb's lettuce, try some finely chopped kale, marinated in apple vinegar or lemon juice. Instead of peas, you can add edamame and instead of pumpkin puree, other dips, especially hummus, go very well with it. Get creative!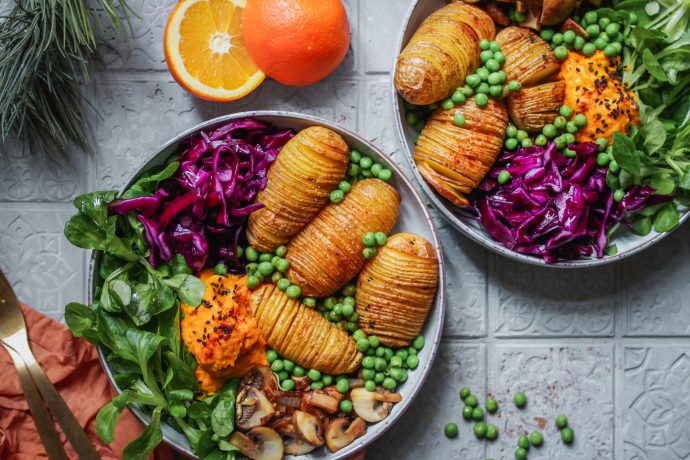 Such a colorful bowl maybe is not the " traditional festive meal ", but I think it is so beautiful that I would serve it also at Christmas dinner or during the holidays. This great bowl is also a great opportunity to use e.g. red cabbage, mushrooms and leafy greens left over from Christmas dinner. Write me which ingredients you have combined. I am very much looking forward to your feedback!