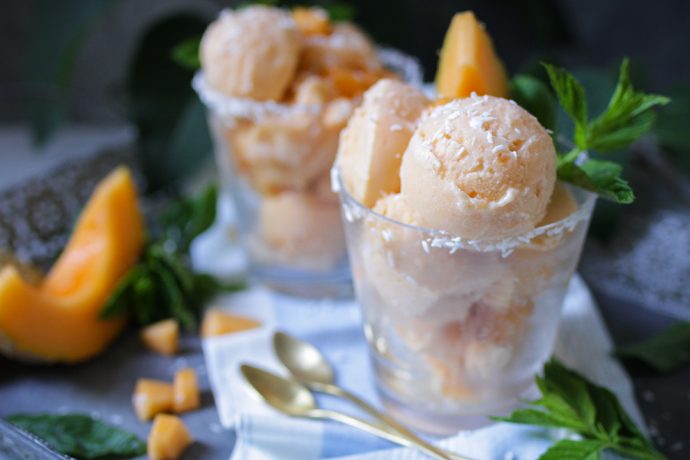 Zu meinen Favoriten hinzufügen!
Sweet, super fragrant Cantaloupe melons with their bright orange flesh are my absolute favorite melons. I can't imagine a summer without them. Especially on hot days they are the perfect refreshment and a nice alternative to watermelons. Cantaloupe melons are a variety of sugar melons and like all other melons, they belong botanically to the genus of the cucumbers and pumpkin plants, are therefore in the classical sense "vegetables" and not fruit. But this is only a small, interesting side aspect. Once bought, it is best to store them in the fridge and, if they have already been cut, also in a storage box or wrapped, as they quickly take on the smells and aromas of other food around them. The perfect Cantaloupe melon has an even net structure, should have no cracks and look greenish-yellow (not grey or too green). If you press on the stalk base, it should give way elastically and smell wonderfully. Found the perfect melon? Then put it in your shopping basket! It's best to keep it in the fridge and enjoy your melon within a week or so. Once cut open you should eat it within 2-3 days. So today I will show you how you can make a cooling, delicious ice cream dessert in no time at all. You just need two Cantaloupe melons, a can of coconut milk, some lemon juice and sweetener of your choice. Now it's time for your melon sorbet! Fruity, fresh and simply wonderful in taste. A unique summer treat that you should definitely try. All the best, your Lea
Ingredients (serves 4)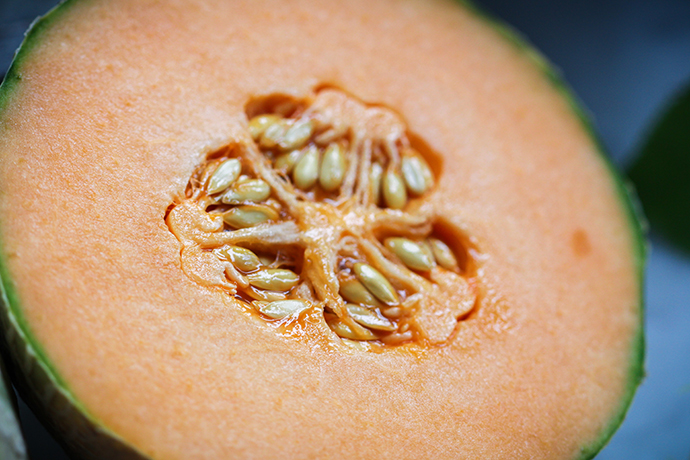 2 Cantaloupe melons (each approx. 700-750 g / 24.7-26.5 oz)

100 g (3.5 oz) Coconut Cream (the solid part of a chilled coconut milk)

2-3 tbsp. agave syrup or rice syrup

1 tbsp. lemon juice

Fresh mint leaves for garnish

Optional: Grated coconut for garnish
Instructions (Freezing the melon overnight + 10 minutes working time + 2 hours in the freezer)
Halve the melons and remove the seeds. Remove the flesh of 1.5 melons from the skin and freeze overnight. Keep the rest of the melon in the fridge. Refrigerate a can of coconut milk so that the fat, solid "cream" is separated from the coconut water.

Put the frozen melon chunks, the coconut cream, 2-3 tbsp agave syrup and 1 tbsp lemon juice in a mixer and blend till smooth. Spread the melon mixture into a mould and refrigerate in the freezer for approx. 2 hours. Before serving, slightly defrost the melon sorbet.

Enjoy melon sorbet with fresh melon pieces (of the remaining melon half) garnished with mint and sprinkled with grated coconut.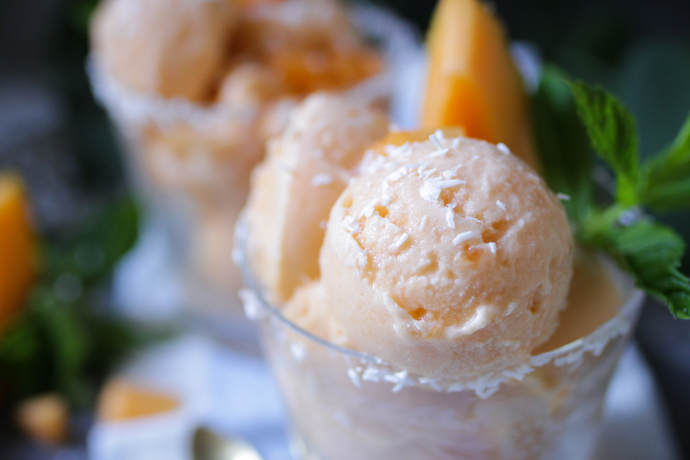 Tip: Freeze the melon chunks in a container, not in a freezer bag, and make sure that they are not completely squeezed together, but rather separated from each other. Otherwise you will later have a large, icy lump of melon, which is very difficult to mix/blend. In some smaller, separated pieces it's easy to blend smooth and creamy.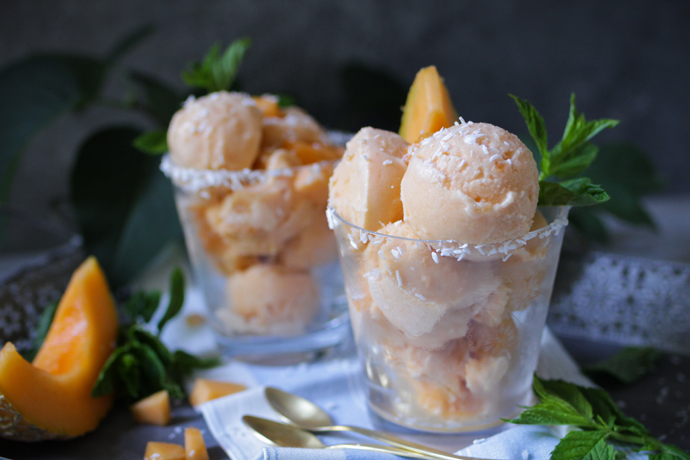 If you like, you can rub the edge of the dessert glasses with lemon juice and turn the so moistened edge of the glass into grated coconut. This looks especially nice. Of course this also works with sugar, if you like.