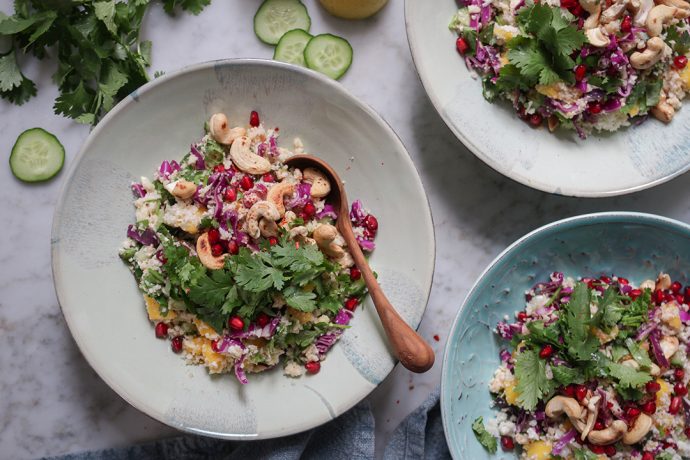 Zu meinen Favoriten hinzufügen!
This super delicious cauliflower couscous dish is the lunch for hot summer days. It comes along with mango, refreshing cucumber, fruity pomegranate seeds and fragrant cilantro. Are you already familiar with cauliflower couscous also known as cauliflower rice? If not yet, you really need to try it. The cauliflower is shredded into rice size and eaten raw. No worries, raw cauliflower is delicate and easily digestible. And ist tastes super good when combined with the right ingredients and a great dressing. I serve it with a super creamy and satisfying peanutbutter sauce. This tastes so good and satisfying. Looking forward to your feedback, enjoy summer, yours Lea
Ingredients (serves 2-3)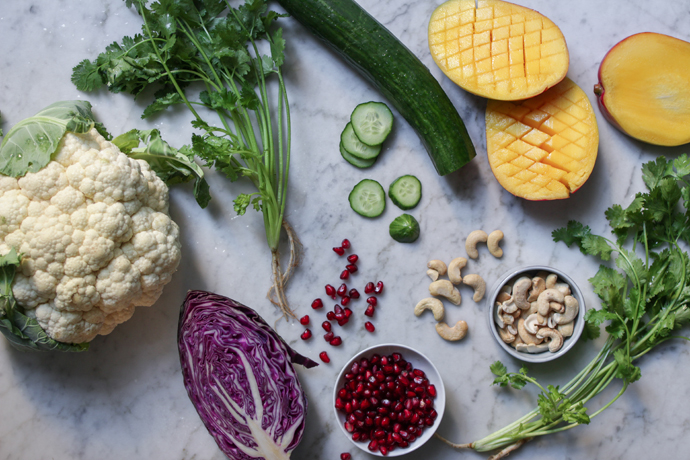 400 g (14 oz) cauliflower (a small head)

3 tbsp. lemon juice

Sea salt

1 mango

120-140 g (4.2-4.9 oz) cucumber (half a small one)

150-180 g (5.2 – 6.3 oz) red cabbage (oder chinese cabbage or radiccio)

60 g (2.11 oz) cashew nuts (or peanuts)

A handful of fresh cilantro

Optional: 70 g (2.4 oz) pomegranate seeds for garnish
For the dressing
1-2 tbsp. peanutbutter

2 tbsp. rice vinegar

2 tsp. light soy sauce

2 tbsp. lemon juice

Chilli flakes to your liking

3-4 tbsp. water
Instructions (15-20 minutes)
Wash cauliflower, remove leaves and shred it to a rice size in your blender. Mix the cauliflower couscous with 3 tbsp. lemon juice and a pinch of sea salt.

Dice the mango. Remove the seeds from the cucumber (I halve the cucumber and cut out the seeds slightly wedge-shaped) and dice. Wash the red cabbage and finely cut/chop. Wash and chop the cilantro

Fry the cashew nuts in a pan without fat and lightly salt.

In a large bowl mix all the ingredients (except the cashew nuts).

Mix together all the ingredients for the dressing. Season the dressing to your taste with soy sauce and lemon juice. Add water to get the desired consistency (I added 4 tablespoons of water).

Mix the dressing with the cauliflower couscous and place it in two-three bowls. Garnish the cauliflower-couscous with plenty of cilantro and serve with the roasted cashew nuts. Sprinkle the cauliflower couscous with lemon juice to your taste and sprinkle chilli flakes over the dish.