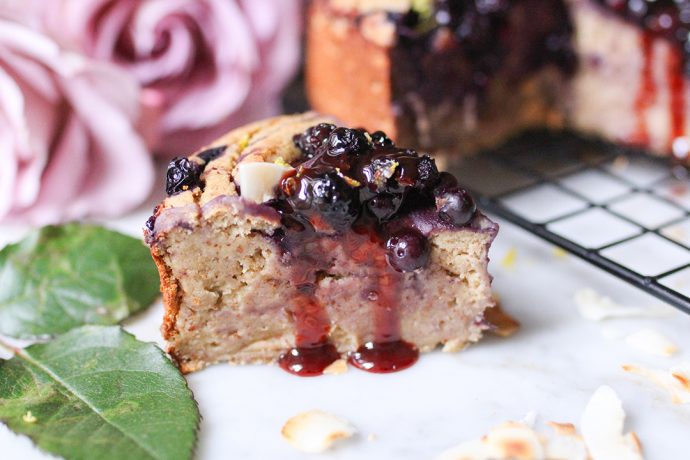 Zu meinen Favoriten hinzufügen!
It's cake 'o clock on the blog. Today I'll show you a very special cake recipe. We are going to bake this awesome and creamy chickpea-almond-cake. IT's one of my favorite baking recipes as it is creamy and sweet but at the same time gluten- and soy free. And only dates and coconut sugar are used for sweetening. So you'll not only get a cake the whole family will love, but also a healthy one. For the creamy consistency that reminds me a classic cheescake, I use cooked chickpeas that I mix with oats and grated almonds. You'll see it tastes perfect. I prefer this to baking with chickpea flour as a certain slightly bitte taste will always remain using chickpea flour. So, look at this beauty.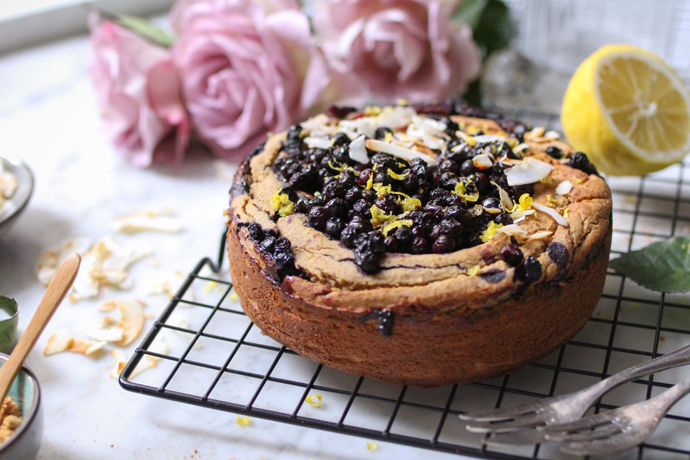 So, stay healthy, fit and in a good mood enjoying this super creamy and fruity cake. Oh, and please don't forget to write me about your thoughts on the recipe and how it worked out. Looking forward to your feedback, sincerely yours Lea

Ingredients for a small springform pan (serves 8)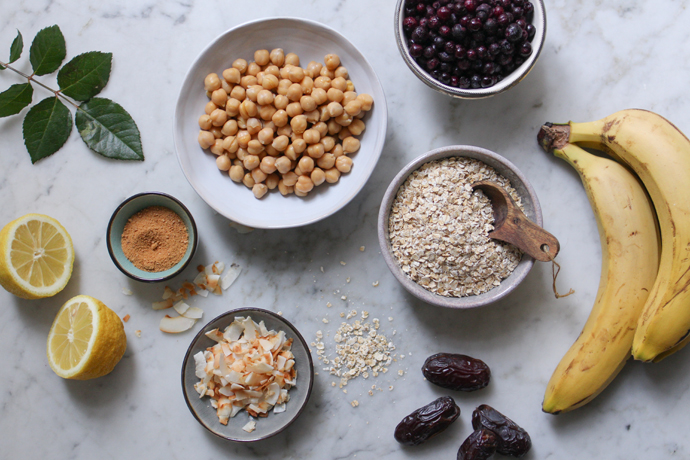 100 g (1/2 cup) oats

200 g (7 oz) cooked chickpeas (about 1 can)

1 ripe banana

200 ml (1 cup + 2 Spoons) plantbased milk (e.g. almond milk, soy or oats milk)

50 g (1/3 cup) grated almonds

2 tsp cinnamon or a tsp vanilla extract

3 soft, pitted Medjoul dates

2 tsp baking powder

1 tbsp lemon juice

Margarine or coconut oil for greasing the springform pan

70 g (2,4 oz) frozen blueberries (or you can try frozen raspberries as well)

1 tbsp coconut sugar

Optional: date syrup for drizzling the cake

Optional: Lemon zests from one organic lemon

Optional: slightly roasted coconut flakes for garnish
Besides, you'll a small springform pan 16 cm x 7 cm (approx. 6.2 x 2.7 inches)
Instructions (20 minutes preparation time + 35 minutes baking time)
Preheat oven to 180 °C (356 °F) circulating air.

Finely grind 1/2 cup oats in a blender/mixer. Rinse the cooked chickpeas under running water and add to the oats flour. Peel 1 banana, break into pieces and also add to the blender. Pour the plantbased milk on top and puree the ingredients till smooth. Add 1/3 cup grated almonds, 2 tsp. cinnamon and the pitted Medjoul dates and puree again. Add 2 tsp. baking powder to the mixture, drizzle with 1 tbsp. lemon juice until foamy and mix well again.

Open the springform pan, place a sheet of baking paper over the base and close the springform pan. Shorten the baking paper outside using scissors. Grease the inner edges of the springform pan. Spread the dough into the springform pan and create a small hollow in the middle with a spoon, into which we will later add the blueberries.

Bake the cake dough at 356 °F in the preheated oven for 35 minutes. After 15 minutes baking time, briefly remove the pan from the oven, spread with you frozen blueberries, sprinkle with 1 tbsp. coconut sugar and finish/continue baking the cake.

After a total baking time of 35-38 minutes, remove the cake from the oven and allow to cool briefly. Using a sharp, thin knife, remove the cake from the side wall of the mould and carefully open the springform pan.

Serve the deliciously juicy cake sprinkled with date syrup and lightly roasted coconut flakes (simply brown the flakes gently in a pan without fat for a few minutes).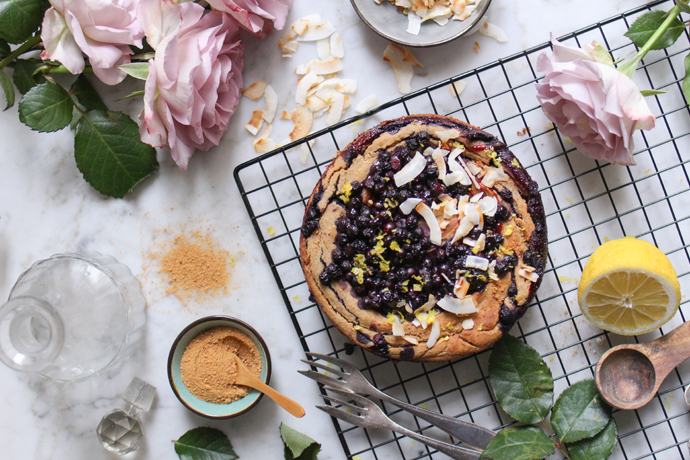 Super creamy, super sweet, but delicious and satisfying at the same time. Enjoy!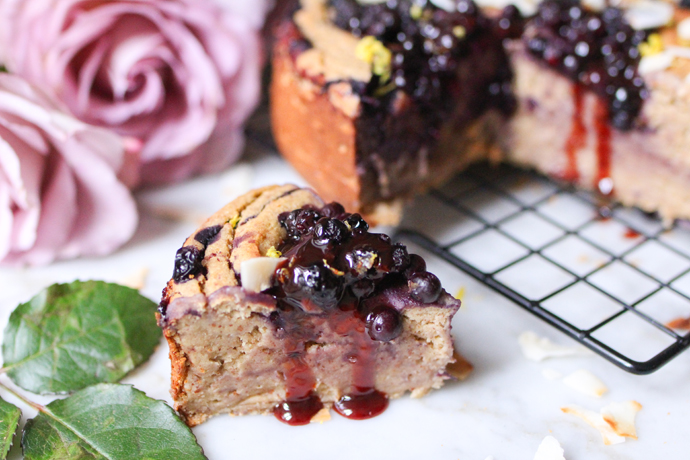 Additionally, I garnished the cake with some zest of an untreated organic lemon. Simply sprinkle over the cake at the end. That gives it a great lemony note!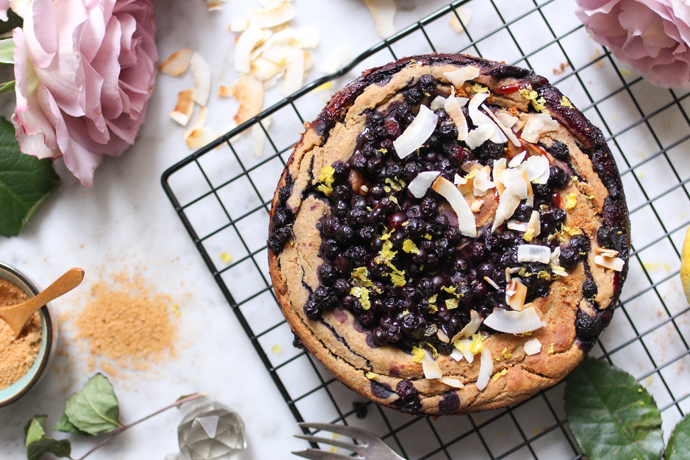 The cake becomes wonderfully firm, but still stays creamy soft and super juicy on the inside. Its consistency is reminiscent of a classic cheesecake.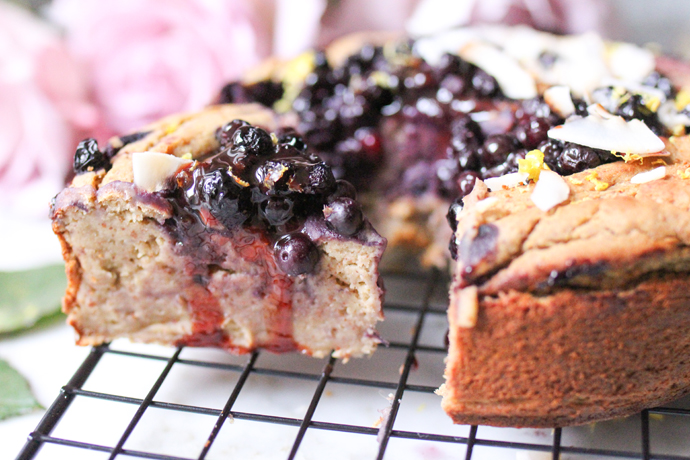 I'm looking forward to hearing from you. All the best, Lea.