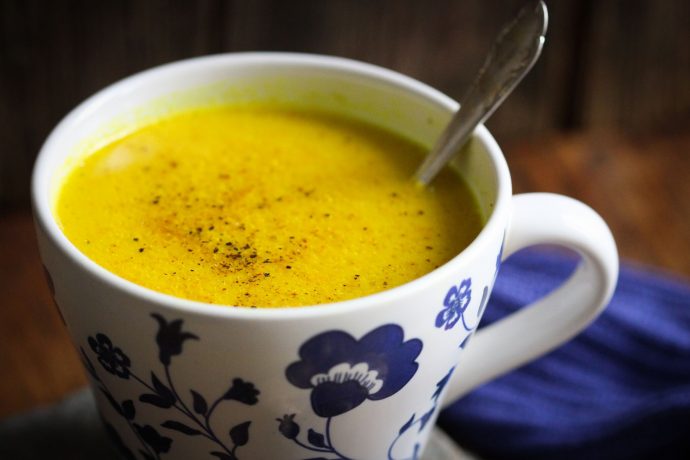 Zu meinen Favoriten hinzufügen!
Turmeric is one of the most significant and versatile remedies in Indian and Chinese medicine. The strongly yellow-orange coloring root is also called yellow ginger. I sometimes use turmeric to give homemade pasta, spaetzle or stirred tofu a nice golden color and I love its taste in currys of all sorts. But turmeric can do so much more!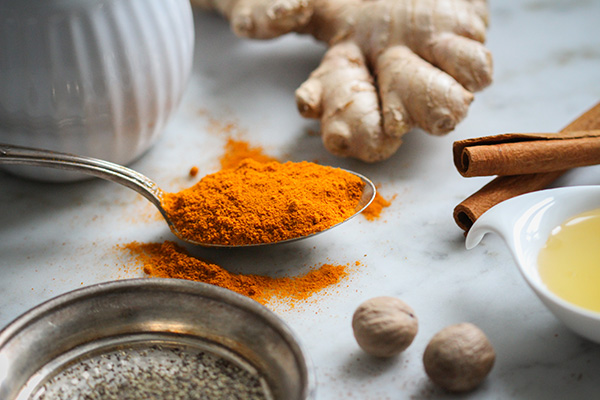 For example, try turmeric in the form of Golden Milk! For centuries, ayurvedic teachings have called Golden Milk a particularly healing, stimulating and cleansing drink. Golden milk has a strong anti-inflammatory effect, especially in the joints. In addition, Golden Milk strengthens the immune system and stimulates liver function, so supports the body in the purification and has an antioxidant effect. I really wanted to try that out and experienced a real wow-effect: Not only did I wonder how delicious golden milk tastes, but at the same time I felt very awake, well and clear. An incredible feeling and a great taste that makes you addicted! Try it out and tell me about your experiences!

Ingredients (serves 1-2)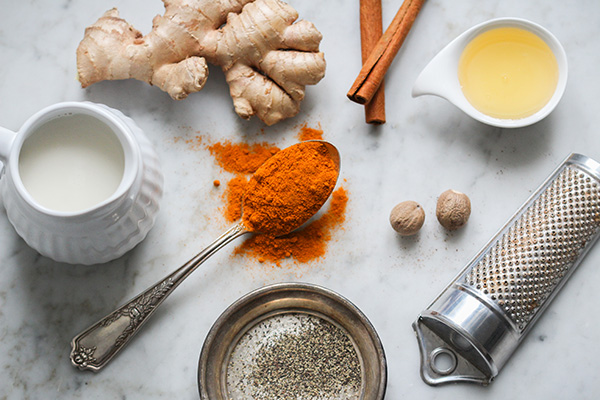 1 tbsp tumeric

120 ml (0.5 cup) water

A thumb-sized piece of ginger | 15 g/0.5 oz

A dash of freshly grated nutmeg

1-2 tbsp agave syrup (or rice or maple syrup)

A pinch of black pepper | about 1/4 tsp

A pinch of cinnamon

1 tsp coconut oil

350 ml (1.5 cups) plantbased milk (I recommend almond milk or rice milk)
Tip: Golden Milk is a drink with a healing, anti-inflammatory effect. The Golden Milk stimulates your liver activity and significantly supports the immune system of your body. The beverage should be prepared with the appropriate high-quality ingredients as possible in organic quality and still mineral water and an additive-free plant milk, so that the effect of the drink optimally unfolds. The Golden Milk has a long-term effect both physically and mentally.
Instructions (15 minutes)
Put 1 tbsp turmeric powder in a saucepan and pour in 120 ml of water. Mix turmeric with the water and heat. Peel the piece of ginger and add it with a ginger grater in the slowly thickening liquid. Also add a large pinch of nutmeg to the ingredients. Simmer the liquid while stirring until an aromatic fragrant paste has formed. Fill the paste into a small bowl. The amount gives about 1 tbsp of paste.

Pour 350 ml almond milk or another plantbased milk into a saucepan and heat. Stir the turmeric paste into the milk with a whisk. Add 1-2 tbsp of agave syrup, a pinch of cinnamon and the native coconut oil, stir and simmer the golden milk for another two minutes. Add a large pinch of black pepper to the milk and serve it hot and enjoy.
Good to know: For some people, 1 tablespoon of paste on 350 ml of plant milk may be a bit too strong at first. So start with a half or a small tablespoon turmeric paste. If the golden milk is once too strong, then you can simply add a little more plant milk.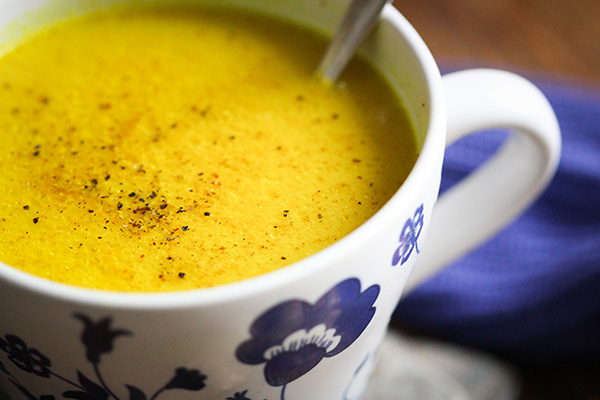 Tip: If you do not use all the paste, so mix the plant milk with a little less turmeric paste, you can store the rest of the paste in the fridge covered in a small bowl for about 5-7 days and use later.