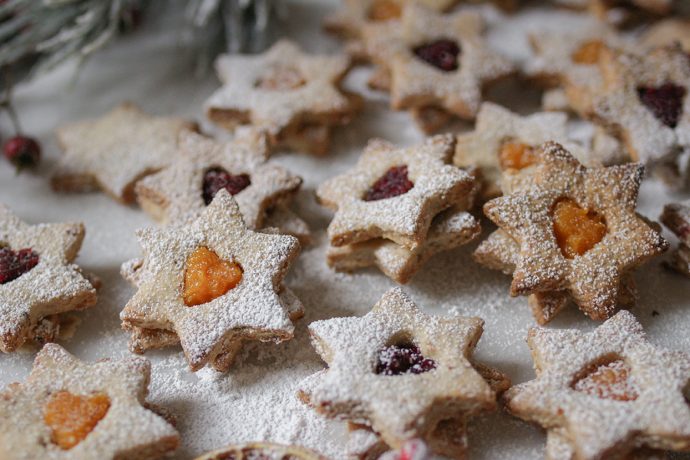 Zu meinen Favoriten hinzufügen!
These super delicious vegan cookies have a lot of different names in Germany. It simply depends on where you live. Most Germans call them "Spitzbuben" (what literally translated would mean "rascals" – no idea why, but maybe they are so incredible delicious nobody can refuse to grab one of these little bastards). You can also find them named "Hildabrötchen", "Linzer Cookie" or "Terrace Cookie" and even "Johannes-Cookie" and I don't have a clue where all these names stem from. But they all mean the same damn delicious cookie: Its a kind of sandwich cookie filled with jelly and dusted with icing sugar. They are so famous in Germany that you hardly find any dish of Christmas cookies without them. So in case you love cookies, this is for you. It's an easy recipe and a simple to handle dough with a baking time of about 10 minutes per baking tray. So, let's start celebrate Christmas time with the most delicious sweets. Enjoy, yours Lea.
Ingredients for 28 Double-Cookies (56 single cookies/3 baking trays)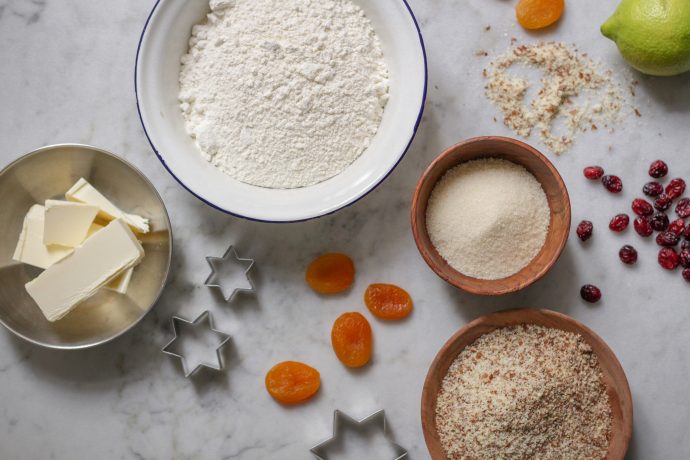 350 g (2.5 cups) (spelt) flour

100 g (3.5 oz) ground almonds

100 g (3.5 oz) cane sugar

1 pinch of salt

1 tsp. vanilla essence

Zests of one organic lemon + 2 tsp. lemon juice

170 g (5.9 oz) margarine

25 ml (5 tbsp.) plantbased milk

1 tbsp. soy yoghurt

2-3 tbsp. icing sugar for dusting
For the apricot filling
100 g (3.5 oz) dried apricots

2 tbsp. rice syrup or agave syrup

1 tbsp. water
For the cranberry filling
100 g (3.5 oz) dried cranberries

2 tbsp. rice syrup or agave syrup

1 tbsp. water
Good to know: One of the two fruit fillings is enough for all cookies. So make either the apricot or the cranberry filling. I didn't make smaller portions of the fruit fillings, because I can't do that with my blender. If the volume is too small, the blender can no longer grasp and purée it properly. If you still make both fillings, you can use the remaining fruit filling as a jam. Delicious! You can also use any vegan jam of your choice – raspberry jelly, for example, also tastes great. Or you can bake the double portion of the cookies, which is of course always a good idea 🙂
Instructions (25-30 minutes preparation + 40 minutes cooling the dough + 3 x 10 baking time for 3 baking trays)
Mix and knead together spelt flour, ground almonds, cane sugar, a pinch of salt, vanilla extract, the peels of half a lemon and 2 teaspoons lemon juice, margarine cut into pieces and 25 ml plant drink (yes, very little). Add 1 tbsp soy yoghurt while kneading.Let the dough sit for about 40 minutes in the fridge.

Meanwhile, prepare the filling. Puree the dried soft apricots with 2 tbsp rice syrup or agave syrup and 1 tbsp water in your blender. For the cranberry filling, follow the same procedure, using just a little more water.

Preheat oven to 180 °C/  356 °F fan. Cover a baking tray with parchment paper. After the resting period, roll out the dough and cut out the forms (one form with and one without hole(s)). The recipe makes 3 trays of cookies, which I put in the oven one after the other.

Bake the cookie at 180 °C/  356 °F fan for no longer than 10-12 minutes.

Put on each cookie bottom a tsp. of apricot or cranberry paste (or any jam of your choice), press on the second halves on the cookies and allow to cool.

Dust the vegan Spitzbuben cookies with icing sugar and keep them in a biscuit tin. Separate the individual layers with parchment paper and also cover the biscuits in the tin with parchment paper as the last layer. This way the cookies remain wonderfully tender and fine for at least 2-3 weeks.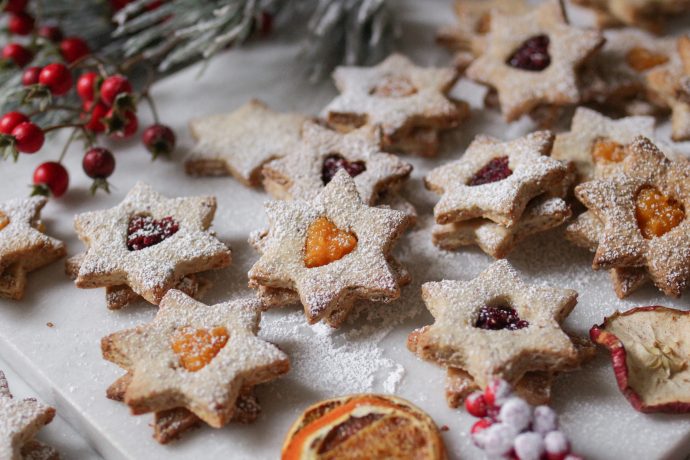 Tip: If you dust the cookies with icing sugar, the icing sugar will of course also fall on the jam filling and you can see that. After a while, however, the filling absorbs the sugar and you don't see it anymore. Alternatively, you can dust the top layer cookies with icing sugar first and then carefully place them on the bottom cookies with the fruit filling. Just as you like it.