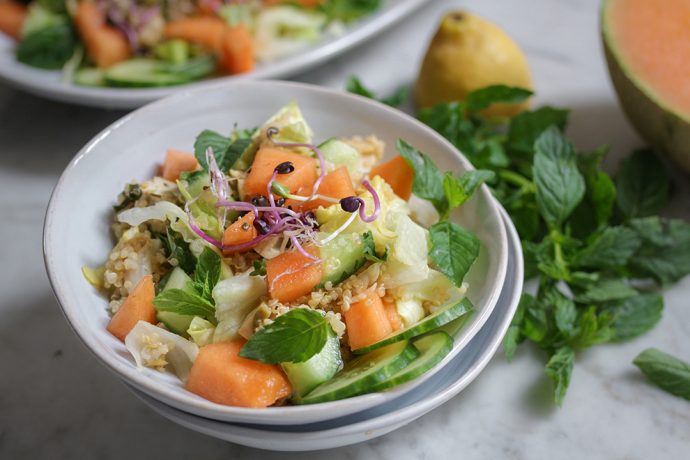 Zu meinen Favoriten hinzufügen!
Melon is a perfect summer treat. Refreshing, sweet and absolutely amazing in taste. But besides eating melon pure and best cold out of the fridge, it as a delicious  ingredient in summer salads. Many melons harmonize perfectly with heartier ingredients such as onions, but of course also with cucumbers, to which they belong botanically (so in a strict sense melons are "vegetables" not "fruits"). My favorite is the Cantaloupe melon and will show you today a wonderfully refreshing, very aromatic recipe with melon and quinoa. We serve it with a delicious almond miso dressing. The perfect summer meal, made in no time and also wonderfully suitable the next picnic or simply as lunch in the office. Have fun, I'm looking forward to your feedback, Lea.
Ingredients (serves 4)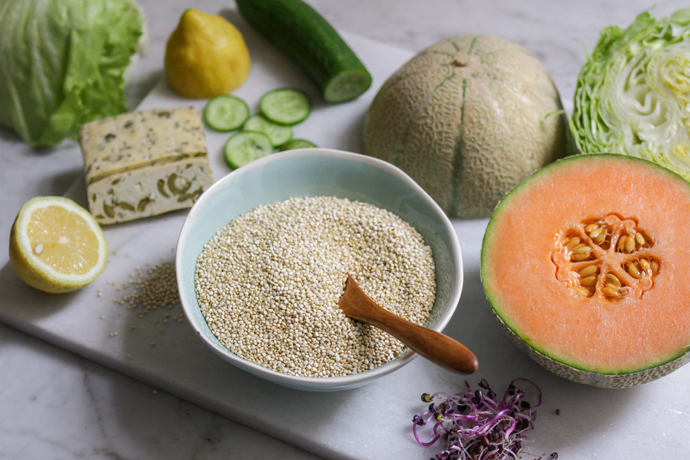 200 g (7 oz/ 1 cup + 2 tbsp.) quinoa

Salt

1/2 Cantaloupe melon

150 g (5.3 oz) cucumber

250 g (8.8 oz) iceberg salad

Optional: 80-100 g (2.8-3.5 oz) firm tofu with olives

A handfull fresh mint leaves

Sprouts to your liking
Ingredients for the miso dressing
2 tbsp. almond butter or cashew butter (35-40 g/ 1.4 oz)

1 tsp. dark miso paste

1 tbsp. lemon juice

2-3 tbsp. apple vinegar

Optional: chilli flakes

30-50 ml unsweetened plantbased milk (such as oatmilk or almond milk)
Instructions (ca. 30 preparation time)
Rinse quinoa thoroughly. This removes the slightly bitter taste of the quinoa.

Then heat the quinoa in a pot with 400 ml water and a pinch of salt. As soon as the quinoa is boiling, reduce the heat and let the quinoa simmer gently for about 15-17 minutes with the lid closed. Then let the quinoa sit for another 10 minutes. Loose cooked quinoa with a fork.

While the quinoa is cooking, prepare the other ingredients and the dressing. Remove the seeds of half a Cantloupe Melone with a spoon and cut the melon into small pieces except for a few decorative slices. Wash and chop the cucumber. Wash the iceberg lettuce and cut into strips. Additionally cut the olive tofu, if you like to add it.

For the delicious almond miso dressing, mix 2 tbsp. almond paste, 1 tsp. dark miso paste, 1 tbsp. lemon juice, 2-3 tbsp. apple vinegar and chilli flakes (optional) with 30-50 ml plant based milk. Flavour with lemon juice.

Mix the cooked quinoa with the chopped iceberg lettuce, the cucumber pieces and the olive tofu. Rinse off a handful of fresh mint, chop and add to the mixture. Then add the dressing and mix in. Salt the quinoa and season with additional apple vinegar and/or lemon juice to your taste. Then carefully fold in the chopped melon pieces.

Enjoy summer quinoa-melon-salad garnished with further melon slices, fresh mint and sprouts. Drizzle a little lemon juice to your liking. Enjoy!