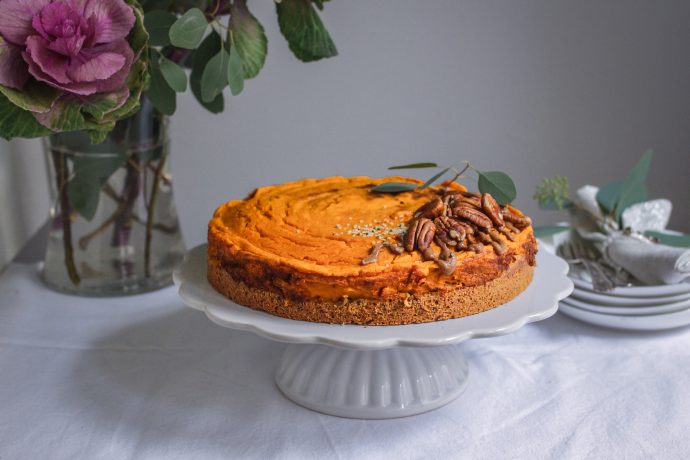 Zu meinen Favoriten hinzufügen!
Baking with pumpkin has become a real passion over the years for me. Cakes and cookies become wonderfully juicy with pumpkin puree and the pumpkin-taste harmonizes perfectly with autumn spices like nutmeg, cardamom, ginger, cloves and turmeric. While in my vegan pumpkin pie recipes I used to mix the pumpkin puree with the total batter, this time I wanted to create a delicious two-layered cake. For this I chose a fluffy cake base with a high nut content and as a second layer I mixed oven-roasted pumpkin with silken tofu, turmeric, nutmeg, maple syrup and ginger until creamy. A little cornstarch provides a good binding and you'll get a great consistency, which reminds a little bit of creamy pudding. Just look at it: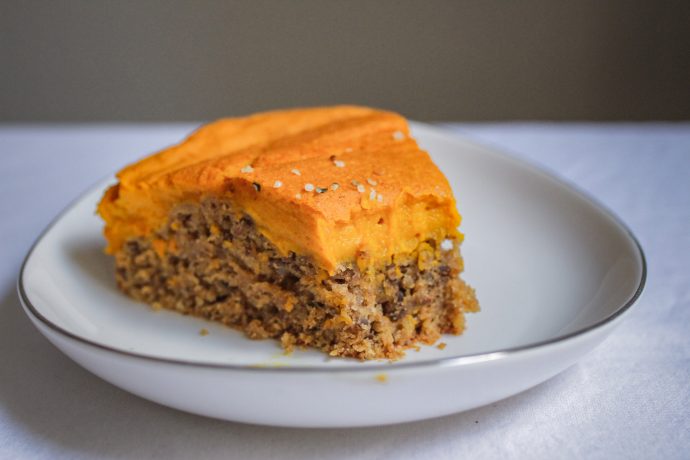 What is particularly great about this cake recipe is the combination of juicy cake and creamy topping. While many cakes are longing for a dollop of vegan cream, the combination is already perfect with this autumn cake. So make yourself a wonderful afternoon with hot tea, cinnamon scent, candlelight and a piece of this delicious cake. Or enjoy it with family and friends on the weekend. Stored in the refrigerator, the cake will keep fresh for several days. The recipe is super easy and guaranteed to work. Will you try it? Then I am looking forward to your feedback. Write me right here in the comments, on Facebook or on Instagram. And have you seen that you can rate every recipe with stars? Hit some!! That's always a great feedback for me, too. Big autumn love, yours Lea.
Ingredients (1 cake/springform with 9.4 inch/24 cm diameter)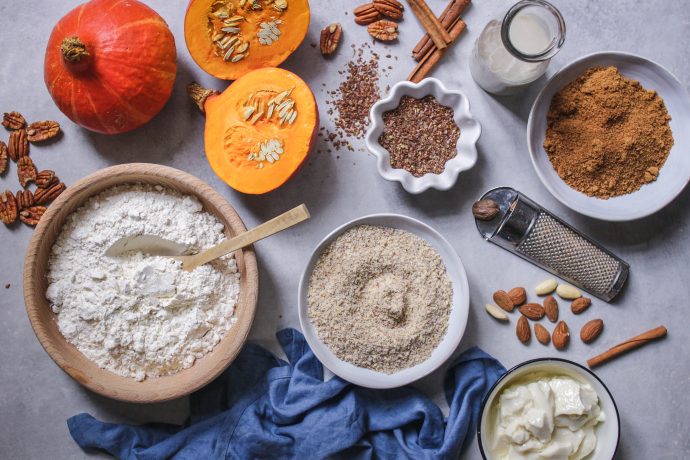 For the cake base
30 g (1.05 oz) ground flax seed

250 g (2 cups/ 8.8 oz) (spelt) flour

120 g (4.23 oz) ground almonds or hazelnuts

100 g (3.5 oz) palm sugar

A pinch of freshly grated nutmeg

1-2 tsp. cinnamon

1 pinch of salt

2 tsp. baking powder

1 tbsp. apple cider vinegar or lemon juice

100 ml (0.4 cup) coconut oil

170 ml (5.75 liquid oz) plantbased milk (e.g. soy milk or oat milk)
For the pumpkin filling
320 g (12.34 oz) Hokkaido pumpkin (unpeeled, but pitted)

2 tsp. coconut oil + coconut oil for greasing the springform pan

1 tbsp. corn starch

2 tsp. cinnamon

1 small tsp. tumeric

200 g (7.05 oz) silken tofu

3 tbsp. marple syrup

5-10 g (0.1-0.3 oz) freshly grated ginger

Optional: 2-3 tsp. dark almond paste for garnish

Optional: A handful of pecans (or walnuts) to garnish

Optional: 2 tsp. peeled hemp seeds to sprinkle/garnish
Instructions (20 minutes preparation + 45 minutes baking time for the pumpkin and the cake)
Start preparing the pumpkin layer of the cake. So, preheat the oven to 200 °C/ 392 °F fan and cover a baking tray with parchment paper. Halve the Hokkaido pumpkin, remove seeds and cut 300-320 g Hokkaido into cubes. Put the pumpkin cubes mixed with 2 tsp. coconut oil on the baking tray and bake at200 °C/ 392 °F fan for about 15 minutes until the pumpkin is soft.

Mix pumpkin cubes with cornflour, cinnamon, turmeric, silk tofu, maple syrup and the peeled ginger in a blender.

Mix the ground flax seeds with 5 tbsp. of water and let it it sit briefly. Sift the flour into a bowl. Add all other ingredients for the dough base as well as the "flax egg" and mix to an even dough.

Preheat oven to 180 °C/ 356 °F fan. Open springform pan, place a sheet of baking paper over the bottom and close springform pan again. Use scissors to cut off any excess baking paper on the outside. Lightly brush the side edges of the baking pan with oil (or grease with margarine).

Spread the dough for the cake base in the springform pan.

Then fill in the pureed pumpkin-silken tofu mixture and spread evenly.

Bake the cake at 180 °C/ 356 °F fan for about 30 minutes.

Take the cake out of the oven, let it cool down for a short time and carefully remove it from the side edge of the springform pan with a sharp, thin knife before opening the pan. To garnish, drizzle a little dark almond paste over the cake, place some pecans on top and serve the cake garnished with peeled hemp seeds.