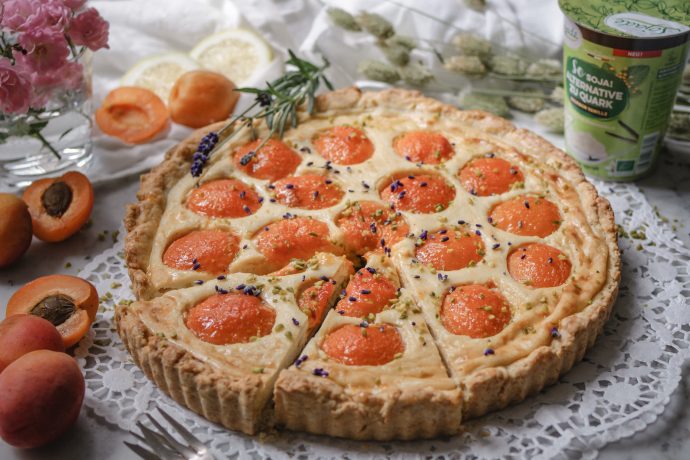 Zu meinen Favoriten hinzufügen!
Are you ready for one of the best ever vegan apricot cakes you tried? Then go for this simply, but crazily delicious apricot cake with an easy shortcrust pastry base and a delicate, creamy vegan curd filling with a rich vanilla and lemon flavoring and fruity apricots on top (Note: This is a cooperation recipe with the organic, vegan company "Sojade"). This is a cake you can easily prepare for a family gathering or a nice warm summer afternoon with friends. They will love it and nobody will ever guess this is a completely vegan cake. Maybe now you're thinking: But where can I get this vegan curd alternative used in this recipe? As you may have seen in other recipes of mine, I am incredibly fond of using the alternative dairy products of the company "Sojade", which are available in Germany and large parts of Europe everywhere in organic markets. For this cake I tried a new product: A delicious vegan vanilla curd from Sojade, now available, super versatile and with an awesome texture perfect for baking all kinds of cheesecake variations.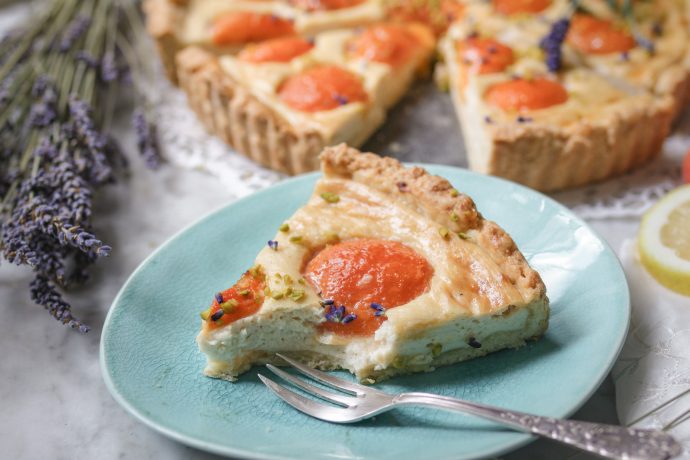 In case this vegan curd alternative is not yet available at your place, you can also use any "classic vegan curd" you can get. Just add some vanilla flavor or vanilla sugar to the filling and it will also work perfectly well. So enjoy these last, hot summer days of the year and this delicious, creamy cake. Looking forward to your feedback, best Lea.
Ingredients (1 cake, serves 8-10)
For the shortcrust pastry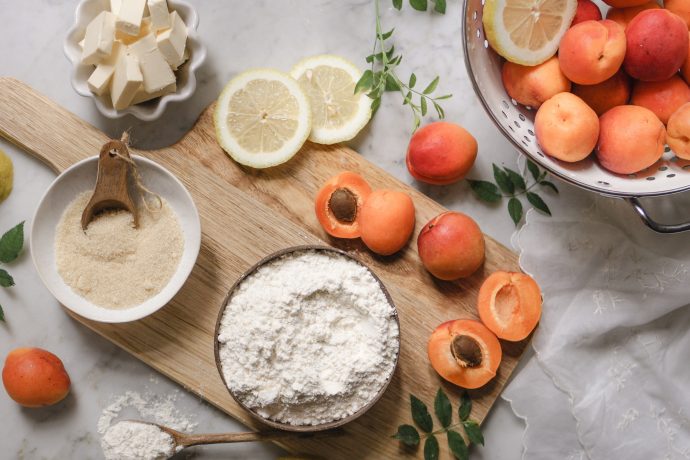 250 g (8.8 oz/2 cups) (spelt) flour

2 tsp. baking powder

50 g (17 oz/ 1/4 cup) cane sugar

Zests of half a lemon (untreated, organic)

125 g (4.4 oz) margarine

2 tbsp. soy yoghurt

1 tbsp. lemon juice

2-3 tbsp. cold water
For the filling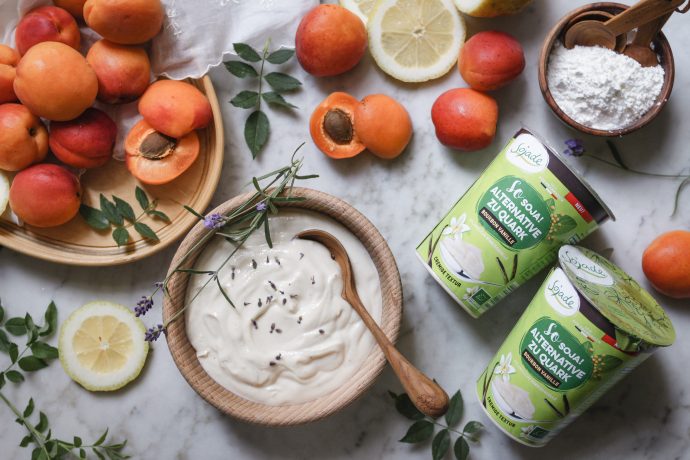 50 g (17 oz/ 1/4 cup) cane sugar (optional)

2 tbsp. lemon juice

Zests of half a lemon (untreated, organic)

100 g (3.5 oz) margarine, melted

50 g (17 oz) corn starch/cornflour

7-8 apricots (ca. 420 g/ 14.8 oz)

Optional: Some apricot jam for spreading

Optional: Chopped pistachios to sprinkle
Also: A round tart baking tin – preferably with a lifting bottom – diameter 30 cm (11.8 inch).
Instructions (25 minutes preparation + 30-35 minutes baking time)
Sieve the spelt flour into a bowl, add baking powder and cane sugar. Wash one organic lemon with hot water and grate the peel. Cut the margarine into pieces and add it together with half of the lemon zests, 2 tbsp. soy yoghurt and 1 tbsp. lemon juice. Mix the ingredients together vigorously, adding 2-3 tbsp. of very cold water and knead into a smooth, even dough on a floured work surface. Cover the dough and let it rest in the fridge for about 20 minutes.

For the topping, scald the apricots in a bowl of boiling water, let them stand for about 2-3 minutes and then rinse them with ice cold water. Skin the apricots, halve and stone them. You can also skip this step and use the apricots unpeeled, halved and pitted, if you prefer. But I think the look of the skinned apricot halves is better and you can cut the cake more easily afterwards.

For the filling, puree the vegan quark alternative (vanilla flavor) with cane sugar, 2 tablespoons lemon juice, 100 g melted margarine and 50 g cornflour in a mixer.

Remove the dough from the fridge, roll out on a floured surface and fit into the mould. Prick the base evenly with a fork. Pour the filling into the mould and press the apricot halves into the filling.

Bake the cake at 160 °C/ 320 °F fan for 30-35 minutes until the surface begins to brown slightly.

Let the cake cool down, optionally spread with apricot jam, sprinkle with chopped pistachios and lavender flowers and enjoy.