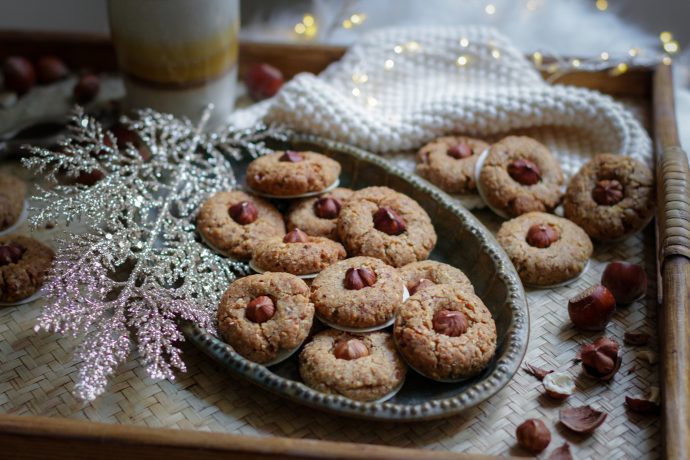 Zu meinen Favoriten hinzufügen!
Are you into Xmas goodies? I bet you are! So lets bake some awesome vegan cookies. Today I show you a very special kind of xmas cookies, which is called "hazelnut kiss" in Germany ("Haselnussbusserl"). In their original non-vegan version these hazelnut xmas goodies are made with beaten egg white. But my recipe not even needs a substitute for that. These vegan hazelnut cookies are super easy to make and taste absolutely delicious, sweet and nutty. Hope you enjoy and I wish you happy vegan baking, yours Lea
Ingredients for approx. 23 vegan hazelnut goodies (1 baking tray)
100 g (3.52 oz) margarine

45 g (1.58 oz) coconut sugar

45 g (1.58 oz) cane sugar

3 tbsp. maple syrup

1 tsp. cinnamon

1 tsp. specula spice (This is a spice mixture made of cinnamon, cloves, ginger, nutmeg and cardamom, but can also be substituted by more cinnamon)

120 g/ 1 cup (spelt) flour

150 g (1.3 cups/ 5.29 oz) ground/milled hazelnuts

approx. 22-24 small wafers

approx. 25 hazelnuts (up to how many cookies you will get/between 22 – 24)
Instructions (15 minutes preparation time + 12 minutes baking)
Melt the margarine in a pot. Add coconut sugar, cane sugar and 3 tbsp. maple syrup and whisk until creamy. Add cinnamon, specula spice, flour, ground hazelnuts and mix all ingredients with a spoon until a nice, creamy dough forms.

Preheat oven to 175 °C/ 347 °F fan and cover a baking tray with parchment paper.

Spread the wafers out on the work surface. Roll a ball of dough between the palms of your hands, press gently flat and place  the dough on top of each wafer. If the dough is still too moist to roll, add another 1-2 tablespoons of flour.

Bake the goodies in a preheated oven at 175 °C/ 347 °F fan for about 12-14 minutes.

Remove the cookies from the oven and immediately press a hazelnut into each cookie (at the beginning the surface is still nicely soft enough to allow the hazelnuts to be pressed in easily). Let the vegan hazelnut goodies cool down and enjoy.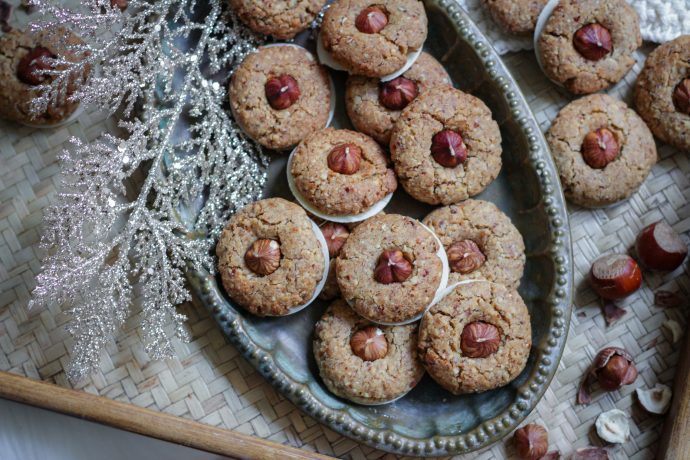 Store cookies closed and cool in a cookie jar lined with parchment paper.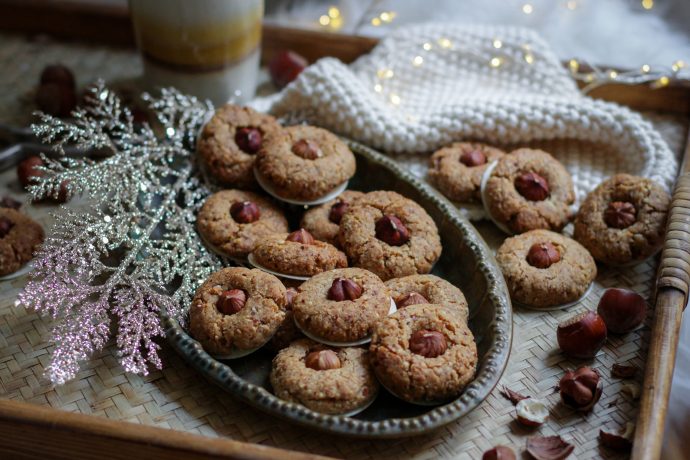 I'm really looking forward to your feedback on these delicious vegan Christmas cookies. Leave your comments and cookie photos here or on my social media channels, such as Facebook or Instagram.