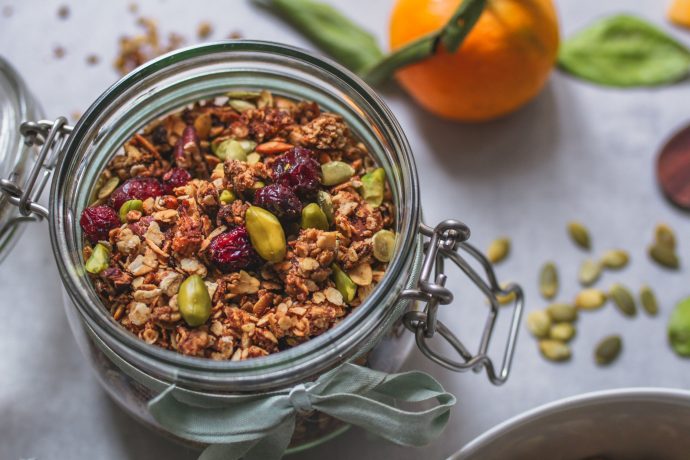 Zu meinen Favoriten hinzufügen!
Crispy, homemade granola is always a delicious start into your day. And with the right spices, your granola will become a wonderful Advent treat. Cinnamon, cardamom, clove, orange zests and cloves provide a wonderful winterly aroma for your breakfast. Or you can enjoy the granola just as an awesome little sweet snack in between. The recipe allows for your individual variations. Just try almonds instead of pecans, replace pistachios with sunflower seeds or add some chopped prunes or apricots instead of cranberries. Enjoy it just the way you like it best.But please make sure that your granola doesn't burn while roasting in the oven. The ingredients roast quite quickly! Therefore, stir with a spoon from time to time during baking so that everything browns evenly. This granola tastes especially delicious if you combine it with vegan yogurt, for example, and sprinkle it with a little maple syrup and nut paste (peanut butter or almond butter are my favs) at the end. Have a good time and tasty breakfast moments. yours Lea.
Ingredients (6 servings)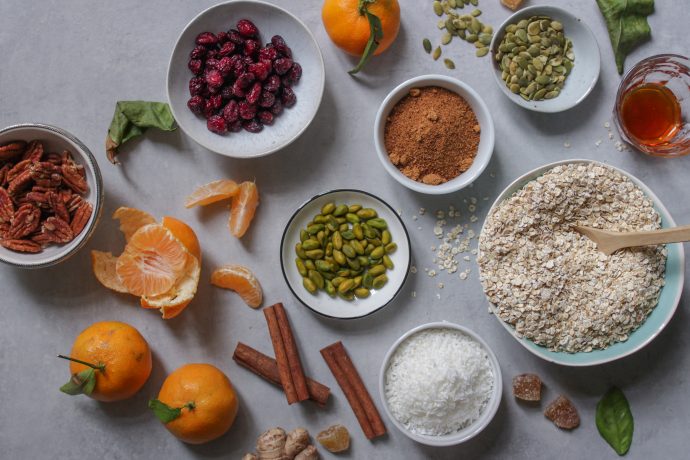 50 g (1.7 oz) pecan nuts (or almonds)

250 g (8.8 oz) oats

50 g (1.7 oz) coconut flakes

50 g (1.7 oz) coconut palm sugar

50 g (1.7 oz) pumpkin seeds

1 tbsp. cinnamon

1/2 tsp. Cardamom

Optional: a small pinch of ground cloves

1 pinch of nutmeg

1 pinch of salt

Zests of half an organic orange

50 ml (1/4 cup) coconut oil

40 ml (1.35 oz) maple syrup

2 tbsp. tahini

40 g (1.5 oz) pistachios

Optional: candied ginger (as much as you like, approx. 5 chunks, chopped)

100 g (3.5 oz) dried cranberries
Zubereitung (15 Minuten Arbeitszeit + 25-30 Minuten Backzeit)
Chop the pecans to the desired size and mix with the oat flakes, coconut flakes, coconut palm sugar and pumpkin seeds in a bowl.

Mix in cinnamon, cardamom, a pinch of ground cloves, some nutmeg, salt and the zests of half an organic lemon.

Preheat oven to 160 °C/ 320 F° fan and line a baking tray with parchment paper (or line a large baking pan).

Heat briefly coconut oil, maple syrup and tahini in a pot while stirring until an even, creamy liquid is obtained. Add warm coconut tahini-mix to the granola ingredients, mix well and spread the ingredients on the baking tray.

Roast granola at 160 °C/ 320 F° fan for about 18-20 minutes. Stir gently with a spoon every 10-15 minutes.

When the granola is nicely roasted and golden brown,remove it from the oven. Chop the pistachios and candied ginger.

Mix granola with chopped pistachios, cranberries and, if you like, with some candied, chopped ginger. Keep granola in an airtight sealed glass and enjoy a little Advent flavour every day. Perfect as cereal but also as a delicious little snack in between.