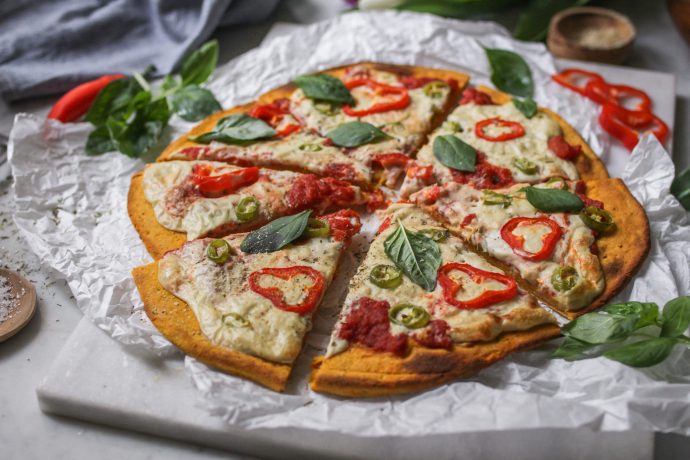 Zu meinen Favoriten hinzufügen!
Today I have an awesome everyday, delicious and healthy recipe for you: We bake a pizza base from sweet potatoes, which is gluten-free and for which you need only 3 ingredients and a few spices. I hope your mouth is already watering when you look at the photo below. Because for this pizza, I also made a simple gluten-free cheese alternative that turns out incredibly creamy and "cheesy". Just the way it needs to be! For the toppings, I opted for red peppers and green, medium hot pepperoni. But you can top the pizza however you like. The sweet potato pizza crust can also be eaten plain, simply drizzled with garlic oil and sprinkled with salt, with dips such as hummus. So, what do you say?
Before we get started, here's a little information about sweet potatoes: Even if it seems so obvious, sweet potatoes are not related to our "normal" potatoes. Botanically, they belong to a completely different genus, the "bindweed" and not to the nightshade family like our classic potatoes. Nevertheless, they can be prepared almost identically – whether as fried potatoes, French fries, as a gratin, stuffed, mashed or simply steamed. Sweet potatoes, as their name says, taste "sweet" because of their high starch content, and they have more fiber than conventional "potatoes". But sweet potatoes also score with great nutrients. They are full of vitamin E, beta-carotene, potassium, folic acid and B vitamins. An all-around healthy vegetable. But please pay attention to organic quality as unfortunately, conventional sweet potatoes are often genetically modified. But you can get sweet potatoes in almost all organic markets.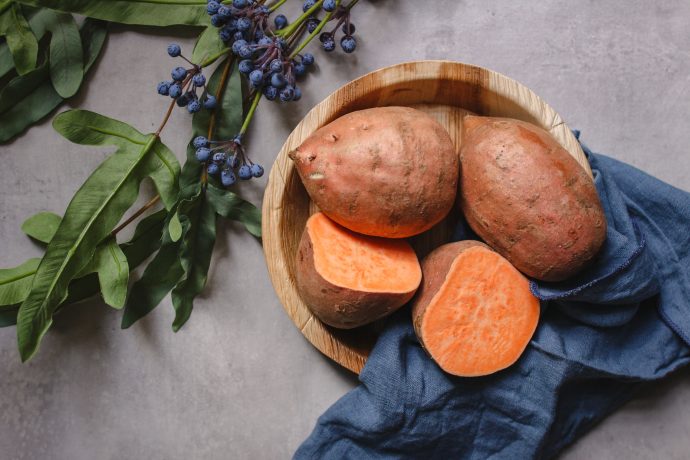 Then we can get started, right? I'm already excited about your feedback. Write me right here in the comments, on Facebook or Instagram!
Enjoy, all the best Lea.

Ingredients (1 pizza/ serves 2)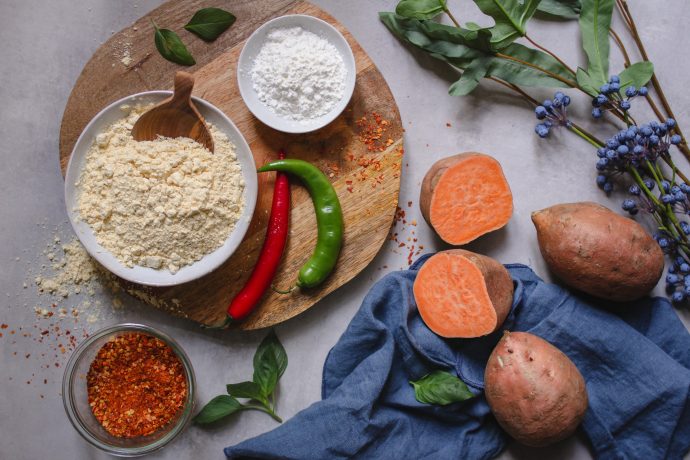 500 g (17.63 oz) sweet potatoes (weight unpeeled)

150 g (1.5 cups + 2 tbsp) chickpea flour

3,5 tbsp. (35 g/ 1.2 oz) Potato flour or cornstarch

1 tsp. cumin

1/2 tsp. harissa (or use some paprika powder and chili powder)

1 tsp. salt

1/2 tsp. turmeric (optional für eine knallig gelbe/orange Färbung)

1/2 tsp. garlic granulate

1 tsp. olive oil to grease the baking paper
Für den glutenfreien Cashewkäse
50 g (1.76 oz) cashews (soak overnight/at least 6 hours!!)

1 tbsp. apple cider vinegar

1 tbsp. olive oil

1 tsp. hot mustard

1 heaped tbsp. yeast flakes

1 tbsp. tapioka starch

1 pinch of salt

1/2 tsp. garlic granulate or a small clove of garlic

220 ml (7.43 oz) water
Note: The amount of vegan cheese may be a bit too much for your pizza. However, it is impractical to work with too small ingredient amounts/odd numbers. Because simply "half the ingredient amounts" would again be too little for the pizza…). So if there is cheese left over, put it in a sealed jar in the fridge. You can use it as a spread and to finish other dishes. I like it so much that I even snack on it straight away. It keeps fresh for about 3 days.
For the topping (This is just a suggestion – top the pizza according to your taste!)
5-6 tbsp. tomato sauce

1/2 red pepper

3 medium hot or mild jalapeños or pepperoni

Optional: a few leaves of Thai basil or classic Italian basil

A pinch of freshly ground pepper
Instructions (Soaking the nuts over night + 20 minutes preparation + 25 minutes baking time)
Preparation: Please soak the cashews for the vegan cheese alternative in water overnight, but at least 6 hours. Before further processing, drain the water and rinse the cashews again. If you don't have time to let the nuts soak, boil the kernels gently for 10 minutes. then they will also be soft.

Peel and wash sweet potatoes and cut into cubes. Steam them for about 15 minutes until soft.

Drain sweet potatoes, dab slightly dry and mash them with a fork, add cornstarch and spices and gradually fold under the chickpea flour. Add a tiny bit more chickpea flour if needed.

Preheat your oven to 200 C°/ 392 F° fan.

Brush parchment paper with some olive oil. Form sweet potato dough into a ball and place in the middle of it.

Roll out the sweet potato dough into a round shape with the help of a second sheet of parchment paper placed over it.

Carefully peel off the top baking paper. Now the pizza base is ready for pre-baking.

Pre-bake your pizza base at 200 C°/ 392 F° fan for about 10 minutes.

While the pizza base is pre-baking in the oven, I quickly prepare the cashew cheese. To do this, puree the soaked cashews with apple cider vinegar, olive oil, spicy mustard, yeast flakes, tapioca starch, a pinch of salt and garlic powder, and 220 ml (7.4 oz) of water in a blender. Heat the pureed cashews in a small saucepan, stirring, until the mixture gets viscous.

After 10 minutes of baking, remove the pizza crust from the oven (be careful, it's hot!), remove the pizza crust from the baking paper and flip it over before topping the pizza. If you don't want to/can't turn the dough, it works without "flipping" too, but at least gently loosen the dough from the baking paper with a spatula before continuing. Otherwise it will stick to the parchment paper later on.

Then spread the pizza base with tomato sauce, add the cashew cheese to your liking and top the pizza.

Now bake the pizza again at 200 C°/ 392 F° fan for about 15 minutes until the cashew cheese starts to brown nicely.

PTake the pizza out of the oven, sprinkle with a little fresh pepper and enjoy warm from the oven garnished with (Thai) basil. Bon appetit!
Alternative: If you're looking for an alternative to the cashew cheese shown here, you can also top the pizza with a creamy bechamel cheese. However, this cheese substitute is not gluten-free. To make it, simply melt 15 g of margarine in a saucepan. Stir in 20 g of flour with a whisk and immediately pour in 250-280 ml of plantbased milk, a little at a time, stirring constantly. Season this cheese substitute with 1 tsp mustard, 15 g yeast flakes, 1/2 tsp garlic granules, 1-2 tsp soy sauce and season with salt. Apply this cheese substitute also as described in the recipe above.
Topping this delicious sweet potato pizza with peppers and pepperoni or jalapeños is just one of many options. You can top the pizza however you like, or just use whatever you have on hand, such as sliced zucchini or mushrooms.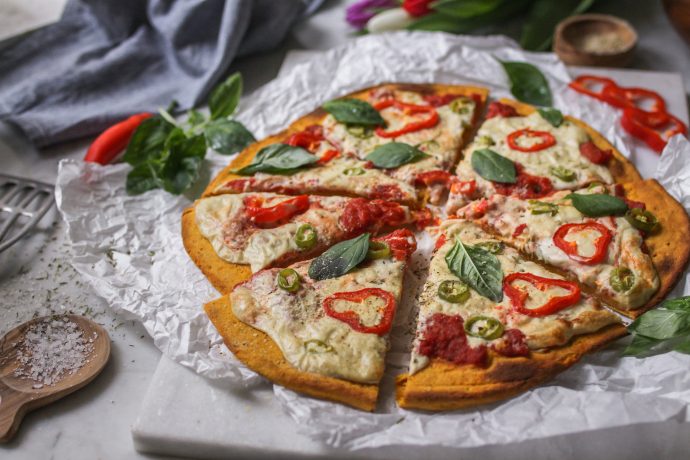 I am already looking forward to your feedback. Write me in the comments how the recipe turned out and how it tasted. What did you top your pizza with?