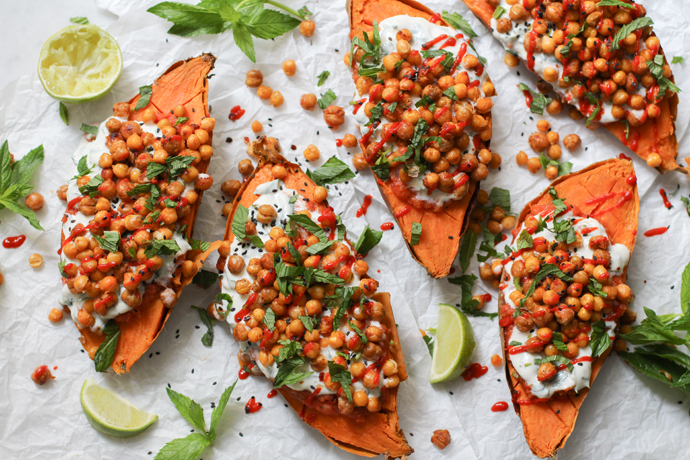 Zu meinen Favoriten hinzufügen!
Sweet potatoes are just awesome – they are healthy, delicious and really versatile. You can roast, mash, boil, fry or cook them in the oven. I particularly like the oven preparation as the potatoes then cook almost by itself and without any oil. So we just prick the sweet potatoes evenly with a knife so that liquid can leak during baking, and put them in the oven. Wohoo, we are almost done! In addition, there is a fresh, light tomato sauce, roasted chickpeas and a wonderful yoghurt-mint dip. I like to do this combination as a meal-prep to take to the office or on day trips. Because it tastes oven warm gigantic and cold still extremely delicious. Have fun trying out, Lea.

Ingredients (serves 4)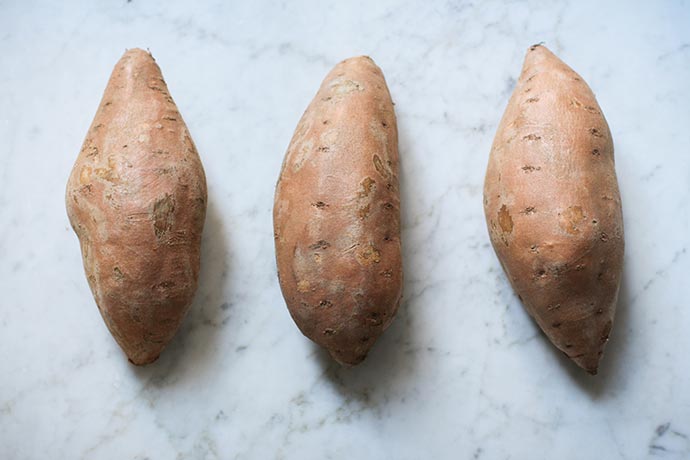 3 sweet potatoes

1.5 can chickpeas (360 g/12.6 oz)

1-2 tablespoons olive oil + 1 tbsp olive oil for the sauce

1 kl TL cumin

1 kl. TL ras el-hanout

Sea salt

Chilli flakes

Optional:  1-2 tsp Sriracha chilli sauce

700-750 g (26.4 oz) tomatoes

1 onion

1 clove of garlic

1 teaspoon agave syrup

1 tablespoons paprika powder

1 tbsp herbs of Provence

Optional: 1 tsp black sesame seeds for garnish
For the dressing
200 g (3/4 cup) unsweetened soy yoghurt

3 tbsp lemon juice

Sea salt

Black pepper

A handful of fresh mint leaves + mint leaves for garnish
Instructions (50 + 20 minutes baking time + 20 minutes preparation time)
Preheat the oven to 200 °C (390 °F) circulating heat.

Place sweet potatoes in one/two casserole dishes (or on baking paper) and prick them several times with a sharp knife. Bake the sweet potatoes without any further oil or liquid at 200 °C  for 45-50 minutes.

Rinse cooked chickpeas and dry them thoroughly with a kitchen towel. Mix the chickpeas with 2 tbsp olive oil, 1 small tsp cumin, 1 tsp ras el-hanout, a pinch of salt and chilli flakes to your liking.

If you want, mix in 1-2 tsp of Sriracha chilli sauce (optional). Then spread the chickpeas on a sheet of baking paper.

Put marinated chickpeas to the sweet potatoes in the oven. Bake chickpeas together with the potatoes  at 350 °F for about 18-20 minutes until well roasted.

Wash tomatoes, core and dice.

Peel the onion and a clove of garlic and finely dice.

Heat oil in a frying pan. Soften the onion and garlic cubes. Then add the tomato pieces and sauté for 2-3 minutes. Drizzle tomatoes with agave syrup and caramelise briefly. Add a little water. Season the tomato cubes with sweet paprika powder, chilli flakes, Provencal herbs and sea salt. Simmer the tomato sauce for 5 minutes and then remove from heat. Puree the sauce with a hand blender or in a blender. If necessary, add a little more water to get the desired consistency and season the sauce with sea salt.

Mix the soy yoghurt with 3 tbsp of lemon juice, a dash of salt and coarsely ground pepper. Wash a handful of fresh mint, shake dry and chop the leaves. Stir in the mint leaves in the yoghurt sauce.

Cut the sweet potatoes in halves. Cut the pulp diamond-shaped and pull apart slightly so that the sauce can infiltrate. Spread the tomato sauce over the potatoes and add the yoghurt sauce. Spread roasted chickpeas over the sweet potato halves and sprinkle with mint. Garnish the dish with black sesame seeds and limes.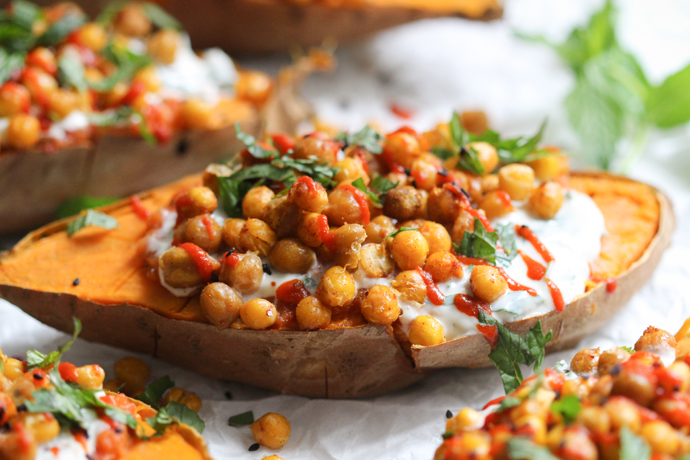 If you like, you can add some Sriracha chilli sauce to the dish.