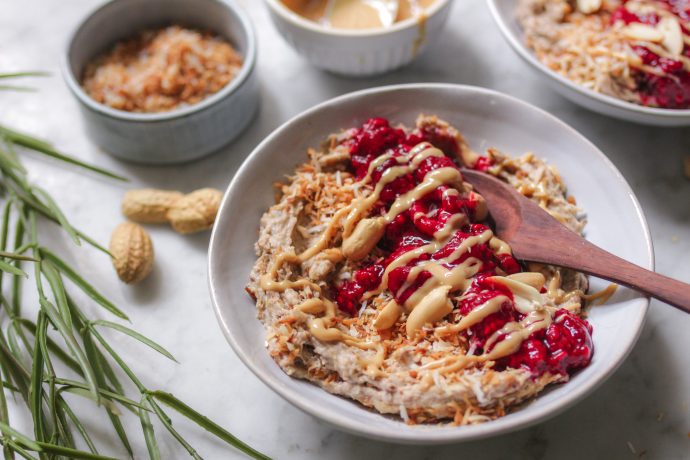 Zu meinen Favoriten hinzufügen!
Are you familiar with buckwheat or do you even already eat it on a regular basis? I know buckwheat and its health benefits since years and though I eat it far too rarely. But it's on my "healthy habits list" to be changed in 2020. Buckwheat is super delicious, versatile and really good for our health. Buckwheat is gluten-free, contains a large amount of high-quality protein, all B vitamins (except B12) and lots of silicic acid, which is particularly good for beautiful hair, shiny skin and strong fingernails. In addition, buckwheat provides us with a nice mineral mix of magnesium, potassium and iron. So what are we waiting for?!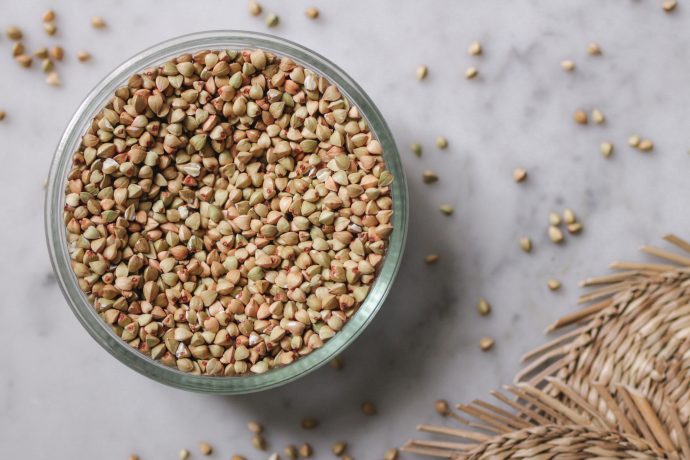 Buckwheat can be roasted, boiled, used as flour and even simply processed soaked. We do the same for this delicious buckwheat smoothie bowl, we are preparing today. I especially like this one for breakfast because it keeps you full for a long time and no frozen fruit is added to the bowl to create a creamy consistency. Because in the morning and especially during the cold season I don't like starting my day with "ice-cold" foods. Instead I prefer smoothie bowls based on frozen fruit in summer, as refreshment and "nicecream". But back to our buckwheat. For the recipe, it is briefly rinsed and simply soaked in water overnight. I add lemon slices. The acidity of the lemon helps to reduce the phytin naturally contained in buckwheat (as well as in beans and rice), which slows down the absorption of minerals in our body (you can find more information about this here). The recipe is very simple and you can of course combine it with other kinds of fruit as you like and up to the season. I personally like the consistency to be creamy and firm. But if you prefer a more liquid consistency, just add some water or plantbased milk. Just the way you like it best. Have a healthy and fulfilling New Year. Sincerely yours Lea.
Ingredients (serves 2)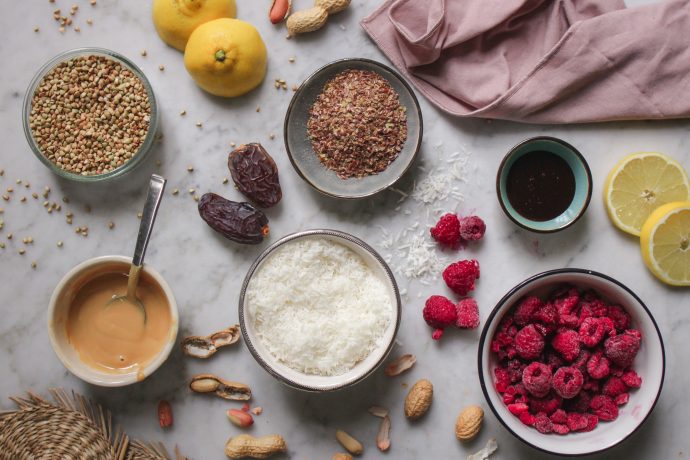 180 g (6.34 oz/ 1.06 cups) buckwheat

2-3 slices of lemon

50 g desiccated coconut

1 pinch of salt

1-2 tbsp. date syrup

2 pitted Medjoul dates

3 tbsp. coarse linseeds/flax seeds

1 tbsp. pure peanut butter/peanut paste +some more for drizzling

100 g (3.52 oz) frozen raspberries

Optional: some peanuts for garnish
Instructions (Soaking the buckwheat overnight + 15-20 minutes preparation)
Rinse buckwheat and leave to soak overnight (but at least 5-6 hours) in clear water. At the same time put 2-3 slices of lemon into the water. Rinse buckwheat again with clear water after soaking time. (Good to know: The buckwheat does not need to be cooled during soaking. Just cover it with a kitchen towel and leave the bowl on the work surface of your kitchen).

Roast desiccated coconut briefly in a pan without fat until it start smelling nicely and puts on some light golden color. Put the roasted coconut aside for later use.

Blend the soaked buckwheat with a pinch of salt, 1 tbsp. of date syrup and 2 pitted Medjoul dates in a mixer. Then stir in 3 tbsp. ground linseeds/flaxseeds and 1 tbsp. peanut paste.

Heat frozen raspberries in a pot. Sweeten the warmed raspberries with 1 tbsp. date syrup.

Divide the buckwheat porridge into two bowls, swirl under 2/3 of the roasted coconut flakes. Add the remaining coconut flakes and the raspberry puree, sprinkle the buckwheat smoothie bowl with peanut butter and serve garnished with peanuts as desired.