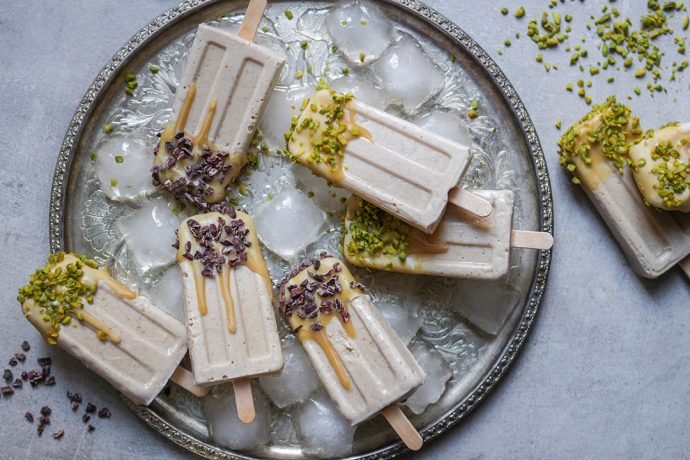 Zu meinen Favoriten hinzufügen!
What would summer be without ice cream?! Sometimes fruity, sometimes creamy – with awesome popsciles you make everyone happy on sunny days. In Germany we once had an ice cream called "Brauner Bär" (brown bear), which existed in the 80s and 90s. Its taste was soo delicious – caramel, vanilla and chocolate made it my all time favorite as a kid. These popsicles here remind me that childhood memory.  The almond paste in combination with dates, soy yoghurt and banana makes it seductively creamy without the banana taste being too strong. The topping is a mixture of cocoa butter and peanut butter. So it gets crunchy, what is awesome. Let yourself be seduced and enjoy the hot sunny summer days, xoxoxo your Lea
Ingredients (8 popsicles)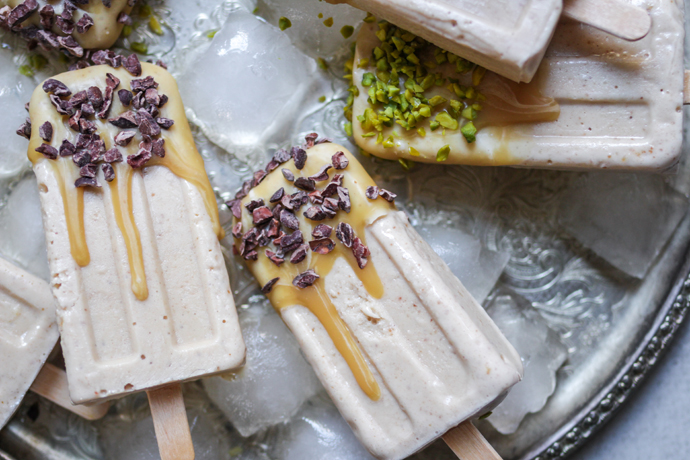 1 frozen banana

100 g/3.5 oz (dark) almond butter (or cashew butter)

150 g (5.3 oz) soy or coconut yoghurt

3 pitted Medjoul dates

3 tbsp. maple syrup

1 tsp. ground vanila or 2 tsp. vanilla extract

200 ml (0.8 cups) plantbased milk
For the topping
70 g (2.46 oz) cocoa butter

1-2 tbsp. peanut butter

2 tbsp. maple syrup

3 tbsp. cocoa nibs

3 tbsp. chopped unsalted pistachios
Please note: For this recipe you need popsicle moulds and the matching wooden sticks
Instructions (20 minutes preparation time + 6 hours cooling)
Peel the banana, cut into pieces and freeze overnight.

Blend frozen banana chunks, almond paste, soy yoghurt, the pitted Medjoul dates, 3 tbsp maple syrup, 1 tsp ground vanilla and the plantbased milk in a high speed blender till smooth and creamy. Pour the cream into the ice moulds and let the ice set for about 6 hours.

Melt the cocoa butter over a water bath and mix with peanut butter and maple syrup. Rinse ice moulds briefly with hot/warm water, carefully remove ice from the moulds, dip into glaze and sprinkle with cocoa nibs or chopped pistachios.

Place ice on baking paper and let it cool down immediately in the freezer. It is best to keep ice cream wrapped in butterbread paper in a storage box.
Separated from each other by sandwich paper and well sealed in a box, the ice cream keeps for several weeks in the freezer.