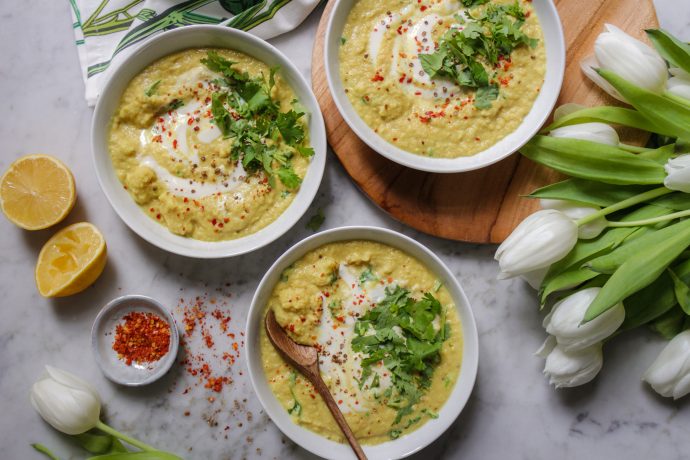 Zu meinen Favoriten hinzufügen!
Time for a nourishing, creamy and warming soup with a little "Asian twist". This cauliflower soup is a very special one. Because first of all, I do not use any cream for its awesome consistency. Instead I use a mixture of pureed Cannellini beans, yeast flakes, hot mustard and plantbased milk to get a rich and satisfying consistency. This way you'll save lots of unhealthy fats, but instead you enrich the soup with lots of healthy protein and carbohydrates that will keep you full for a long time. Cannellini beans are simply white Kidney beans that should be easily available in you grocery store or organic market. Secondly, I season this soup with hot Madras curry powder and fresh cilantro. The taste of this combination is simply awesome and wonderfully aromatic. So, I hope you enjoy this delicious soup and I'm looking forward to you feedback in the comments. All the best, Lea.
Ingredients (serves 4)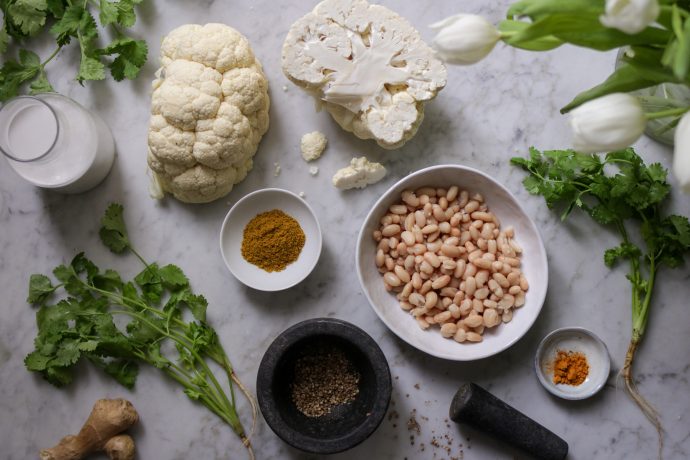 1 onion (about 2.4 oz)

1 small clove of garlic

1 cauliflower head (in this recipe 800 g/28.2 oz cauliflower have been used)

300-400 g (10.5-14.1 oz) white Cannellini beans (Cannellini beans are white Kidney beans. Use 250 g/ 8.8 oz drained weight and note: You can vary the amount of beans slightly. If you only have a smaller can, this is no problem)

1 piece fresh ginger (ca 10-15 g/ 0.3-0.5 oz)

1 tbsp. sesame oil or another vegetable oil

1-2 tsp. turmeric

1 tsp ground coriander seeds

1 tbsp. madras curry powder

400 ml (1 3/4 cup) coconut milk

1-2 tbsp. soy sauce

Optional: chili powder and7or chili flakes

A handful of fresh cilantro (or as an alternative fresh parsley)

1 tbsp. lemon juice

Soy yoghurt for garnish (1-2 tbsp. per serving)
Instructions (20-25 minutes)
Peel and chop onion and garlic clove. Remove the leaves of the cauliflower, cut away very hard parts of the stem and cut/break the cauliflower head into florets. Rinse white beans. Peel ginger with a spoon.

Heat 1 tbsp. sesame oil in a saucepan. Fry the onion and garlic cubes for 2 minutes until transparent. Grate in the peeled ginger with a ginger grater. Add the turmeric, ground coriander and 1 tbsp. madras curry and fry briefly until the spices start to smell wonderfully and intense.

Heat cauliflower florets with 250 ml (1 cup) of water. Cook the cauliflower for about 5-7 minutes. Then pour in the coconut milk and simmer the cauliflower for another 5 minutes.

Add the beans to the cauliflower, heat up for another 3-5 minutes and puree the soup with a chopping stick after a total cooking time of about 15 minutes. (My tip: I do not puree the soup completely smooth, but leave it a little "chunky". This is how I like the consistency best. But you can puree the soup as creamy as you like).

Season the cauliflower soup with soy sauce and, if necessary, season with a little more Madras curry powder. If you like, you can add salt to the soup. But for me, the seasoning with the soy sauce is enough.

Wash, chop and stir in the cilantro. Save some of it for garnishing. Season soup to taste with 1 tbsp. lemon juice.

Pour the cauliflower curry soup into bowls, stir in 1-2 tbsp. soy yoghurt per serving and enjoy the soup hot, sprinkled with fresh cilantro, crushed coriander seeds and chili flakes to your taste.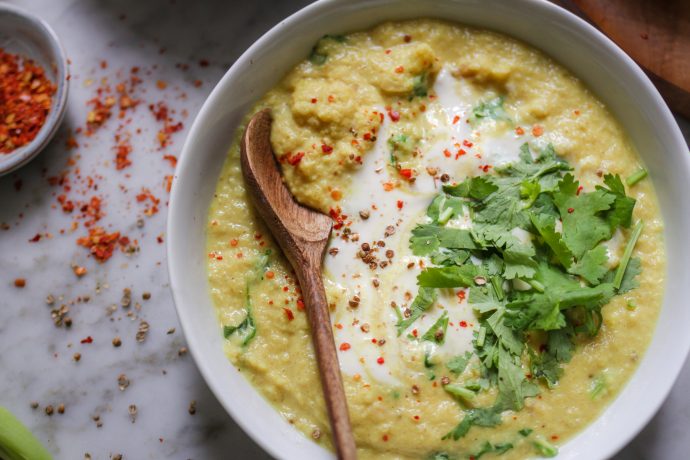 This soup is so satisfying, rich and tasty. The whole family will love it.