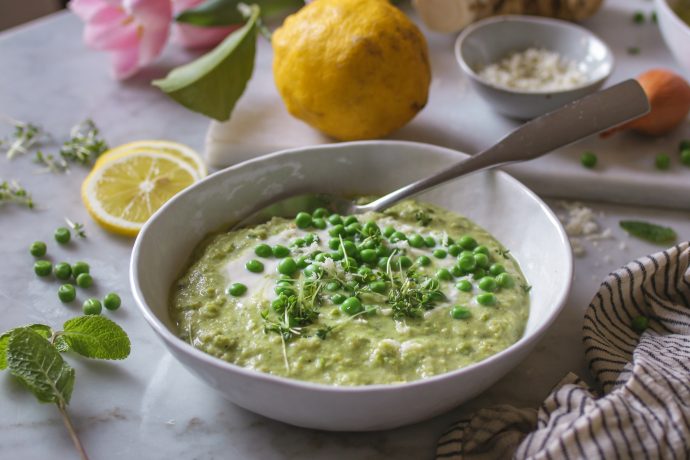 Zu meinen Favoriten hinzufügen!
Hello, how nice that you stop by. This will be my first ever blog post I'm writing from Munich, Bavaria.  You may have seen on my social media channels (Instagram | Facebook), I moved from Berlin to Munich a week ago. Although I already moved into our beautiful apartment in "Sendling", I'm still sitting between large piles of boxes. But first visits to the neighboring organic market immediately inspired me to an awesome spring soup full of flavor. Because there I discovered fresh horseradish or "Kren", as they call the aromatic, spicy root with its wonderful essential oils in Austria.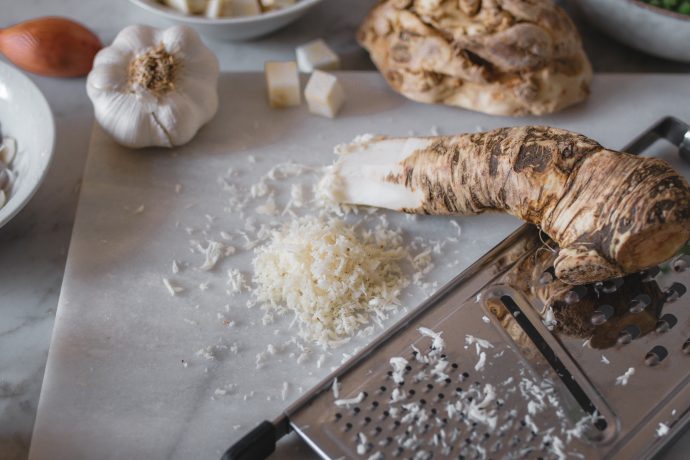 Have you ever tried freshly grated horseradish? Perhaps you are familiar with it in its most common form, namely as cream or apple horseradish. However, its original, rich and slightly earthy flavor and its full spiciness only show up when it is freshly grated. You can use it to spice up hearty sandwiches, stews or other savory meals. Today I'm going to show you a lovely spring soup with peas, coconut milk, horseradish and fresh mint leaves. A delicious, refreshingly spicy soup combination that will awaken all your spirits and will do you so much good. We combine snappy peas with a great variety of flavors – some acidity, a bit of spiciness, a slightly sweet coconut nuance, the natural essential oils of horseradish, and refreshing mint & cress. The blend will really tickle your taste buds awake.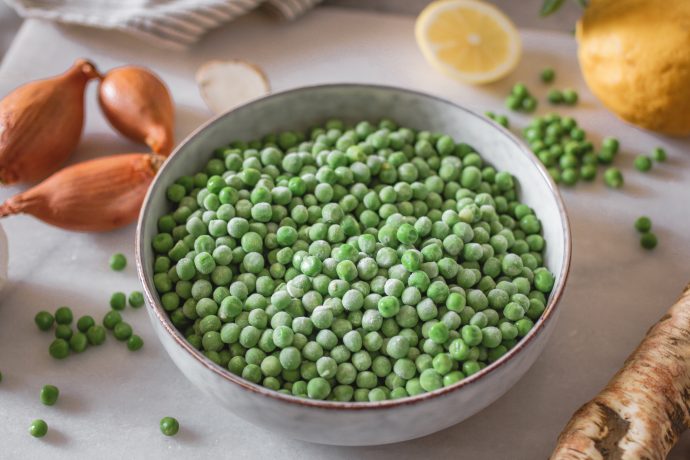 The soup is also very easy, quickly done and made with only a few ingredients. Magical spring greetings, yours Lea.

Ingredients (serves 2-4)
70 g (2.4 oz) Shallots or small onions

1 small clove of garlic

150-170 g (5.2-5.9 oz) celeriac

1,5 tbsp. vegetable oil

1 dash white wine (can be replaced by 50 ml water or vegetable broth)

350 g (12.4 oz) frozen peas + a few defrosted peas for garnish

300 ml (1.2 cups) Wasser

400 ml coconut milk (1 can, 1.6 cups)

Optional: 1-2 tsp. vegetable broth powder

1 tbsp. tahini (optional for a rich, creamy consistency | can be replaced with cashew paste)

Salt

Pepper

A piece of horseradish root, freshly grated (approx. 2-3 teaspoons to your individual taste)

A handful of fresh mint

1-2 tsp. lemon juice

Optional: 1 tbsp. soy yogurt per serving for garnish

Sprouts as desired for garnish, e.g. cress
Instructions (25 minutes)
Peel and finely dice shallots and garlic clove. Remove the celery skin and chop a little.

Heat 1.5 tbsp. vegetable oil in a saucepan. Sauté shallot and garlic cubes briefly. Add celery pieces, fry briefly and deglaze with a dash of white wine. Let white wine reduce for 2-3 minutes. Then add frozen peas, 200 ml water and coconut milk.

Bring ingredients to a boil once briefly, reduce heat and simmer soup gently for about 10-15 minutes until celery pieces are soft. If desired, you can stir in 1-2 tsp vegetable broth powder to intensify the taste.

Add tahini, a handful of mint leaves, 1-2 tsp grated horseradish, salt and pepper to the soup and puree it.

Season the soup with 1-2 tsp. of lemon juice, salt to taste and add water to adjust the consistency (I added another 100 ml (0.4 cup) of water).

Divide soup among bowls, stir in 1 tbsp. soy yogurt into each soup serving, garnish with peas, cress, and freshly grated horseradish to taste. Enjoy your meal!