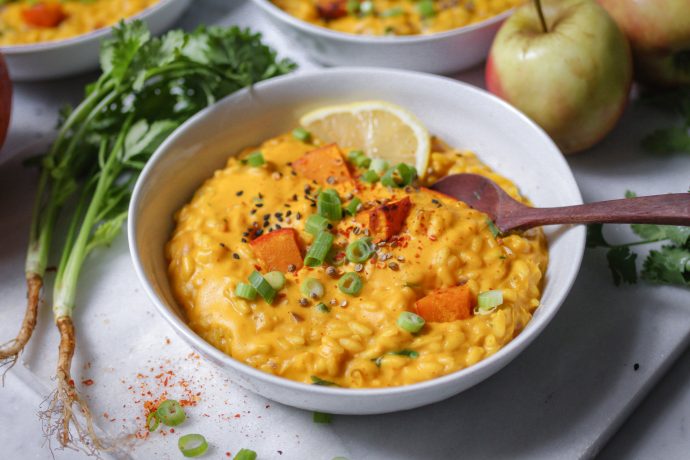 Zu meinen Favoriten hinzufügen!
With this incredibly creamy and aromatic vegan pumpkin risotto I would like to start into the culinary autumn with you. Because we have just passed September the 22nd, a magical date for me every year. It is the day of "equinox". On this day the sun is exactly above the equator. So from this point on our days become shorter and cooler again. It is the astronomical beginning of autumn and therefore time to slowly say "goodbye summer", also in culinary terms. Now we should gradually pamper our body again with hearty, richer foods and give it exactly the nutrients it is craving during the cold season. That's why I would like to spoil you today with a very special pumpkin recipe. I felt like reinterpreting the classic pumpkin risotto and preparing it as never before. So here is an Asian inspired pumpkin risotto version with coconut milk, turmeric, ginger and fresh coriander.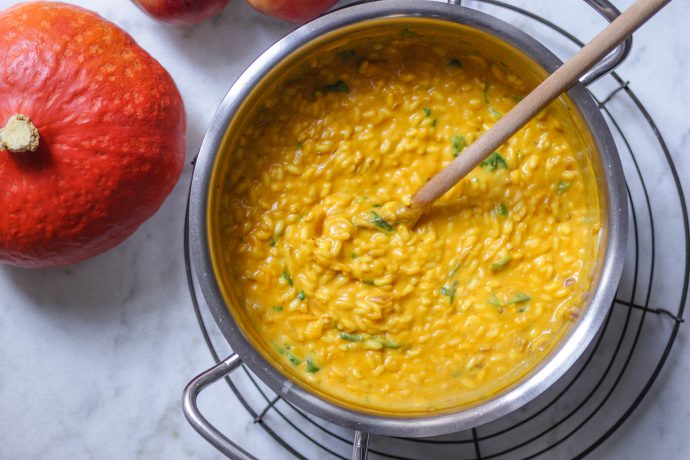 This vegan pumpkin risotto is the creamiest I have ever made and it has a wonderful, intense aroma. My secret tip is to add a grated apple. Its acidity and fruitiness make the risotto really perfect. It will melt gently in your mouth and is simply delicious. For the vegan risotto I chose the classic and easy to process Hokkaido pumpkin. It does not need to be peeled and the preparation is therefore completely easy going. Only permanent "stirring" is key, as with all wonderful risotto dishes. This pumpkin risotto is soy and gluten-free, provides you with important nutrients, vitamins A, E and C as well as a lot of beta-carotene, which is especially good for your skin and supports a healthy immune system. This makes saying goodbye to summer a little less difficult and we can look forward to a fabulously delicious, colorful autumn. Looking forward to your feedback, all the best Lea.
Ingredients (serves 4)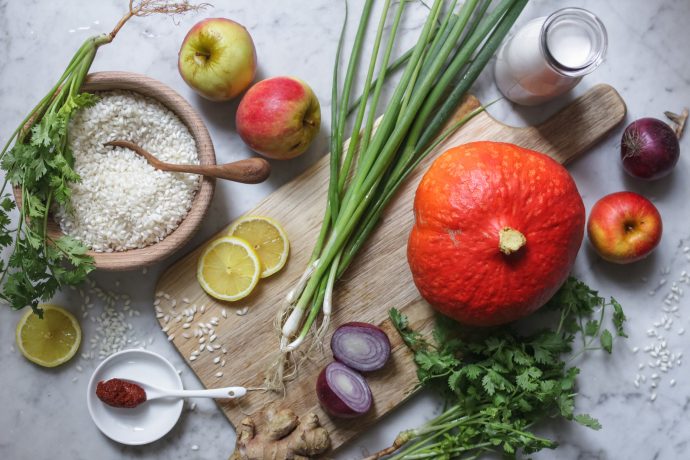 450 g (15.8 oz) Hokkaido pumpkin (weight including skin and seeds)

1 tbsp. coconut oil (or another vegetable oil)

Salt

Chili flakes to your liking

1 pinch of paprika powder

400 ml (1 3/4 cup) coconut milk

2 tbsp. yeast flakes

1-2 tbsp. lemon juice

1 tsp. red curry paste

1 pinch of turmeric (optional)

80 g (2.8 oz) onions

1 clove of garlic

10 g (0.35 oz) fresh ginger

2 tsp. sesame oil (or another vegetable oil)

250 g (8.8 oz) risotto rice

50 ml (1.7 oz) white wine (or more vegetable broth)

400 ml (13.52/ 1.7 cup) vegetable broth

1 apple

1 small bunch of cilantro

Optional: 2 tsp. soy sauce (or more salt for a soy and gluten-free version)

50-100 ml (0.2-0.4 oz) plantbased milk (to dilute the risotto to your liking)

Optional: crushed coriander seeds to sprinkle

2-3 spring onions for garnish and taste
Instructions (15-20 minutes preparation + 12 minutes baking time + 15 minutes cooking time)
Preheat oven to 200 °C/ 392 °F fan and cover a tray with parchment paper.

Wash the pumpkin, remove seeds and cut into pieces. Mix the pumpkin pieces with coconut oil, a pinch of salt, chili flakes to taste and a pinch of paprika powder.

Spread pumpkin chunks on the parchment paper and bake at 200 °C/ 392 °F circulating air for about 12-14 minutes until the pumpkin is soft.

Puree 2/3 of the softly cooked pumpkin chunks with coconut milk, 2 tbsp. yeast flakes, a pinch of turmeric (optional), 1 small tbsp. lemon juice and 1 tsp. red curry paste in a blender. Set some pumpkin pieces aside for later garnishing.

Peel onion and garlic clove and chop finely. Peel ginger with a spoon. Finely grate an apple.

In a pot heat 1-2 tbsp. of coconut oil. Sauté chopped onion and garlic until translucent, add the risotto rice and pour on a dash of white wine. Add the vegetable stock in portions, stirring well every time. Add the grated apple and add finely grated fresh ginger. Gradually add the remaining vegetable broth while stirring and let it boil down.

When the vegetable broth is simmered down, add the prepared pumpkin cream and stir well. Tip: I hold back a approx. 2-3 tbsp. of the cream and only add it to the risotto at the very end when serving. This makes the risotto look even creamier and more inviting.

Simmer the risotto with the pumpkin cream until a deliciously creamy risotto consistency is achieved and the rice is soft. The total cooking time of the risotto is about 15-17 minutes. Towards the end of the cooking time, wash, chop and add a handful of fresh coriander.

Finally, I dilute the risotto with some plantbased milk to the desired consistency and season the risotto to taste using soy sauce (or salt), lemon juice and chili flakes.

Pour the remaining pumpkin cream over the risotto, add some pumpkin for garnish and serve the risotto with chopped spring onions and optionally crushed coriander seeds.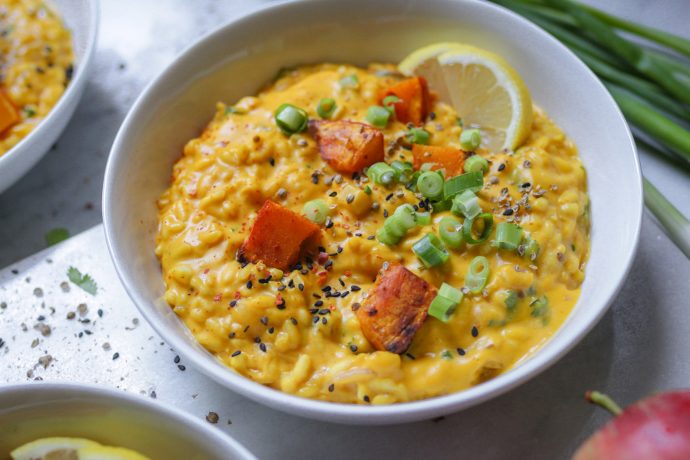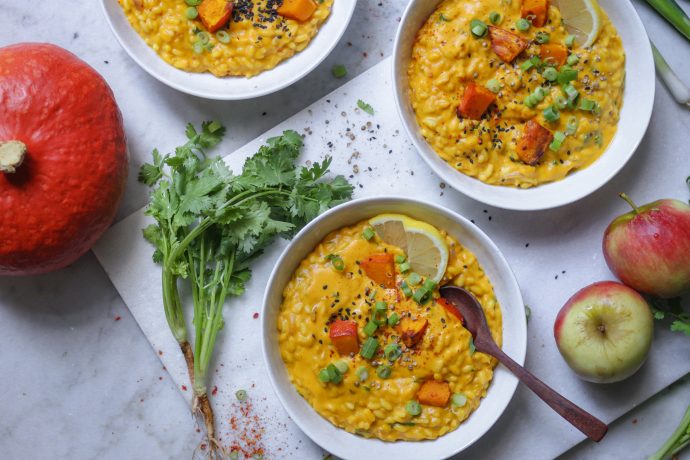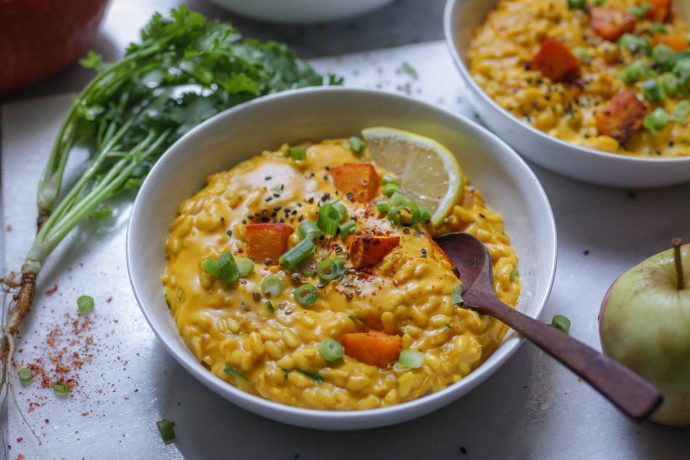 Yu may also like