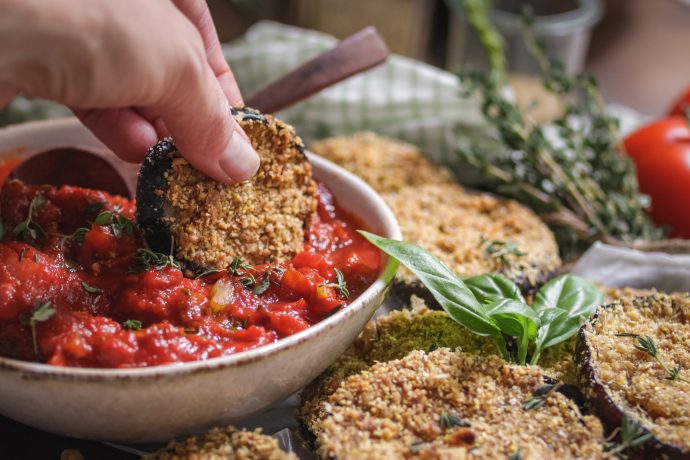 Zu meinen Favoriten hinzufügen!
Dipping warm eggplant slices, coated in a crispy & tasty breading in fruity tomato sauce is pure summer pleasure! Eggplants are not only varied and delicious, but also a particularly attractive so-called "fruit vegetable". Because in culinary terms they belong to the "vegetable" category, but botanically they are classified as fruit, as they belong to "berries". The mysterious, dark violet shining nightshade plant originally came to us from India via Asia in the 13th century. Today eggplants come in many colors and shapes – from bright white to striped, speckled, in their typical "egg shape" or spherical. If you are not yet an eggplant fan, let me convince you today with this delicious recipe: we prepare oven baked and deliciously coated eggplant slices with an awesome fresh tomato sauce.
When you buy eggplants, they should have a plump, shiny surface and you should process them quickly. Unfortunately, aubergines do not store well. It's too cold for them in the fridge and too warm outside in summer. A cool cellar would probably be the best place to store them for a few days. So, why not start right away and enjoy your aubergines fresh from the market or from the garden in a hearty crust with a delicious tomato sauce and maybe some extra tapas, like olives, pickled artichokes or pepperoni. Have fun trying out your Lea.
Ingredients (serves 4)
For the eggplants
2 eggplants (about 24 oz)

50 ml (1.6 oz)  olive oil

Salt

50 g (1.7 oz) pine nuts

4 tbsp. (20g/ 0.7 oz) yeast flakes

1 tsp. herbes de Provence

60 g (2.11 oz) semolina

1 tbsp. tahini

1 tbsp. soy sauce

60 ml (2 oz/ 0.25 cups) plantbased milk
For the tomato sauce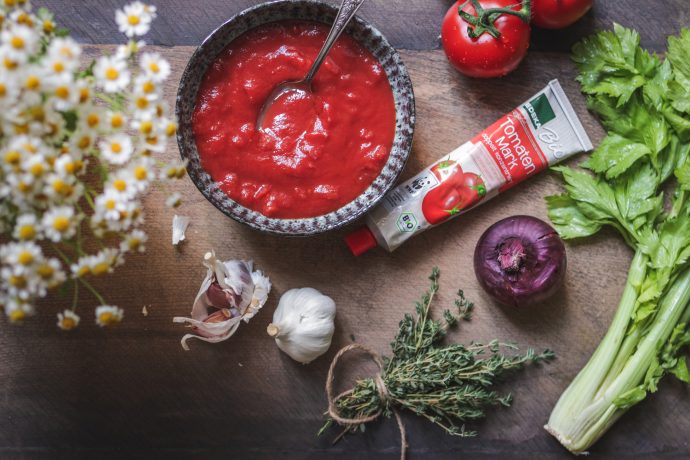 1 onion

1 clove of garlic

Optional: 2 stalks of celery

1 tbsp. olive oil

2 tbsp. tomato paste

1 tsp. paprika powder

1 jar/can of chopped tomatoes, natural (400 g/ 14.1 oz)

Optional: 1-2 tsp. rice syrup or agave syrup

Pepper or chilli flakes to your taste

Some sprigs of fresh thyme

Optional: 1 branch rosemary
Instructions (20 minutes preparation + 20 minutes baking)
Tip: Start the recipe by preparing the tomato sauce so that you can enjoy the baked eggplants fresh and hot from the oven. The sauce can be warmed up again just before serving, but you can also eat it cooled down. Both tastes very good.
So let's start with the fruity, quick tomato sauce. Peel and finely chop the onion and garlic clove. Wash 1-2 small stalks of celery (optional) and slice finely. Heat 1 tbsp. of olive oil in a frying pan.

Fry the diced onion and garlic as well as sliced celery (optional) in hot oil for two minutes. Add 2 tbsp. tomato paste and 1 tbsp. paprika powder and fry briefly. Then add the chopped tomatoes and warm them up while simmering. Season the tomato sauce with rice syrup (optional), chilli flakes, a pinch of salt and the leaves of about 4 stalks of thyme. If you like, add the chopped needles from a sprig of rosemary. Season the tomato sauce with salt.

Heat the oven to 200 °C/ 392 °F  fan and cover a tray with parchment paper.

Wash the eggplants, cut the ends and slice the aubergines (about 7 mm thick). Mix the olive oil and a pinch of salt and coat the slices on all sides. Place the eggplant slices on the baking paper.

Pre-bake aubergine slices for about 7-8 minutes at 200 °C/ 392 °F fan. They should be slightly soft, but not mushy. Do not leave them in the oven for too long, because they will be baked again coated in crumbs.

In the meantime, roast the pine nuts in a pan without fat until golden all around. Take care not to burn them. Then place the pine nuts on a paper towel and lightly dab the fat off. Crush the roasted pine nuts in a mortar or shred them finely in a blender.

Mix crushed pine nuts, 4 tbsp. of yeast flakes, 1 tsp. of herbs of Provence, 60 g semolina and a strong pinch of salt in a bowl. In a second bowl, whisk together 1 tbsp. tahini, 1 tbsp. soy sauce and the plantbased milk.

First pull the pre-baked aubergines through the tahini mixture and then turn them in the coating

Put the breaded aubergines back on the parchment paper and bake them in the oven at 200°C / 392 °F fan for another 10-12 minutes until golden brown.

Enjoy the spicy breaded eggplants slices fresh from the oven sprinkled with thyme leaves and serve the tomato sauce as a dip.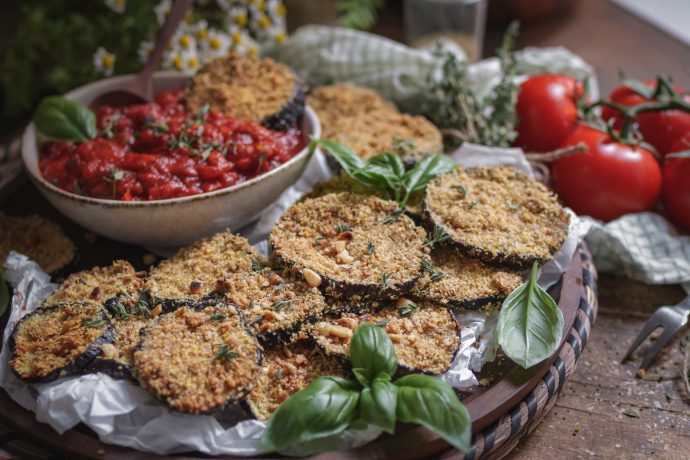 Tip: The eggplants become incredibly hearty due to the spicy breading, but remain slightly pliable and do not become "crispy firm" like chips. You can therefore also puree the tomato sauce to make it easier to dip the eggplant slices. Otherwise, the best way to eat them is to pour spoonfuls of the delicious sauce onto the aubergines and eat them with a fork or spoon.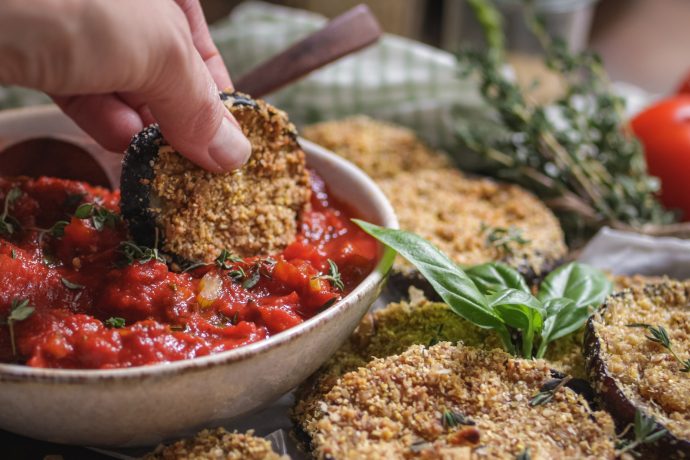 Baked eggplant slices are a perfect dish for mild summer evenings with friends or as a light lunch. I like to serve them with salad or other tapas, such as olives, pickled artichokes or braised vegetables. You can also serve them in a summery bowl.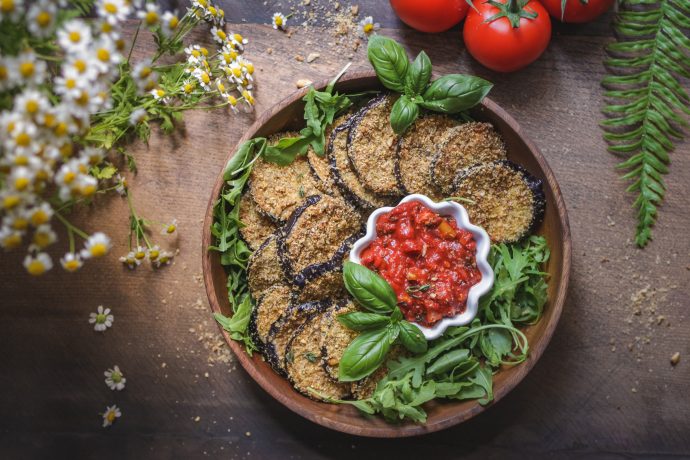 Bon appetit! And please write me how you liked this recipe inspiration. I am always very happy to receive feedback on my recipes.