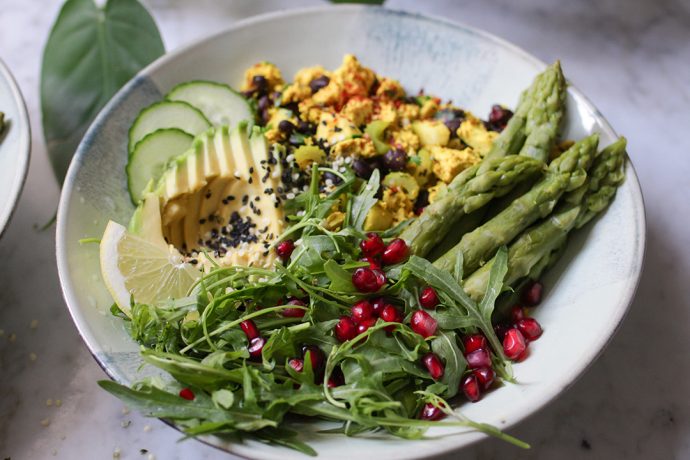 Zu meinen Favoriten hinzufügen!
This delicious bowl with green asparagus, tofu, black beans, avocado, rocket salad and pomegranate seeds is not only delicious, it is also packed with healthy protein, vitamins and minerals. As a bowl is always super versatile, the ingredients I used can be replaced by any veggies you have as leftover in your fridge. So, instead of onion, celery and courgette, you can use carrots, bell peppers and broccoli. And this is just one example. Just see what else is in your fridge waiting to be cooked and create your own great creation. Since all ingredients except the green asparagus are cooked in a large pan or wok, the preparation is super fast and you don't have to clean up much afterwards. I hope many of you will try this delicious recipe. The combination of green asparagus, tofu, beans and avocado is a real winer. If you like, refine the bowl with fruity pomegranate seeds. If you don't have or don't like pomegranate seeds, you can also use raspberries or blueberries. That would taste great, too. I'm really looking forward to your feedback. Have a great day, yours Lea.
Ingredients (serves 2)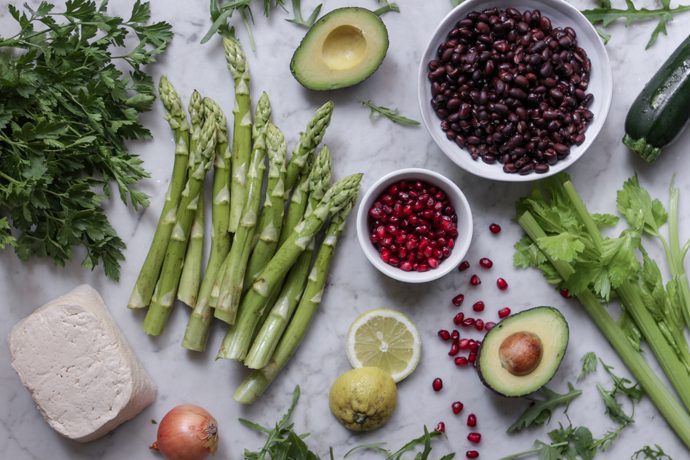 450 – 500 g (16-17 oz) green asparagus

60 g (2.1 oz) onions

80 g (2.8 oz) celery (2-3 stalks/optional)

150 g (5.2 oz) zucchini

1 can/4.9 oz g drained net weight cooked black beans (or kidney beans)

1 tbsp soy sauce

1 tbsp sesame oill (or another vegetable oil, but sesame oil is very frangrant)

400 g (14.1 oz) firm tofu

1-2 tsp. herbes de Provence

1 small tsp. cumin

1 tsp. tumeric

Black pepper or chilli flakes

2 handful of rocket salad (rucola)

1 handful fresh parsley

1/2 avocado per serving

A few slices of cucumber

1-2 tbsp. lemon juice

Optional: pomegranate seeds

Optional: black sesame seeds and hulled hemp seeds for garnish
Instructions (25 minutes)
Wash green asparagus and shorten hard ends generously. Peel onions and dice finely. Wash and chop 2-3 stalks of celery. Wash and chop the courgette. Rinse the beans in a sieve under running water.

Remove the tofu from the packaging and press dry with kitchen paper or a clean kitchen towel.

Bring a pot with salted water to a boil. Cook the green asparagus for 8-10 minutes until firm to the bite.

At the same time, heat 1 tbsp soy sauce and 1 tbsp sesame oil in a wok or deep frying pan. Add the chopped onion and fry briefly. Crumble the tofu with your hands and add it together with the celery and zucchini pieces.

Stir the tofu again and again and fry for approx. 5-7 minutes. Season the tofu with 2 teaspoons herbs de Provence, 1 small tsp. cumin, 1 tsp. turmeric and a pinch of salt and pepper (or chili flakes). Finally, fold in the rinsed black beans and warm up. Rinse off a handful of fresh parsley, chop and mix in. Season to taste with salt.

Put the tofu into two big bowls and add the green asparagus. Cut half an avocado per portion and put it in the bowl. In each bowl add a handful of washed rocket salad and a few slices of cucumber. Sprinkle the dish with lemon juice and serve garnished with pomegranate seeds.
I love to sprinkled black sesame seeds and peeled hemp seeds over the avocado.