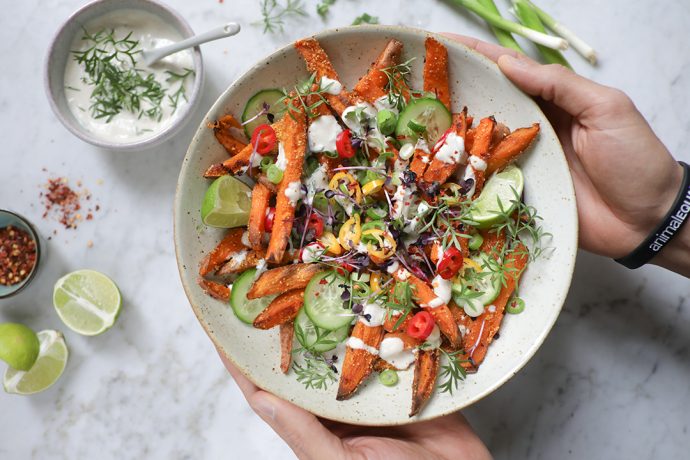 Zu meinen Favoriten hinzufügen!
For me sweet potato fries are pure soulfood and an all-time favorite. That's why today I'll serve it as a delicious main course drizzled with a creamy vegan yoghurt-tahini sauce and loaded with veggies and fresh herbs. As I'm not fan of greasy, high-calorie food, I made a light and healthy fries version. Thus, I baked them in the oven. And for those of you who may think oven-roasted sweet potato slices won't be crispy enough, I have some tips. Sweet potatoes get crispier when soaked in water for an hour befor slicing and baking them. Then I add 1-2 tbsp of polenta to the fries while baking and last but not least, yu really need to preheat the oven and get it hot, hot, hot! So, let's dive right into this healthy fries pleasure. Looking forward to your feedback, all the best Lea
Ingredients (Serves 2 as a main course, 4 as side dish)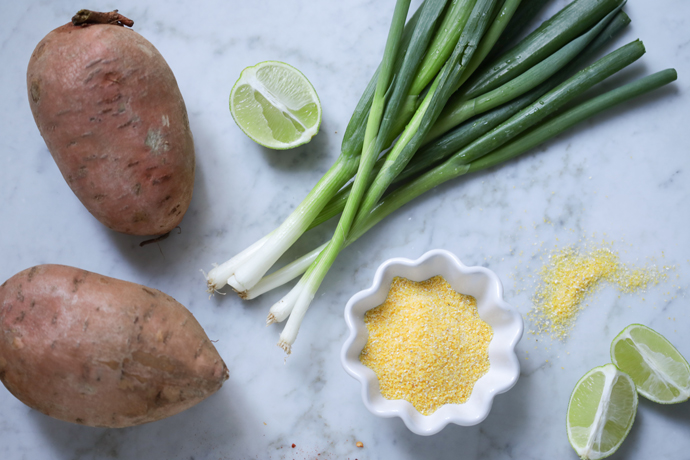 For the sweet potato fries
850 – 900 g (30-31 oz) sweet potatoes

4 tbsp of olive oil (or another vegetable oil)

1 tsp paprika powder

1 tsp harissa and or chili flakes

1 small tsp cumn

Sea salt

1-2 tbsp polenta
For the sauce
150 g (5.2 oz or 0.6 cup) soy yoghurt

1 tsp tahini

1 tsp hot mustard

2 tbsp lemon juice

Sea salt

Black pepper

A handful of cilantro (or parsley or mint leaves)
Veggies (optional ingredients)
2-3 spring onions

2 mild pepperoni (or bell pepper)

Sprouts to your liking

A handful of cilantro

Some slices of cucumber

Optional: An avocado cut in slices
Instructions (20 minutes preparation tme + 40-45 minutes baking time)
Wash the sweet potatoes, slice them and let them soak in clear water for about an hour.

Preheat the oven to 220 Grad (430 °F – static upper and lower heat works best in my opinion)

Drain the potato slices and dry them properly.

Mix 3 tbsp of olive oil, 1 tsp paprika powder, a small tsp cumin, a tsp harissa and/or chili flakes and a dash of salt. Marinate the sweet potato slices with this mixture and add 1-2 tbs polenta in the end. Spread the fries evenly on a baking sheet.  

bake the sweet potato fries for 40-45 minutes at 430 °F till crispy. Flip them over half way.

For the delish dip, mix soy yoghurt with 1 tsp, 1 tsp hot mustard, 2 tbsp lemon juice, salt, pepper and chopped cilantro. Season the sauce with lemon juice and salt to your taste.

Wash and chop 2 spring onions, the pepperoni (or bell peppers), cilantro and cucumber.

Put the sweet potato fries in a bowl, cover with the veggies, sprouts, cilantro and drizzle with the yoghurt-tahini sauce. You may also add some more salt. Enjoy!