Zu meinen Favoriten hinzufügen!
This delicious vegetable stew with beans brings all the goodness of Mediterranean flavor to your plate. Fennel, colored peppers, zucchini, tomatoes and eggplants meet fresh herbs de Provence and aromatic rocket salad. The taste of this delicious stew immediately takes me back to time I spent in Southern France or Northern Italy. I love these regions of Europe. When you stroll across the markets or simply go for a walk, you can smell oregano, bay leaves, rosemary, lavender, basil and thyme everywhere. You will also find all the aroma of these herbs in this stew, that is super easy to prepare At the beginning, the vegetables are cut into small pieces, then the ingredients simply simmer for 35 minutes on the stove and absorb the fragrance of the herbs. I serve the stew with rocket salad and a crispy ciabatta bread. Pure summer love for the whole family. Enjoy, yours Lea.
Ingredients (serves 2)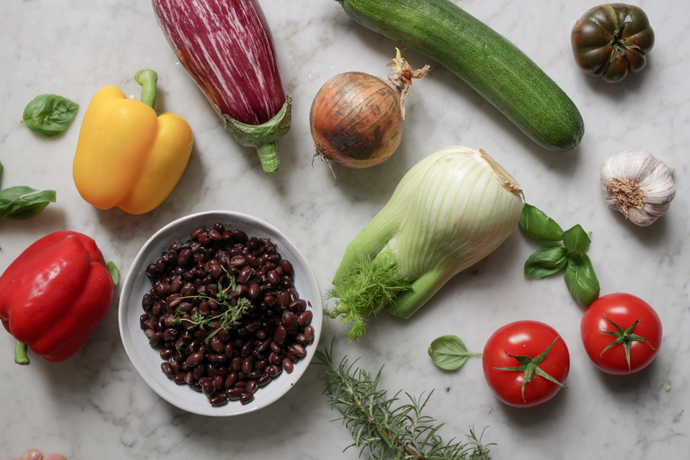 100-120 g (3.5-4.2 oz) onions

1 clove of garlic

Half a zucchini or a small zucchini (ca. 150 g/5.2 oz)

1 eggplant (300 g/10.5 oz)

Half a yellow pepper ( ca. 80 g/2.8 oz)

Half a red pepper (ca. 80 g/2.8 oz)

1 small fennel (ca. 230 g/8 oz)

2 tbsp.vegetable oil

2 tbsp. balsamic vinegar

4 tbsp. tomato paste

1 dash of red wine (optional/can be substituted with water)

600 g 21 oz) chopped tomatoes (1.5 cans or packages)

1 twig Rosemary

Optional: 3 bay leaves

1 tbsp. paprika powder

1 tsp. cumin

1 tbsp. herbs de Provence

1 can cooked black beans (240 g/8.4 drained net weight) oder kidney beans

Salt

Black pepper or chili powder/flakes

A handful of basil

Optional: 1-2 tbsp. Sriracha chili sauce

1 handful rocket salad per serving for garnish
Instructions (15-20 minutes preparation time + 35 minutes cooking time)
Peel and chop the onions and garlic clove. Wash and chop the zucchini, aubergine and half a red and half a yellow pepper. Wash the fennel, remove the hard stalk and cut into small pieces. Rinse the beans under running water.

Heat 2 tablespoons of vegetable oil in a large pot. Fry the onion and garlic pieces briefly until translucent. Then add the remaining finely chopped vegetables, sauté for 2-3 minutes with 4 tbsp tomato puree and deglaze with 2 tbsp dark balsamic vinegar. Boil down the vinegar briefly and deglaze the ingredients again with a dash of red wine (or go directly to the next step).

Add the chopped tomatoes, 200 ml (0.8 cup) water, a twig of rosemary and 2-3 bay leaves to the vegetables. Season with 1 tbsp sweet paprika powder, 1 tsp cumin and 1 tbsp herbs de Provence. You can add some chopped thyme if you like. Let the vegetables simmer gently for 30 minutes with the lid closed. Stir from time to time. Towards the end of the cooking time, stretch the consistency with a little water as desired (I added another 150 ml (0.6 cup) of water).

After cooking for 30 minutes, fold in the beans and season the stew with plenty of salt and pepper (or chilli flakes). Wash, chop and stir in the basil. Simmer the stew gently for another 5-10 minutes.

After cooking, remove the rosemary branch and the bay leaves. Season the stew with salt (if you like, you can add some Sriracha chili sauce).

Divide the stew into bowls and serve garnished with rocket. Enjoy!