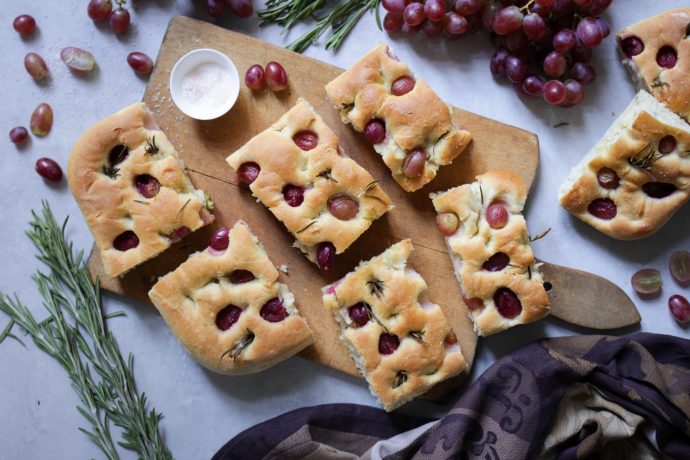 Zu meinen Favoriten hinzufügen!
This delicious focaccia with dark grapes, rosemary and sea salt is a perfect autumn recipe. Whether for guests with a nice glass of red wine, as a starter or for family gatherings – this grape focaccia will convince them all. The yeast dough becomes super fluffy and the taste of grapes together with the aromatic rosemary is simply perfect. By the way, don't be afraid of the yeast dough! If you follow my instructions, you will definitely succeed. Promised! Just remember: Yeast dough doesn't like draughts and the water you use for preparing the dough should not be too hot, but pleasantly warm. As often in the past, I used a package of dry yeast for this recipe, as I made very good experiences with it. But of course you can also use half a cube of fresh yeast. Either way this focaccia is not only a real eye-catcher, but a very special autumn pleasure. I am already looking forward to your feedback. Enjoy and have a great time, your Lea
Ingredients (serves 6)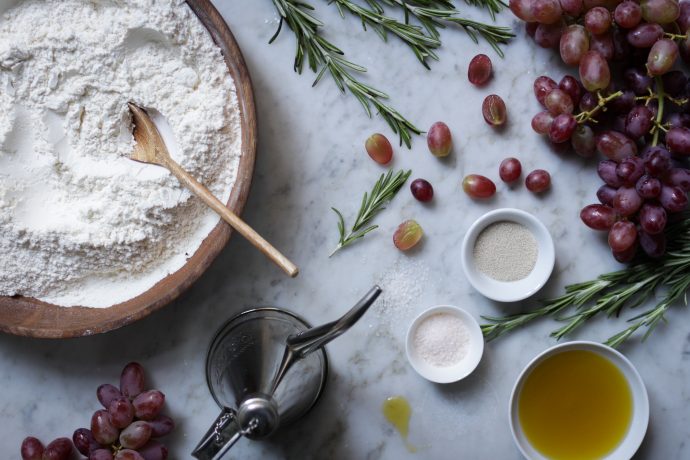 450 g (2 1/4 cups) (spelt) flour

230 ml/7.7 oz lukewarm water

1 tbsp. rice syrup or agave syrup

1 packet/ 7g (0.24 oz) dry yeast (or half a cube fresh yeast)

60 ml (1/4 cup) olive oil + olive oil for drizzling

1 dash of sea salt

3 branches of rosemary

A handful of grapes

Sea salt flakes
Instructions (20 minutes preparation, 75 minutes resting time for the dough , 20 minutes baking time)
Sieve flour into a bowl and dig a hollow in the middle of it.

Take 230ml warm water and stir in 1 tbsp agave syrup. Pour the sweetened warm water into the hollow and stir in the dry yeast. Also stir in a bit of flour and cover the yeast for 10 minutes until it will form bubbles. Then stir in all the flour thoroughly, gradually adding the olive oil. Finely chop a few rosemary needles and mix in.

Mix the dough with a pinch of salt and knead vigorously for 3-4 minutes on a lightly floured work surface until smooth. If necessary, powder the worktop with some more flour again.

Spread a bowl with some olive oil and add the dough. Cover the dough and leave to rise in a warm place without draughts for 45-60 minutes until it has approximately triples in size.

Brush a baking tin with a little olive oil and fit in the dough. Cover the dough again and let it rise for another 15-20 minutes. This makes the focaccia particularly fluffy. Preheat the oven to 200 °C/392 °F fan.

Press holes in the dough using your fingers and add the grapes and rosemary needles. I also add another small tbsp. of olive oil here. Cover the focaccia with 2 sprigs of rosemary (and remove them after baking).

Bake the focaccia at 200 °C/392°F fan/circulating air for about 20 minutes until the focaccia is nicely golden. Remove the two rosemary branches.

Enjoy your focaccia sprinkled with olive oil, sea salt and rosemary.