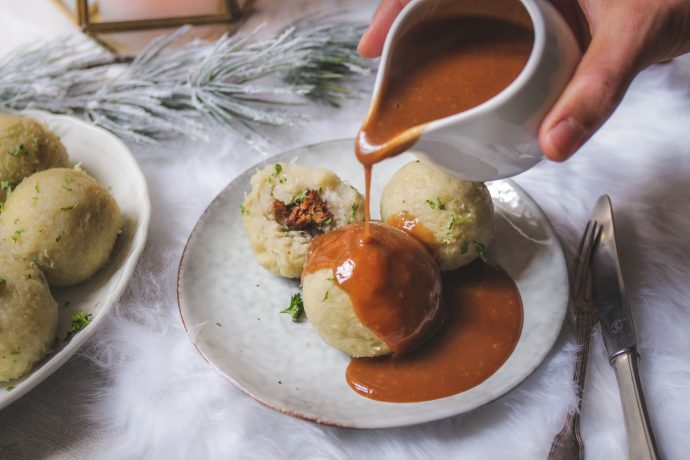 Zu meinen Favoriten hinzufügen!
A really good, vegan gravy is one of the most delicious things ever. No matter whether it you serve it with hearty dishes such as vegan roulades, savoy cabbage rolls, vegan roasts or combined with side dishes such as bread dumplings, potato dumplings or mashed potatoes – you can never have enough delicious, dark gravy with it. I'm such a big fan of it that I can only eat the gravy with potato puree or dumplings and it makes me crazily happy. A nice dark gravy is very easy to make and consists of nothing else than real good local vegetables, herbs and spices. Celery, leek, carrots, onions and paprika provide the taste and great herbs and spices for a fabulous aroma. The gravy is easy to make and can be prepared before the actual meal. The gravy lasts 3-4 days in the fridge and can also be frozen wonderfully. I'm really looking forward to your feedback. Enjoy yours Lea.
Ingredients (450 ml serves 4-6)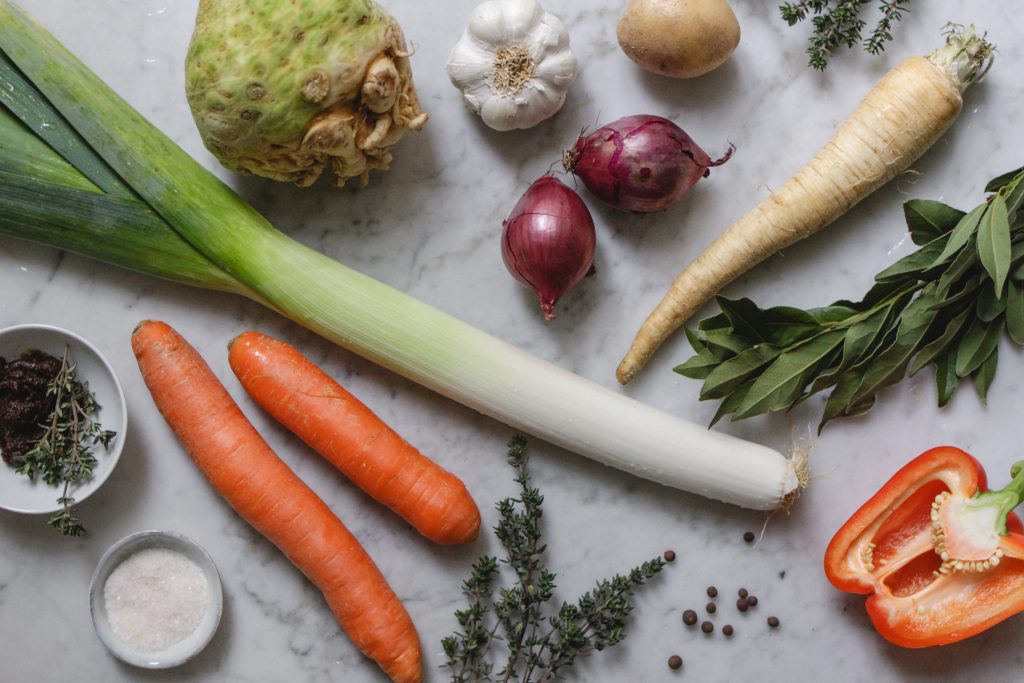 2 (red) onions

2 carrots (300 g/10.5 oz)

3 slices celery root (250 g/8.8 oz )

1 clove of garlic

1 leek stick

half a red bell pepper

1 potato (80 g/2.8 oz)

2 tbsp. vegetable oil

1-2 tbsp. dark miso paste

3 tbsp. balsamic vinegar

1-2 tbsp. soy sauce

A dash of red wine (ca. 50 ml/ 1.6 liquid oz) (can be substituted with vegetable broth)

0,9 – 1 litre vegetable broth

2-3 bay leaves

3-4 sprigs fresh thyme

5 allspice grains

6 juniper berries

Salt & pepper

Paprika powder

25 g margarine

25 g flour
Instructions (20 minutes working time + 40 minutes cooking time)
Cut onions unpeeled(!) into two halves. Wash the carrots and cut into small pieces, dice 3 thick celery slices. Peel a clove of garlic, chop 1 leek stick (only the light green part of it), half a red pepper and 1 unpeeled washed potato.

Heat 2 tablespoons of vegetable oil in a saucepan and fry the onion halves with the cut surfaces facing downwards until they turn brown. Then add all the (root) vegetables, garlic and bell pepper pieces and fry all the ingredients for 3-4 minutes.

Add 1-2 tbsp dark miso paste and fry briefly. Deglaze the ingredients with 3 tbsp balsamic vinegar, 1-2 tbsp soy sauce and a dash of red wine (optional). Then add the vegetable stock. Add bay leaves and thyme twigs, pimento seeds and crushed juniper berries and season with salt, pepper and paprika powder. Let the vegetables simmer for about 40 minutes.

Set up a second pot and use a medium-fine sieve: Pour boiled vegetables and all the liquid through the sieve into the second pot. Using a spoon, squeeze out the boiled vegetables as much as possible and pass through the sieve. This process takes a little time. Scrape the vegetables in the sieve as small as possible and squeeze as much liquid through the sieve as you probably can. Put the pressed vegetable residues in the sieve into the organic waste. What remains is the delicious sauce!

Now melt in another pot 25 g margarine. Using a whisk, stir 25 g flour into the liquid margarine and gradually add the sauce. Stir vigorously with a whisk until a rich, dark and creamy sauce is obtained. Season the vegan gravy to taste with salt, pepper and a dash of soy sauce.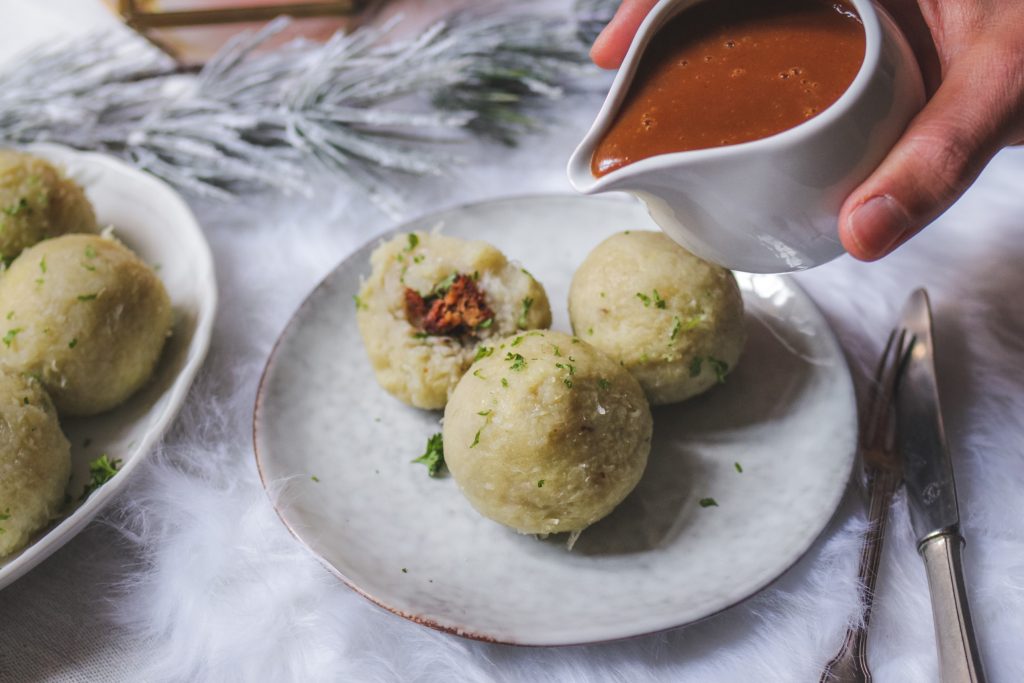 The vegan gravy keeps 3-4 days in the fridge and can also be frozen wonderfully.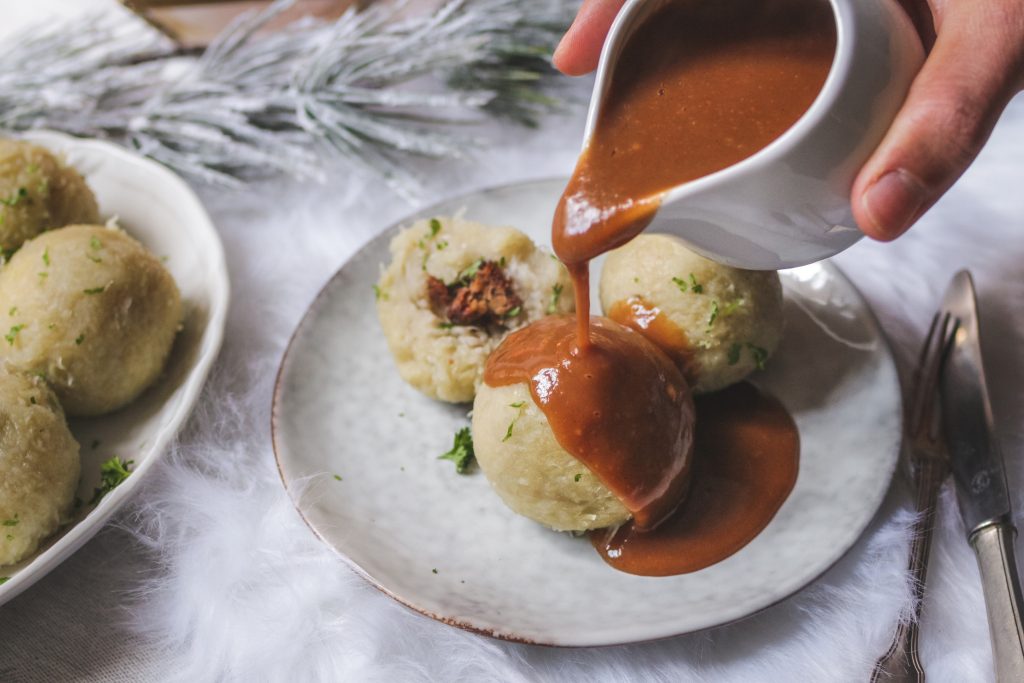 The recipe for these delicious vegan potato dumplings "half and half" can be found here.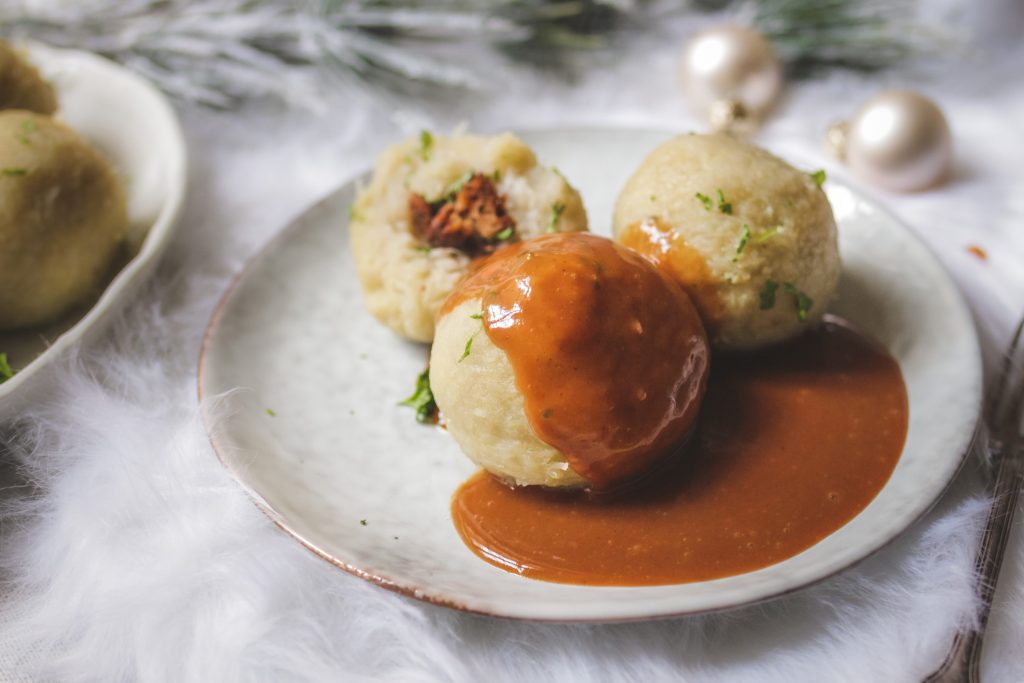 If you feel like it, take a look at the recipe for this great vegan Christmas roast, which you can see on the following picture.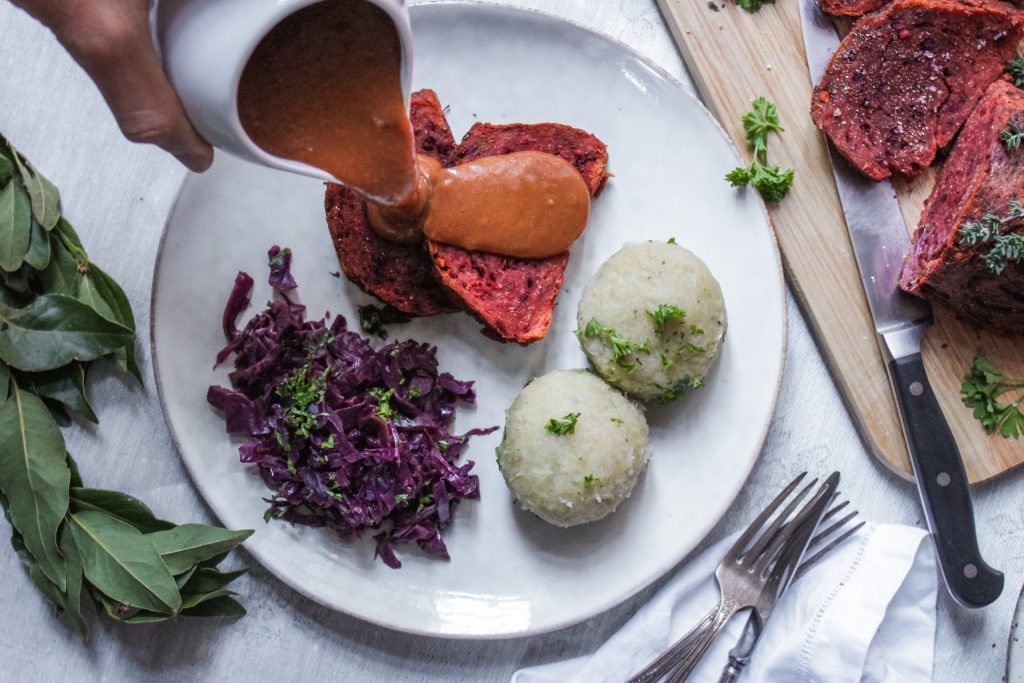 Bon appetit!