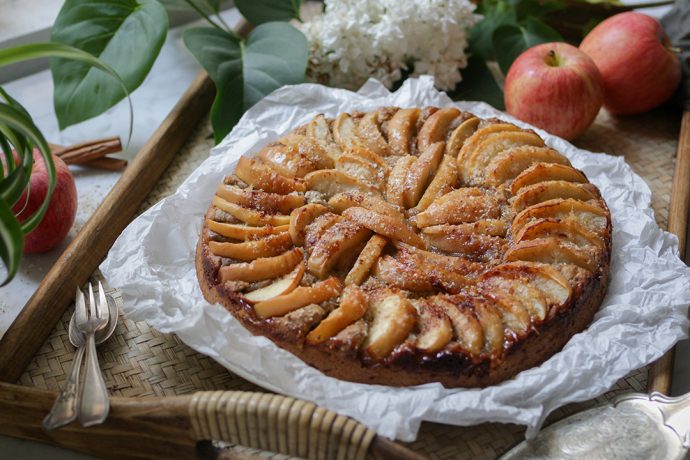 Zu meinen Favoriten hinzufügen!
Who is in for a fabulous, fragrant apple pie straight from the oven?! Yeah, that's what I thought! Nobody can restrain from the big classic: APPLE PIE. So today I have a wonderful apple pie recipe for you that the whole family will love. Few ingredients, quickly made. The cake is refined with fresh ginger, nutmeg and cardamom to make it taste especially good. These spices give the cake a fresh, ethereal aroma. Since the pie is wonderfully  juicy, you don't need any additional cream – but that's up to you, of course. I recommend serving it with 1-2 scoops of creamy vegan vanilla or walnut ice cream in the summer times. The preparation is very easy and sure to succeed. I'm really looking forward to your feedback and wish you a wonderful weekend, all the best Lea
Ingredients (serves 8)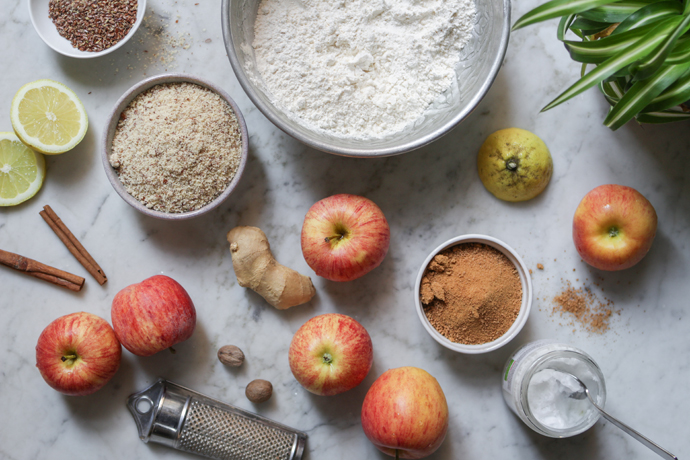 For the dough
30 g (1.05 oz) ground flax seed

250 g (2 cups/8 oz) flour (I used spelt flour type 630)

120 g (1 cup) ground almonds (or hazelnuts)

100 g  (0.5 cup/ 3.5 oz) coconut sugar or cane sugar

1/2 tsp. nutmeg

2 tsp. cinnamon

1 kl. TL cardamom (optional)

1 pinch of sea salt

25 g (0.88 oz) fresh ginger

2 tsp. baking powder

1 tbsp. apple vinegar

100 ml (0.42 cup) coconut oil (or melted margarine

170 ml (0.71 cup) plantbased milk
For the pie topping
2-3 apples

25 g (0.88 oz) margarine

1 tbsp. lemon juice

3 tbsp. maple sirup

20 g (0.7 oz) fresh ginger

1 tsp. cinnamon
Instructions (25 minutes preparation + 35 minutes baking time)
Mix ground flax seed with 5 tbsp. water and let it soak for some minutes.

Preheat oven to 180 °C (356 °F) fan/circulating heat.

Sift the flour into a big bowl. Add ground almonds, coconut or cane sugar, 1/2 tsp. nutmeg, 2 tsp. cinnamon, 1 small tsp. cardamom and a dash of salt and mix together. Add 2 tsp. baking powder and 1 tbsp. of apple vinegar (or lemon juice). Peel the ginger with a spoon, grate it and add the flesh and juice to the ingredients. Add soaked flax seeds.

Add coconut oil and plantbased milk and stir into a soft dough.

Open springform pan (9.8 inch/25 cm diameter) and place a baking sheet over the bottom. Close the springform pan and cut the baking paper on the outside. Pour the dough into the springform pan and spread evenly with a spoon. 

Wash and slice 2-3 apples.

In a pot melt the margarine and stir in 1 tbsp. lemon juice and 3 tbsp. maple syrup. grate another piece of peeled ginger and add to the margarine.

Layer the apple slices on the prepared dough and douse with the melted margarine. Add some cinnamon. I also added another tbsp. of ground almonds. 

Bake the apple pie for 35-38 minutes at 180 °C (356 °F) fan.

Remove the golden and fragrant apple pie from the oven and let it cool down for about 20 minutes. Use a knife to dissolve the pie from the springform pan and open it. Serve immediately and drizzle with some additional maple sirup.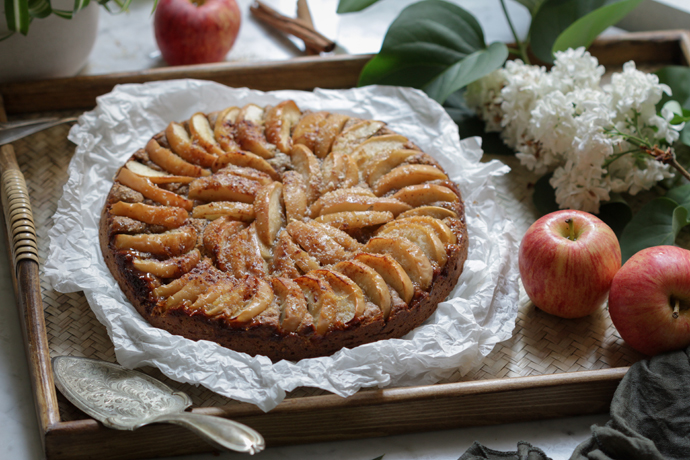 This is a cake the whole family will love.