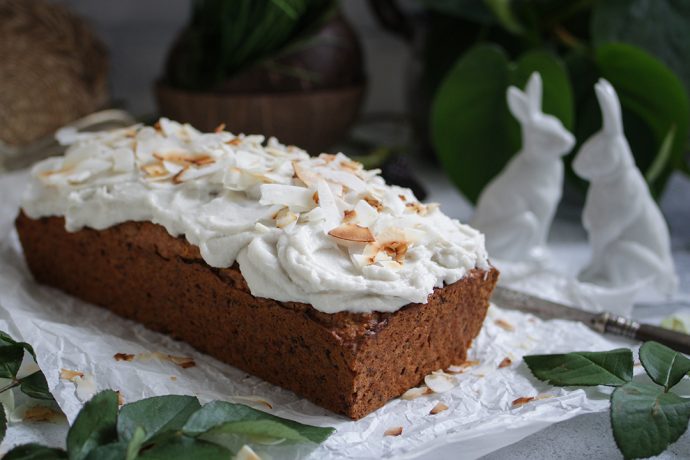 Zu meinen Favoriten hinzufügen!
"Rüblikuchen" – this moist and soft German carrot cake –  is a classic for Easter, but of course also a delicious treat throughout the year. This vegan carrot cake is easy to prepare with just a few ingredients and is guaranteed to succeed! For the pretty white topping I use "coconut cream", the solid part of a chilled can of coconut milk. So, just put your coconut milk a few hours in the fridge before using it. I wish you all a wonderful Easter and hope you have some relaxing, sunny days. See you soon, Lea

Ingredients (one baking tin 26 x 11 cm)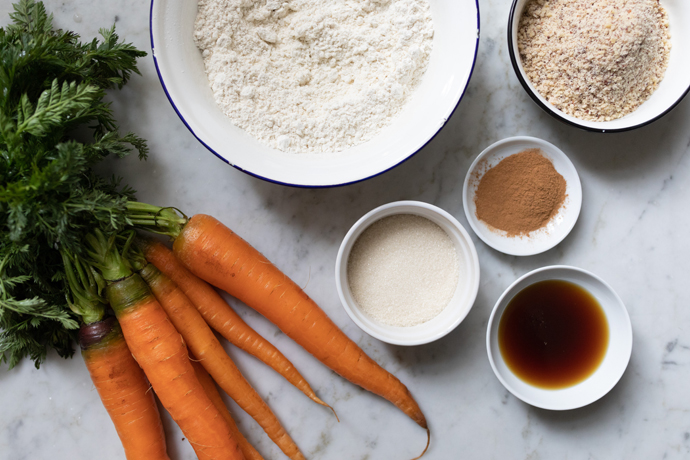 For the cake
250 g (8.8 oz) carrots

25 g (2.5 tbsp) ground flaxseed

250 g (8.8 oz) (spelt) flour

80 g (0.58 cups) finely grated hazelnuts (or almonds)

60 g (1/3 cup) cane sugar

2 tsp cinnamon

1 tsp baking powder

1 tsp baking soda

1 tbsp apple vinegar (or lemon juice)

100 g margarine + margarine for greasing the baking tin

4 tbsp maple syrup (=45 g)

120 ml (0.5 cup) carbonated water
In addition: a baking tin 26 x 11 cm (or a bit smaller)
For the frosting
150 g (1/2 cup) coconut cream (the solid part of a chilled can of coconut milk)

50 g (1.7 oz) agave syrup

2 tsp vanilla extract (or 1 small tsp ground vanilla)

1 – 1,5 tsp guar gum or starch

4 tbsp slightly roasted desiccated coconut flakes for garnish
Instructions (25 minutes preparation + 45 minutes baking time)
Remove the leaves and roots of the carrots and grate them. Mix the ground flax seed with 3tbsp of water and let them soak for some minutes.

Preheat the oven to 180 °C (356 °F). Grease a baking tin with margarine.

Mix (spelt) flour, ground hazelnuts, cane sugar and cinnamon in a bowl. Add baking powder and baking soda and drizzle with 1 tbsp of apple vinegar until it starts to foam. Melt and add the margarine, the soaked flaxseeds and 4 tbsp of maple syrup. Mix the dough evenly with the addition of 120 ml carbonated mineral water. Thenfod the grated carrots under the dough and fill it into the greased baking tin.

Bake the cakes at 180 °C (365 °F) F circulating heat for about 45 minutes. After half of the baking time, carefully cut the cake along the surface, so that the dough is cracked in a controlled manner. After baking, allow the cake to cool a bit before garnishing with the frosting (otherwise the frosting may melts).

Blend all the ingredients for frosting in the blender and apply to the cake.

Sprinkle the carrot cake with roasted coconut flakes. Place the cake in the fridge or enjoy right away.