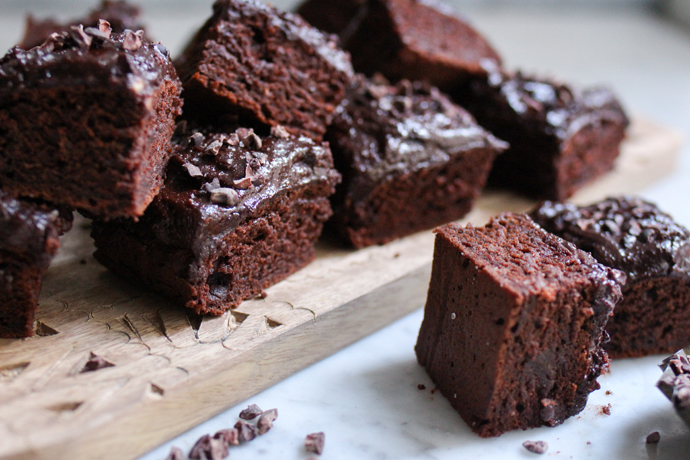 Zu meinen Favoriten hinzufügen!
Chocolate cravings anyone? What about some moist, rich chocolate cake chunks? Yes, indeed, these chocolate chunks are not like the usual chocolate brownies. Because brownies are a blast, but quite heavy and calorie dense. These chocolate darlings are more like a delicate cake cut into bite-sized pieces. I eat them as a sweet snack in between or serve them for my guest when they visit me for a cup of coffee or tea in the afternoon. They are also great for take-away to the office. To give them a nice crunch, I garnish the chocolate cake chunks with cocoa nibs, but they are awesome sprinkled with sea salt as well. Hope you enjoy, best Lea
Ingredients (serves 6)
For the cake
200 g (1 1/3 cup) (spelt) flour

30 g (1/4 cup + 1 tbsp) raw cocoa powder

4 tbsp coconut sugar

1 tbsp cinnamon

A pinch of sea salt

2 tsp baking powder

1 tsp baking soda (or a bit more baking powder)

1 tbsp apple vinegar

1 ripe banana

100 ml (0.4 cup) coconut oil

200 ml (0.8 cup) plantbased milk (such as soy milk, almond milk or rice milk)
For the chocolate glazing
80 g (1/2 cup) cashew nuts (oder 4 tbsp cashew butter)

100 g (0.4 cup) coconut cream (the solid part of a chilled can of coconut)

1 tsp cinnamon

25 g (1/4 cup) raw cocoa

20 g (1/8 cup + 1 heaped tbsp) icing sugar

1 tbsp coconut sugar

Cocoa nibs for garnish (or sprinkle the chocolate glazing with sea salt!)
Instructions (20 minutes preparation + 30 minutes baking time)
Soak the cashew nuts in water overnight or at least for 4 hours. We need them for the glazing.

Preheat oven to 180 °C ( 356 °F). Coat a mold or casserole (25 x 17 cm) with baking paper (see next picture).

Mix flour, raw cocoa, coconut sugar, cinnamon and a pinch of sea salt in a bowl. Add baking powder and baking soda and drizzle with 1 tbsp apple vinegar till it builds a foam. Smash a ripe banana with a fork and whisk under. Add coconut oil and plantbased milk and stir all ingredients together to a soft dough.

Pour the chocolate dough into the mold and spread evenly with a spoon.

Bake the chocolate cake for 28-30 minutes at 180 °C ( 356 °F) circulating heat.

Meanwhile you can already prepare the glazing. Drain the cashew nuts and put them in a high-speed blender. Add cinnamon, coconut cream, icing sugar and coconut sugar and blend.

Let the chocolate cake cool down for 20 minutes after baking and than spread the chocolate glazing over the cake. Cut into chunks and enjoy the full chocolate flavor! Add some cocoa nibs on top for some extra crunch or sprinkle with sea salt.