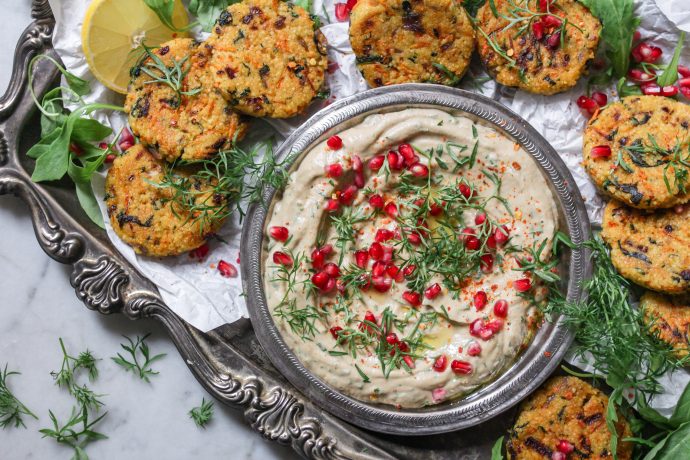 Zu meinen Favoriten hinzufügen!
It's vegan soufood time again. We are preoparing awesome vegan millet patties and creamy "Baba Ghanoush". Now you might ask yourself: "Baba-whaaaat??" Yes, "Baba Ghanoush" is the lovely name for a super delicious dip made out of oven roasted eggplants, garlic and tahini. This dip has its origin in the Arabic kitchen, where it is often served with falafel. I always add some extracilantro to my Baba Ghanoush and garnish it with pomegranate seeds, what astes extremely good together. But I would also like to praise millet once more, because I estimate that many people still have it far too seldom on their menu. Millet is one of the oldest foods of all and originally came to us from Asia. For hundreds of years it was also cultivated in Europe. But in times of hunger and shortage during the world wars however, millet was unfortunately displaced by very satisfying potatoes and a higher-yielding corn crop. In some places in Germany some farmers now are trying to cultivate it again (for example in "Spreewald"near Berlin).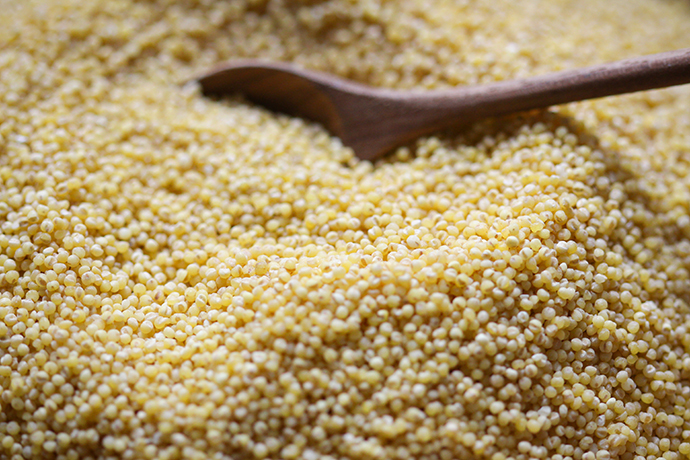 Millet is not only very tasty and varsatile, but also a very healthy food.Gluten-free, as mentioned, the grain brings plenty of protein to your table and is rich in iron, magnesium, A and B vitamins and silicic acid, which is especially good for beautiful skin, shiny hair and strong fingernails. Furthermore, millet has an anti-inflammatory effect. Millet tastes slightly nutty and very mild. Without much effort and with only a few ingredients, millet can be used to make very tasty patties, which are super yummie both warm and cold.
Of course you can also simply prepare the Baba Ghanous-dip without the millet patties and eat the delicious cream with flat bread or dip it with vegetables. The millet patties on the other hand are also great to take away – a really good to-go food that is easy to prepare. I really like the combination of both and hope you enjoy this recipe, all the best Lea.

Ingredients (serves 2-3)
For the millet patties (10-12 patties)
160 g (5.54 oz) fine millet (quick cook millet)

420 ml (14.2 fl oz/1.7 cups) vegetable broth

80 g (2.8 oz) onions

1 clove of garlic

100 g (3.5 oz) carrots

1 handfull of baby spinach (50 g/ 1.7 oz), finely chopped

Salt & pepper

1 small tsp. smokes paprika powder (or sweet paprika powder)

1 tsp. cumin (or curry powder or Garam Masala – depending on taste)

1 tbsp. cornstarch or potato flour

2 tbsp. vegetable oil for frying the patties
For the awesome Baba Ghanous dip
2-3 eggplants (approx. 600 g/21 oz)

1 tbsp. olive oil + optional olive oil for drizzling

1,5 tbsp. tahini

1 clove of garlic

1 tbsp. lemon juice

Salt

1 small tsp. smoked paprika powder (or also sweet paprika powder)

Optional: a small bunch of cilantro (or parsley)

Optional: pomegranate seeds for garnish

Optional: chili flakes to your liking
Instructions (30 minutes working time + 35 minutes baking time)
Start preparing the Baba Ganoush, because the eggplants bake for 35 minutes and you can prepare the millet thalers during the baking time. To do this, preheat the oven to 200 °C/ 392 °F fan (preheat the oven and cover a baking tray with baking paper.

Wash and halve the eggplants, brush them all around with a little olive oil and place them on the baking paper with the cut surface facing down. Prick the skin side several times with a knife.

Bake the eggplant halves at 200 °C/ 392 °F fan for about 35 minutes.

Bring millet to the boil with the vegetable stock, reduce heat, stir and let the millet simmer gently for 8-10 minutes with the lid slightly tilted. (Attention: Large millet grains cook much longer and need a lot of liquid/please follow package instructions). Stir the millet once after cooking and let it swell for another 10 minutes with the lid closed.

Peel onions and garlic clove and dice finely. Finely grate the carrot. Wash and chop the baby spinach. Tip: For shredding the carrot I use my beloved

Julienne slicer from GEFU

. With my

code "LeaGreen15"

you get a

15% discount

on this little, but genius kitchen aid (affiliate offer/advertising).

Heat 1 tablespoon of oil in a pan and fry the onion and garlic cubes until translucent. Add baby spinach and let it fall together. Remove ingredients from the heat.

Mix the cooked millet with the grated carrots, the fried onions with spinach as well as salt, pepper, smoked paprika powder, cumin and cornflour in a bowl. I simply knead the ingredients with my hands.

From the mass with slightly moistened hands form roastings (Tip: I put a small bowl of water on the work surface to moisten my hands again and again).

Heat some oil in a frying pan and fry the roasts on both sides for a few minutes until golden brown.

Remove eggplants from the oven and let them cool down briefly. Remove the flesh of the eggplants from the peel with a spoon and put them in a blender.

Add the tahini, a peeled clove of garlic, 1 tablespoon lemon juice, a generous pinch of salt and a pinch of smoked paprika powder to the flesh of the roasted eggplants in the blender and puree the ingredients into a fine cream. Season Baba Ghanoush with salt and lemon juice. Optionally, wash, chop and mix in the coriander (I used wild mountain coriander, which is particularly aromatic). Remove pomegranate seeds for garnishing.

Spread Baba Ganoush in a bowl, optionally drizzle with olive oil and garnish with pomegranate seeds and coriander. If you like you can sprinkle chili flakes over it.

Serve Baba Ghanoush with millet eels and rocket salad. Dip the millet taler into the tender cream and enjoy.
The millet patties tastes wonderful warm or cold. The recipe is therefore also ideal for buffets, parties and of course for take-away.