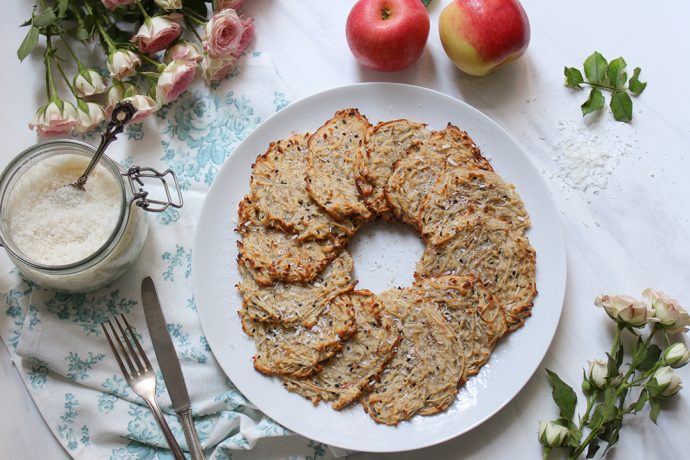 Zu meinen Favoriten hinzufügen!
What are apple pancakes or as I call them in the German recipe version "apple fritters"? Honestly, I do not really know that myself. But I find it a very fitting name for my latest phantasie apple creation. You could certainly call them apple pancakes, only are they not prepared in a pan at all, but instead in the oven. For the light dough I used a mixture of spelt flour, rice flour, desiccated shredded coconut and grated apples and it turned out super delicious.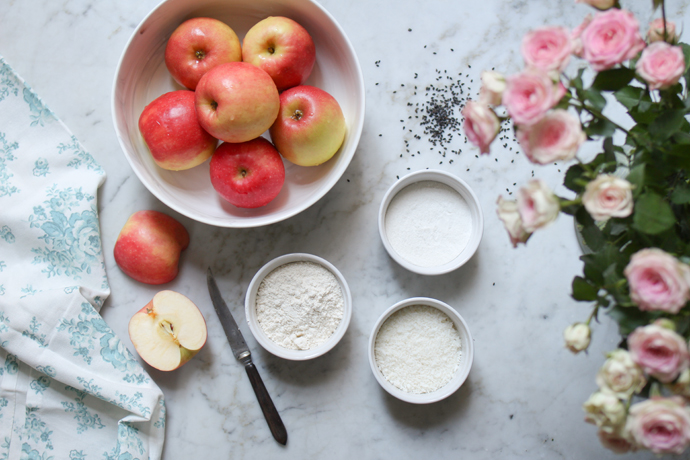 If you would google apple pancakes or appple fritters you would mostly find creations that are either pancakes or kinds of fried apple buffers, which are very greasy. Well, this is the tender, fat-free version of it and very fruity. They are not crispy, but rather have the consistency of pancakes – soft and fluffy. They are awesome for breakfast, as snack or as a dessert. So I hope you have fun with this fruit pleasure recipe. And since the question will come 100%: Yes, you can replace the rice flour with more spelt flour. Enjoy and see you soon, Lea.

Ingredients for 12 pancakes (serves 2-3 – depending on your appetite)
For the dough
50 g (1/2 cup) (spelt) flour

50 g (1/2 cup) rice flour

30 g (1/3 cup) desiccated shredded coconut

200 ml (0.8 cups) coconut milk

1 tsp ground vanilla or 1 tsp vanilla extract

2 tbsp maple syrup

Optional: 1 tbsp black sesame seeds

1 tbsp cane sugar + cane sugar to sprinkle
Additional ingredients
4 apples (each 130 g/ 4.5 oz)

1 tbsp lemon juice
Instructions (15 minutes preparation time + 25 minutes baking time)
Heat the oven to 180 degrees °C (356 °F) and cover a baking tray with baking paper.

Mix all the ingredients listed for the dough in a bowl and whisk them evenly. Wash 4 apples, grate them and mix the grated apples with 1 tablespoon of lemon juice. (Throw away the core housing)

Put the apple rasp in the dough and mix well.

Place one serving of apple rasp next to each other flat on the baking paper with your hands (mass yields a total of two plates full, which you can bake one at a time). Sprinkle apple fritters with some cane sugar.

Bake the apple pancakes in a preheated oven at 180 degrees °C (356°F) for about 25 minutes until the edges are golden brown. Sprinkle with some more cane sugar and desiccated coconut and enjoy.
Tip: It may be that after baking a few small apple corners on the edge were dark. You can just cut it off with scissors.The small tiny apple pieces that stick out at the side burn quite quickly but this doesn't affect the overall great flavor of the pancakes.