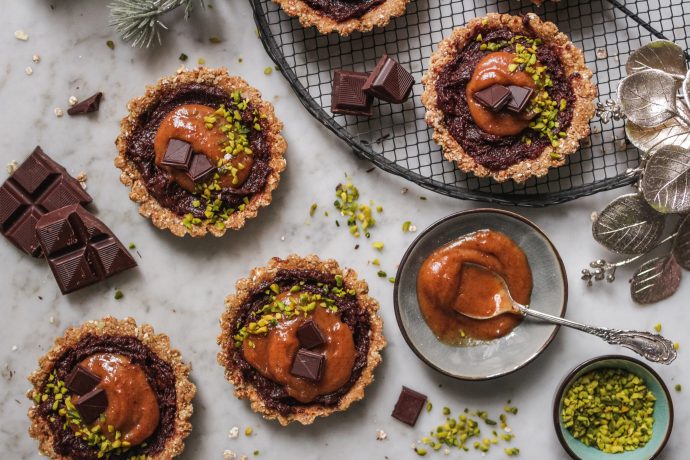 Zu meinen Favoriten hinzufügen!
"Chocolate doesn't ask stupid questions, chocolate understands." As this is so true for many reasons, I show you today an easy recipe for some awesome chocolate tartlets topped with delicious date caramel. It is a tempting sweet snack and of course a great dessert for all chocolate fans. Especially for Christmas! And since really good vegan chocolate is something very special, I teamed up with my friends and genius vegan chocolate manufacturer: Vivani. Have you ever tried one or more of Vivani's many delicious vegan chocolates? The selection is huge – whether roasted almonds, dark nougat, dark ginger tumeric, superior dark or the perfect cooking chocolate. Here is a link to the assortment where all varieties are certified organic and Fair Trade compliant!  For my delicious chocolate dessert, I use the Vivani cooking chocolate to give these "unbaked" tartlets a wonderfully deep, intense chocolate aroma. And as a little "extra" I finally add small pieces of the fine dark mini chocolate bars. The packaging of Vivani chocolate is by the way purely ecological – even the inner foil around the bars is NO plastic, but a special natural foil based on wood fibres that can be disposed of on the compost.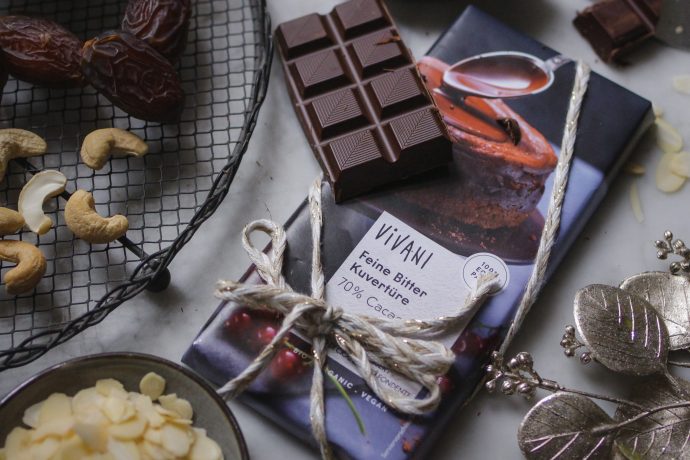 But now to our delicious tartelettes. They are a "no bake dessert". Enjoyed them chilled. Thus you can make them as a dessert 1-2 days in advance and stored in the fridge. Since caramel harmonizes so great with chocolate, the chocolate tartlets get a creamy caramel glaze of liquid date paste with a pinch of salt. Simply good. So I'm really looking forward to your personal chocolate experience and I send you many lovely chocolate kisses, yours Lea.
*Cooperation: This recipe was developed in cooperation with Vivani chocolate. I would like to express my sincere thanks for this delicious cooperation and the perfect chocolate enjoyment.
Ingredients (serves 6)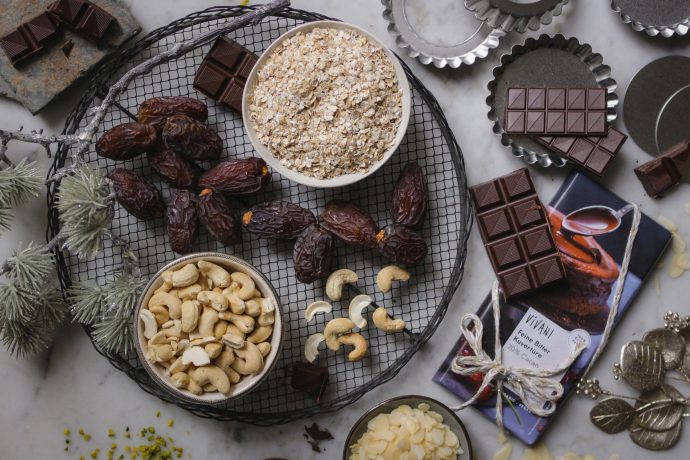 For the base
100 g almond flakes

160 g fine (gluten-free) oat flakes

150 g pitted Medjoul dates

4 tbsp. maple syrup

1-2 tsp. cinnamon

1 pinch of sea salt
For the chocolate filling
170 g cashews

120 g Vivani cooking chocolate

1 tbsp cocoa

3 tbsp.s maple syrup
For the date paste
4 pitted Medjoul dates

4 tbsp. maple syrup

1 pinch of salt

60 ml plantbased milk

1 tsp. cinnamon

1 tsp. lemon juice
For garnish
3 tsp. chopped pistachios (or alternatively chopped hazelnuts, hulled hemp seeds or cocoa nibs)

More vegan chocolate pieces to decorate (I used 2 Vivani "Fine dark mini chocolate bars)
In addition: 6 small tartlet moulds with lifting base.
Instructions (Soaking time for cashews + 20 minutes working time + 30 minutes cooling time)
For the filling soak 170 g cashews in water overnight or for at least 4-6 hours. This process can be speeded up by using hot water, if needed. Then drain off the water.

Pour all the ingredients specified for the tartlet base into a blender and mix to a smooth, slightly sticky mixture. Pour the mixture into the tart moulds (enough for 6 pieces), press down well and form a rim.

Chop the dark cooking chocolate and melt it in a bowl over a hot water bath. Add the soaked cashews, the melted chocolate, 1 tbsp. cocoa and 3 tbsp. maple syrup into a (highspeed) blender. Mix the ingredients to a viscous cream. Using two spoons, spread the chocolate cream into the prepared tartlets and place them in the freezer for 15 minutes or in the fridge for 30 minutes.

In the meantime, mix all the ingredients for the date paste in a blender and season the date caramel with salt. The consistency of the delicious date caramel can be stretched with a plantbased milk, if necessary. Take the chocolate cakes out of the freezer, add the date caramel and garnish with chopped pistachios. I have also refined the tartlets with other small pieces of Vivani chocolate.

Keep the chocolate tartlets in the fridge until consumed. They taste best when you take them out of the fridge about 60 minutes before serving.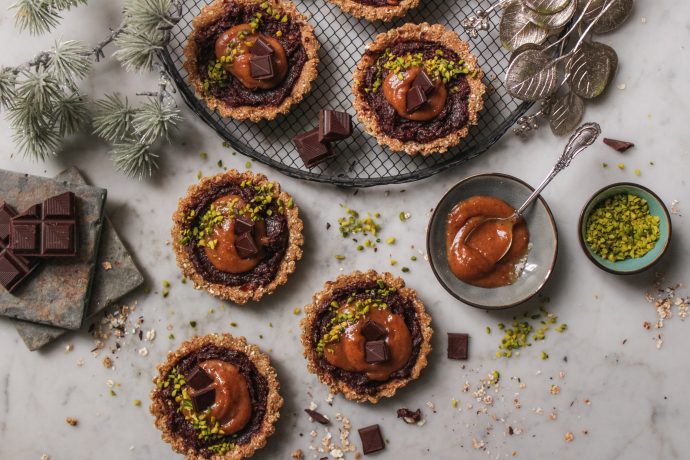 The world is simply better with chocolate, wouldn't you agree?! Enjoy!