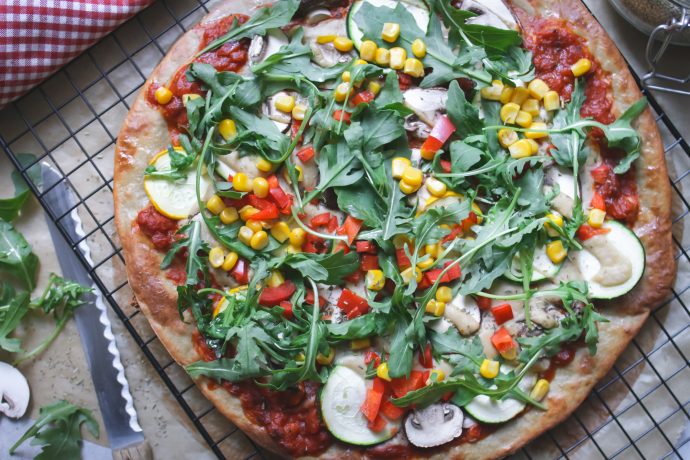 Zu meinen Favoriten hinzufügen!
Craving pizza and wanna make a healthy but still super delicious choice? Then this awesome quinoa-pizza with a gluten-free, only 2 ingredient crust, is exactly what you are looking for. Since I discovered how easy it is to make this pizza from scratch, I can't stop baking it over and over again. And, there is no need for "pre-cooking" the quinoa. The gluten-free corn is used right away. But never forget to thoroughly wash/rinse the quinoa before using it. Because this will remove the bitterness of quinoa and improves its overall taste. Just look how awesome this easy and healthy vegan pizza turns out. And this "mexican style" topping is only one of many variations you can do. Just choose the toppings to your liking.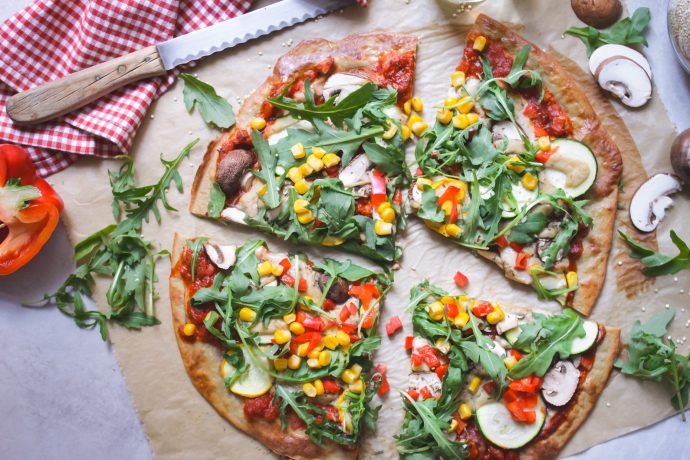 In this recipe you also learn how to quickly prepare a creamy and tasty cheese alternative. I therefore whisk an easy béchamel sauce but you can also go for a gluten-free alternative here, indicated in the recipe. So, I hope you will fully enjoy this recipe and please, don't forget to leave a comment. I'm so curious about your experiences and how the pizza turned out. Let's start, all the best Lea.
Ingredients (1 Pizza, serves 2)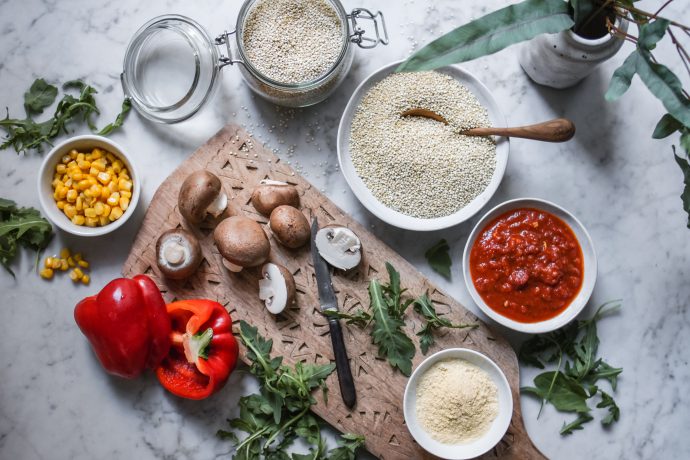 For the gluten-free pizza crust
200 g (7 oz) Quinoa

2 heaped tbsp. chickpea flour (ca. 25-30 g/ 0.8-1 oz)

1 pinch of salt

1 small tsp. cumin

Optional: 1 small tsp. paprika powder

1 EL olive oil for brushing the parchment paper
For the topping (just a suggestion – choose all toppings to your liking)
5 tbsp.  (150 g/ 5.2 oz) vegan tomato sauce or pureed tomatoes (ready-made product)

1/2 small zucchini (ca. 100 g/ 3.5 oz)

4 mushrooms

A piece of (red) bell pepper

1/2 small can of cooked corn (ca. 40 g/ 1.4 oz)

1 handful of rocket salad
For the cheese substitute
20 g (0.7 oz) margarine

25 g (0.8 oz)  flour

350 ml (11.83 oz) plantbased milk (e.g oat milk)

Optional: a pinch of garlic powder/granulated garlic

1 tsp. herbes of Provence

1 tsp. hot mustard

15 g (0.52 oz) yeast flakes

1-2 tsp. soy sauce (or a pinch of salt)
Tip: You prefer to prepare a gluten-free cheese alternative? No problem! Simply mix 1-2 tbsp. cashew paste with 1 tsp. hot mustard, 10 g yeast flakes, 1-2 tsp. soy sauce (or a little salt), 1 tsp. herbs of Provence and, while warming and stirring, add plantbased milk until you have a creamy, liquid cheese substitute mixture! Season your vegan cheese with salt.
Instructions (15 minutes preparation + 25 minutes baking time)
Preheat oven to 200 °C/ 392 °F fan and cover a baking tray with baking paper. Important: Brush the baking paper with some olive oil (otherwise the bottom of the dough will stick to the baking paper!).

Rinse quinoa thoroughly and drain (this removes the bitter taste of quinoa). Puree the rinsed quinoa with 110 ml water, chickpea flour, 1 pinch of salt, cumin and optionally some paprika powder in a high-speed blender until creamy. Use a spoon to spread the quinoa dough round and evenly on the baking paper.

Bake the pizza base at 200 °C/ 392 °F fan for about 8 minutes. Take the tray out of the oven, turn the pizza base over and bake for another 5 minutes.

While the pizza base is pre-baked, the creamy béchamel sauce can be prepared (your easy cheese substitute). For this, melt margarine in a pot. Using a whisk, add flour to the liquid margarine and stir in plantbased milk one at a time. Stir in 1 pinch of garlic powder, 1 tsp. of herbs of Provence, 1 tsp. of hot mustard, yeast flakes and a pinch of salt or a little soy sauce. Let the cheese substitute thicken until creamy and then remove from the heat.

Remove pre-baked pizza base out of the oven (together with the baking tray – (be careful, it is hot!!!). Turn the pizza base over again and spread with tomato sauce. Generously drizzle the prepared cheese substitute over the pizza. Add some slices of zucchini, finely chopped mushrooms and paprika as topping. Finally, drizzle some more béchamel over the pizza.

Then bake the pizza at 200 °C/ 392 °F fan for another 8-10 minutes.

Take the pizza out of the oven, spread the corn over the pizza. Put 1 handful of washed rocket on the pizza and optionally add some more pieces of paprika. Isn't this super fast, healthy and simply delicious?! Enjoy!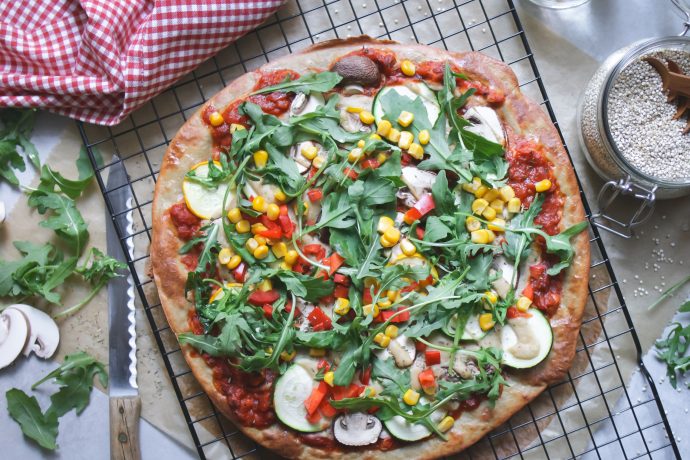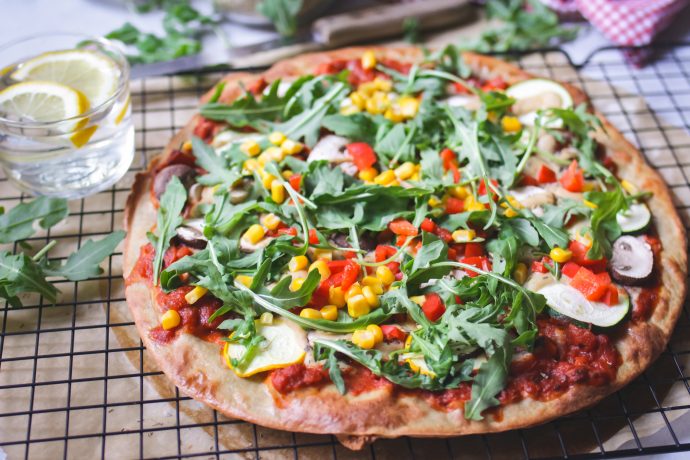 The gluten-free quinoa pizza base is super crispy and you can spread it as you like and according to season. The important thing here is simple: always pre-bake the quinoa pizza base without topping on both sides and then finish baking with topping.