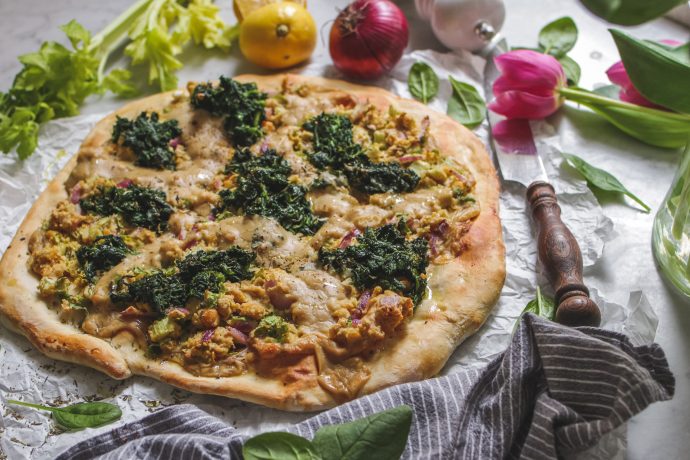 Zu meinen Favoriten hinzufügen!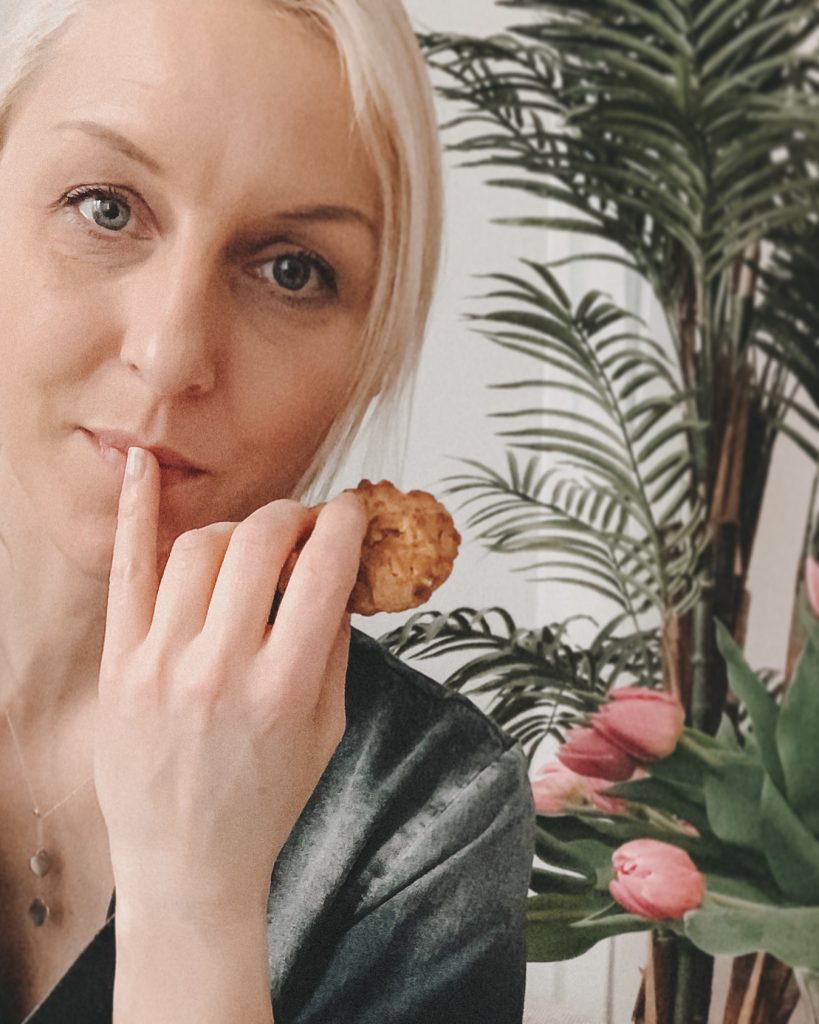 Hi everyone, I hope you are fine! Before we get to todays recipe for a delicious vegan tuna pizza, I would like to say a few words about the current Corona crisis. I know…it sucks… so, I'll make it short, I promise. But a simple "keep it up" is difficult in view of the current developments, especially for me as a blogger. After all, how should we food bloggers as authors and actors in public life react to the current pandemic and should we react at all? What do our readers and fans expect from us now? Distraction? Help for an everyday life that today is not the same as it was just yesterday? Please feel free to write me about this in the comments. Because now simply continuing to publish "only" tasty vegan recipes and nutrition tips seems too profane to me. My wish is to support you, to encourage you, but also to give you joy and to spread lots of positive energy, especially in uncertain times like these. Therefore, my first thought was to continue with recipe ideas on the blog that can be made only with few ingredients and mostly canned food. Of course it is not to be assumed that there will be longer food shortages in the near future. But avoiding unnecessary shopping, restricting social contacts and, if possible, remote working are certainly reasonable measures to slow down the spread of the virus and thus relieve our health system. We should also support our immune system additionally through our diet. I know that many of you are now doubly burdened: Lack of childcare, worries about sick relatives or working in the "risky" and strenuous professions of the healthcare and social system or simply in shops with a lot of public traffic are a great challenge right now. Whatever is bothering you, please write me about it.
With today's recipe for a very quickly made, incredibly delicious vegan tuna pizza, I would like to bring a little comfort and well-being to you. You need very few ingredients and it is perfect for the whole family. Maybe cooking will help some of you to get away from stress and panic, information overload and uncertainty. I feel like this. I love to be in the kitchen, listen to music and cook delicious vegan dishes with all my positive energy, bringing a smile to the faces of my guests, my family and myself. I hope I can pass on some of this joy of life to you through this delicious recipe. I thank you for being here and I am happy to share this with you, stay safe and healthy – all the best, Lea
Ingredients for a big vegan tuna pizza (serves 2)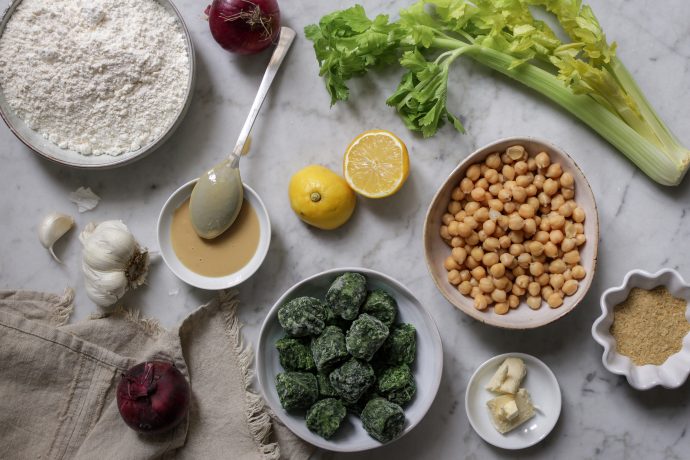 For the pizza crust
250 g (2 cups/8 oz) (spelt) flour

2 tsp. baking powder

1 pinch of salt

1-2 tbsp. plantbased milk for brushing the pizza crust while baking (this gives a great golden baked color)
For the pizza topping
1 can of coked chickpeas (400g/ 14 oz filling resp.240g/8.4 oz drained weight)

1 (red) onion (3 oz)

1-2 stalks of celery

1 small clove of garlic

2 tbsp. apple cider vinegar (or 1 tbsp. lemon juice)

1 big tbsp. tahini

Salt & pepper

240 g (8.4 oz) frozen spinach

1 tsp. soy sauce
For the vegan béchamel sauce for gratinating
15 g (0.5 oz) flour

15 g (0.5 oz) margarine

200 ml (1 small cup) plantbased milk

1 tsp. hot mustard (optional)

2 tbsp. yeast flakes (10 g/0.35 oz)
Instructions (15 minutes preparation time + 20 minutes baking time)
Preheat oven to 200 °C /392 °F fan. Cover a baking tray with parchment paper and heat it up in the oven. If you later put the pizza dough on the already heated baking sheet, the pizza base will be particularly crispy.

Knead flour, 2 tsp. baking powder, a pinch of salt and 180 ml (0.7 cups) water on a well floured work surface to a smooth dough. If necessary, add a little more flour until you have a smooth and beautiful dough. Put it aside for a short time, but it does not have to rise, as there is no yeast in the dough.

Rinse the cooked chickpeas and place in a large mixing bowl. Chop the chickpeas with a hand blender or fork (Please do not puree the chickpeas completely, just "chop/mash" them a little).

Peel and chop the onion and a clove of garlic and add to the mashed chickpeas. Wash 2 stalks of celery, dice finely and also mix in. Stir in 2 tbsp. apple cider vinegar, 1 big tbsp. tahini and season with salt and pepper.

Defrost spinach slowly in a pot or microwave, drain water and squeeze the spinach with your hands. Season the spinach with 1 tsp. soy sauce (or salt).

Let melt the margarine in a pot. Using a whisk, stir in the flour and gradually add the plantbased milk. Also stir in the yeast flakes and 1 tsp. of hot mustard and whisk until creamy.

Roll out the dough on a well floured work surface.

Place the pizza base on the hot baking tray. Brush the edge of the pizza dough with a little plantbased milk. This gives the pizza a nice golden baked color. Pre-bake the pizza base in the oven at 200 °C /392 °F fan for 10-12 minutes (without topping) until the edges begin to brown.

Get the hot pre-baked pizza base out of the oven. Heat the béchamel sauce again, stir until creamy (if necessary, stretch with a little water) and spread half of the béchamel sauce over the pizza. Then spread the chickpea topping and spinach over the pizza and pour the rest of the béchamel sauce over the pizza.

Bake the topped pizza at 200 °C /392 °F for another 10 minutes. Now your pizza is ready to enjoy!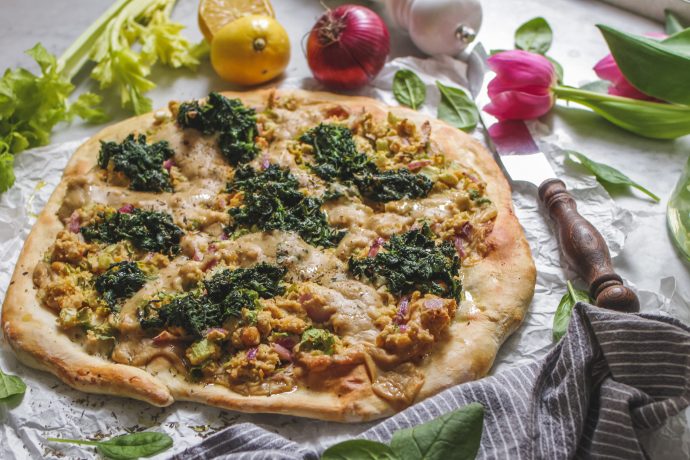 The vegan tuna pizza becomes incredibly crispy and delicious. Since the pizza is large and richly topped, it is usually enough for 2 people.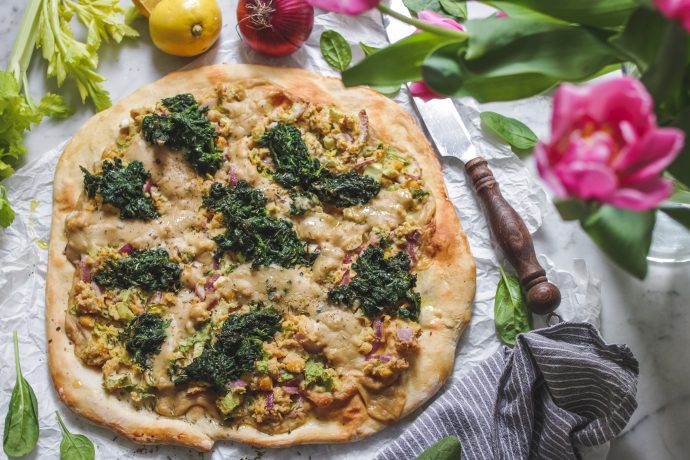 Have a great time, yours Lea