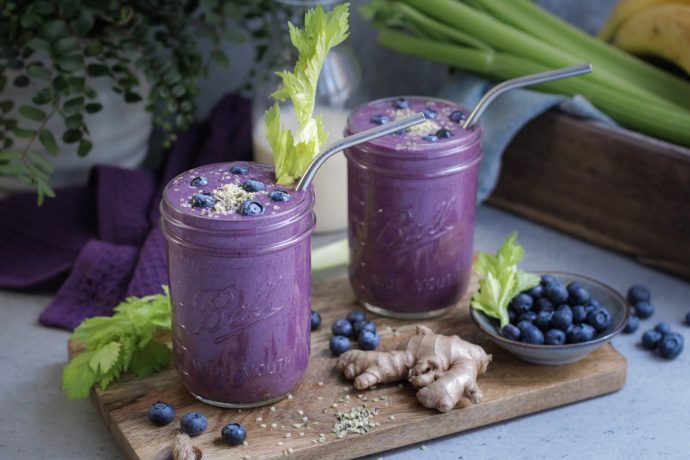 Zu meinen Favoriten hinzufügen!
Do you sometimes feel tired, listless or are you struggling with inflammation, skin problems or you are simply lacking energy? One reason for this might be "oxidative stress", which releases too many so-called "free radicals" (reactive oxygen compounds) in your body. Our body is really good at coping with these its own, but although it happens very quickly that too many free radicals strain your body and make you (feel) ill. Triggers are e.g. a lot of stress and (psychological)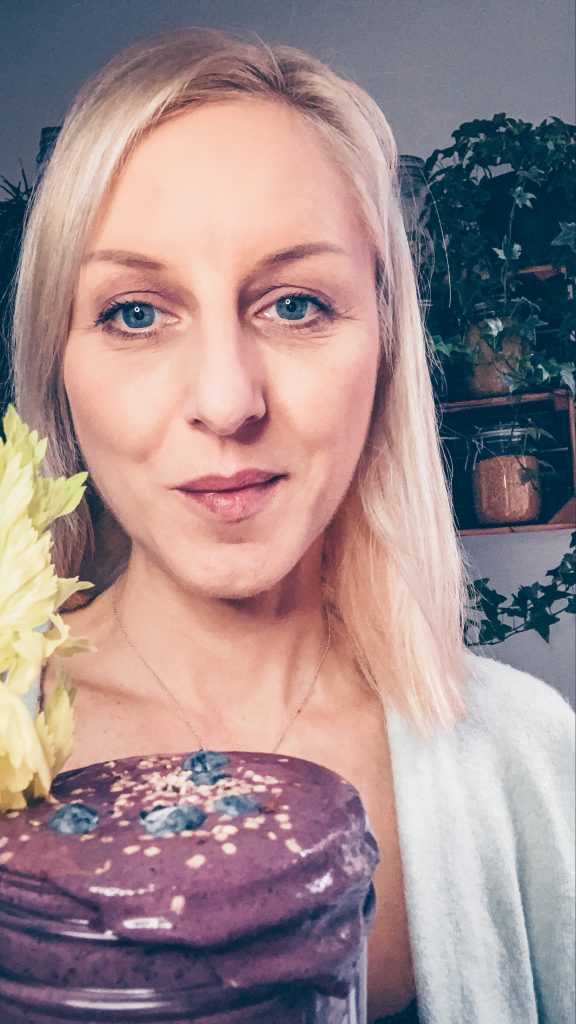 tension, high UV-radiation, environmental toxins you are exposed to (e.g. air pollution, pesticides and other chemical toxins in food), a strong physical strain and a lot of sports but also nicotine and alcohol can lead to an unhealthy increase of free radicals in your body. This in turn causes the skin to age quickly, leads to inflammation in the body, makes you susceptible to illness and robs you of your energy.
But you can actively support your body with an extra supply of "antioxidants" to help it regain its balance and boost your immune system. Unfortunately, the term "antioxidants" is used in a very inflationary and blatant way to sell various "beauty products" or dietary supplements. But antioxidants are simply a chemical substance that prevents oxidation (i.e. they have an anti-inflammatory effect in the body) and help to quickly break down free radicals. Therefore I have put together a great smoothie for you, which contains food with a particularly high proportion of antioxidants your body can absorb well. These include, for example, beetroot, celery, blueberries, but also fresh ginger and chia seeds. In their interplay, these contain a lot of vitamin C, beta-carotene, secondary plant substances, E vitamins, folic acid, omega-3 acids, iron and zinc and have a strong antioxidant effect your body can benefit from. And the combination tastes simply awesome! Since I know that many of you don't like celery that much – no problem, just leave it out in that case. I really love celery and it tastes super delicious in combination with blueberries and banana. You need to try that. I hope I can help you stay fit and energy loaded! Big love yours Lea.
Ingredients (serves 2)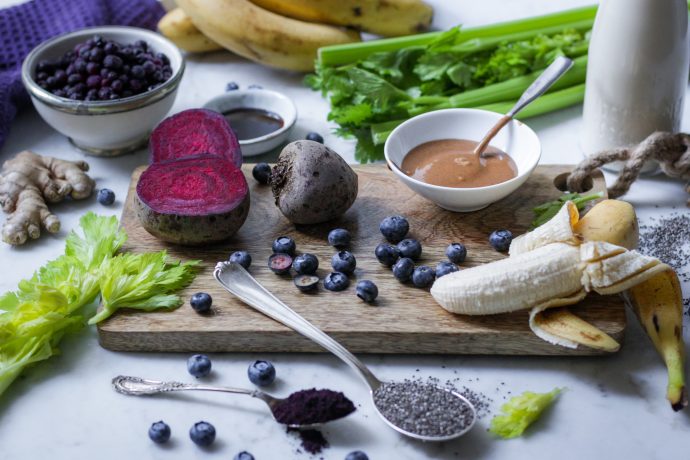 100 g (3.5 oz) beetroot

1 ripe banana

60 g (2.1 oz) celery stalks (skip if you don't like celery)

7 g (0.24 oz) fresh ginger

150 g (5.29 oz) frozen blueberries (or 100 g fresh blueberries)

Optional: 1-2 tsp. açai-powder

1 tbsp. chia seeds

1 tbsp. almond paste

Optional: 1 tbsp. coconut syrup or date syrup

400 ml (1.6 cups) plantbased milk (such as oat milk or almond milk)

Optional: 1 tsp. hulled hemp seeds
Instructions (7-10 minutes)
Wash your piece of beetroot (don't peel or cook it). Peel the banana. Wash the celery stalk(s) and cut off hard or very fibrous ends. Peel a small piece of ginger with a spoon.

Mix beetroot, banana, celery, ginger, frozen blueberries, açai powder, chia seeds, almond paste, some date syrup and plant milk in a high-speed blender until creamy. Pour the smoothie into two glasses, optionally sprinkle with peeled hemp seeds, garnish with blueberries and enjoy.