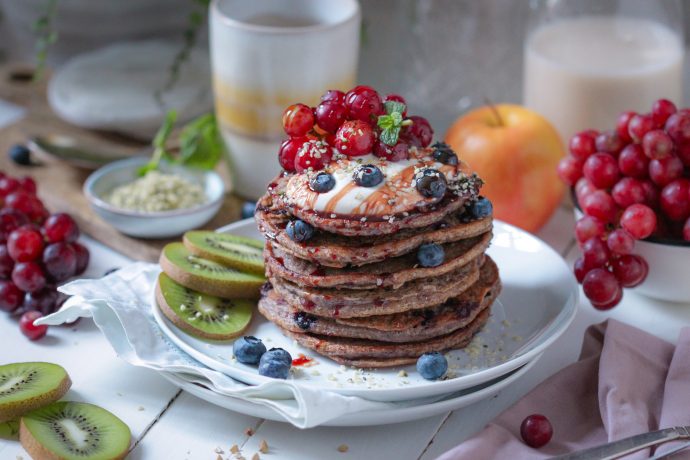 Zu meinen Favoriten hinzufügen!
Hey guys, let's do some awesome buckwheat pancakes for breakfast! Right, here is another awesome buckwheat recipe as I would like to inspire you to integrate more of this gluten free, healthy and versatile grain into your daily meal plan. Because buckwheat is a very good source for vegan protein, your body can easily absorb. It has also an alkaline effect, contains a lot of potassium and magnesium, helps to lower blood pressure and will balance your cholesterol levels. I also like to eat buckwheat because it makes you feel full for a long time, contains all B vitamins (except B12) and simply tastes delicious. The pseudo grain is super versatile!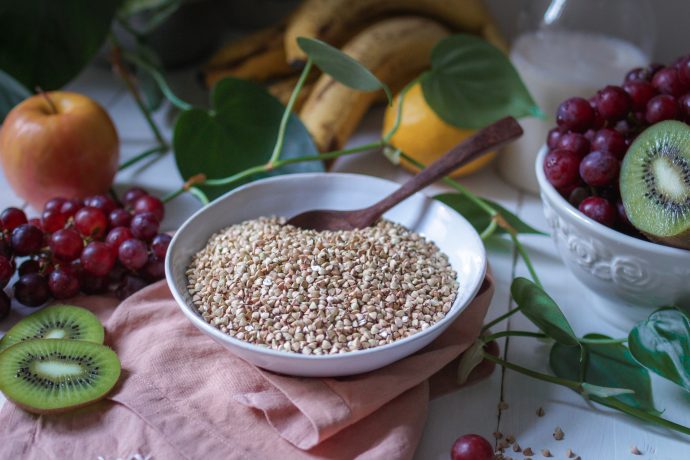 I just recently showed you how to prepare a super tasty and easy buckwheat porridge with warm raspberries and peanut butter. As so many of you tried the recipe and I got enthusiastic feedback (especially from readers who didn't like buckwheat before), many of you probably still have buckwheat now stored at home. To give you even more ideas what to make with "buckwheat", here's another great recipe. Just like the smoothie bowl, this pancake recipe is also made with soaked buckwheat. There is no cooking necessary! Just rinse the buckwheat and let it soak over night. Add two slices of lemon or 2 tablespoons of lemon juice or some apple vinegar. The acid helps to bind the phytin present in buckwheat. Phytin is a natural "protective substance" of buckwheat, which is also found in rice, for example. However, phytin inhibits the absorption of nutrients when consumed. Therefore the addition of acid during soaking is recommended to avoid the negative effects of the Phytin. The next day you only need to blend the buckwheat as described below and you will have healthy, delicious pancakes in no time. They are so tasty and satisfying! I ate them with some soy yoghurt and fruit. My boyfriend combined applesauce with them, which also was great. I am looking forward to your feedback on the recipe. Big love, Lea.
Ingredients for the buckwheat pancakes (6 pancakes, serves 2)
150 g (5.29 oz) buckwheat

2 slices of lemon (or 1-2 tbsp. lemon juice or apple vinegar)

1 tbsp cinnamon

2 tbsp. coconut sugar (or another sweetener of choice)

1 tsp. baking powder

1 tbsp. apple cider vinegar (or lemon juice)

100 ml (0.4 cups) plantbased milk (e.g. oat milk)

30 g (1.05 oz) ground flaxseeds

70 g (2.46 oz) frozen blueberries  (or two handful of fresh berries)

2-3 tbsp coconut oil (or another vegetable oil of your choice)

2-3 tbsp. soy yoghurt or coconut yoghurt

Seasonal fruits of your choice (I used raspberries, kiwi and some blueberries)

2 tsp. hulled hemp seeds

Date syrup or coconut syrup for drizzling (or another sweetener such as maple syrup or rice syrup)
Tip: If you want to prepare the pancakes without using ground flaxseeds, don't add any further liquid to the buckwheat in the blender and then only mix in as much plantbased milk as you need to create a nice, creamy consistency for the batter.
Instructions (Soaking buckwheat over night + 20 minutes for preparation)
Rinse buckwheat with water and then let it soak overnight with 2 slices of lemon or some lemon juice.

Rinse the soaked buckwheat thoroughly once again and put it into a high-speed blender. Add 1 tbsp. cinnamon, 1 tsp. baking powder, 1 tbsp. apple cider vinegar and 100 ml plantbased milk and blend the ingredients to a creamy mixture.

Stir in the ground flaxseeds and let it sit for another 10 minutes till you get the right consistency of pancake batter (the batter should not be too liquid).

Carefully fold in the frozen blueberries. Tip: I fold them in just right before I start frying the pancakes. This prevents them from thawing and giving the batter a bluish color. I am also very careful when folding-in the berries so that as little juice as possible escapes.

Heat vegetable oil in a frying pan and use a spoon to add individual portions of the dough into the hot fat. Bake pancakes on both sides until golden brown. Continue until the batter is used up. In the meantime, keep the finished pancakes warm on a plate in a slightly preheated oven (e.g. at 50-70 °C/ 122 – 158 °F)

Enjoy your healthy & delicious pancakes with soy yoghurt, fresh seasonal fruit, peeled hemp seeds and drizzled with date syrup.