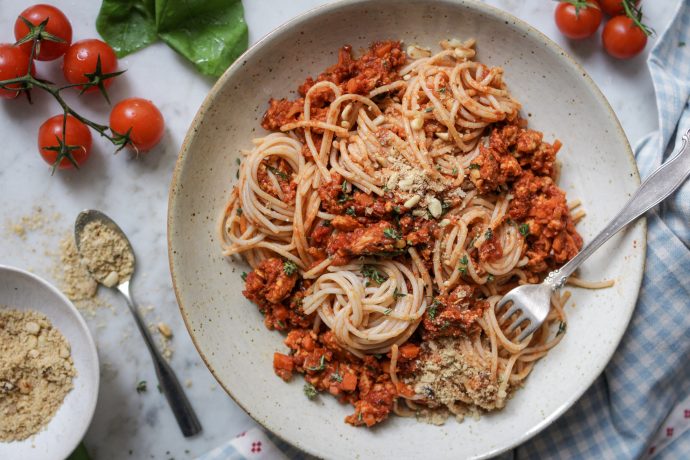 Zu meinen Favoriten hinzufügen!
Do you like tempeh or have you ever tried the fermented soy product? Whenever I ask for it at a cooking show or one of my speeches, I find that tempeh is not yet as popular as it deserves to be. This is because tempeh is a very nutritious meat alternative and has a wonderfully nutty, tart and slightly "mushy" taste (similar to camembert). Tempeh is characterised by its good digestibility, high protein content and a high proportion of B vitamins, iron and calcium. Tempeh is made from whole soybeans, which are mixed with noble mould cultures (Rhizopus oligosporus) and then ripened. The fermentation process ensures that the previously soaked and cooked soybeans are firmly enclosed by a fungal structure and become firm when cut. By the way, the fermentation of tempeh makes the high-quality protein particularly well absorbable for the body.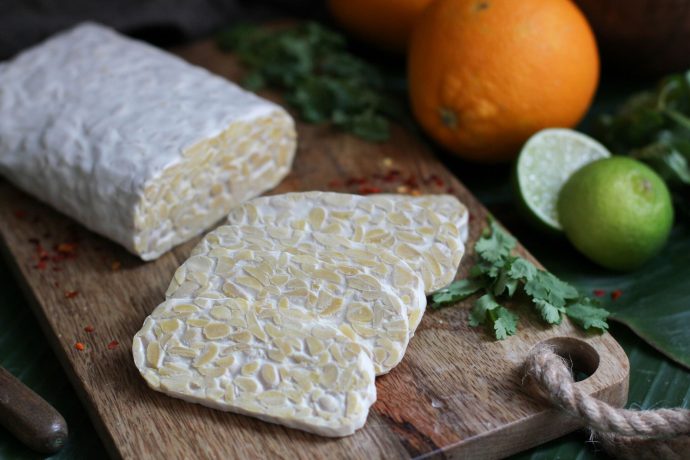 But I think that many people don't like the somewhat bitter taste of tempeh or simply don't know how to prepare it properly. So I thought it was about time to show you a very special tempeh recipe that is guaranteed to please your guests, your family and your children, as well. So, here's to all those who have not enjoyed tempeh so far: …give tempeh another chance with this recipe! You will love it, I promise. We make a delicious "tempeh Bolognese". It's so good that even my friend Julian said it's the best pasta bolognese I've ever made and hey, I've cooked many different kinds of bolognese so far. So next time you go shopping at your local organic store, make sure you take 400 grams of tempeh with you and make it the tastiest vegan bolognese you've ever had. So, and now I am of course incredibly curious about your feedback on the recipe. All the best, Lea
Ingredients for the tempeh Bolognese (serves 3-4)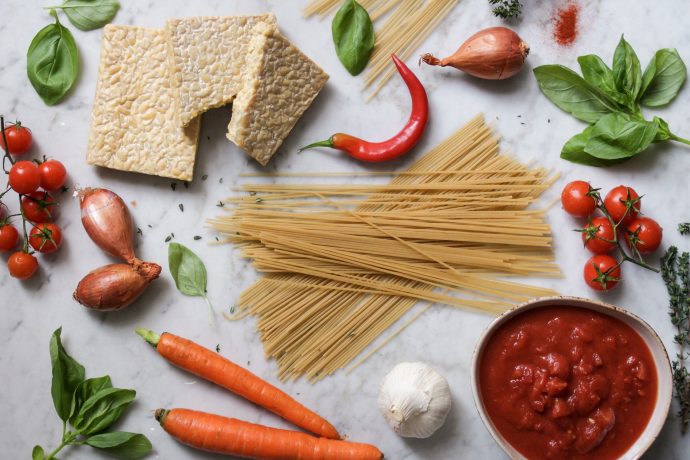 1 onion or 2 shallots (ca. 70-80 g/ 2.4-2.8 oz)

1 small clove of garlic

1 carrot (80 g/2.8 oz)

400 g (14.10 oz) tempeh

3 tbsp. vegetable oil for frying

1 tbsp. paprika powder

1 tsp. cumin

1 tbsp. date syrup (or maple syrup or agave syrup)

1-2 tbsp. vegan Balsamic vinegar

5 tbsp. tomato paste

1 can/package chopped tomatoes (240 g/ 8.4 oz drained net weight)

Salt

Pepper

Optional: a chili pod (or a pinch of chili powder or harissa)

A few sprigs of fresh thyme (or 1-2 tsp. herbes de Provence)

Optional: 1 small tsp. cocoa powder (very delicious!)

A handful of fresh basil

100 g (3.5 oz) vegan pasta per portion
For the vegan parmesan
25 g (0.8 oz) pine nuts

1 pinch of garlic powder (optional)

2 tbsp. yeast flakes

1 pinch of salt
Instructions (approx. 25 minutes)
Peel and finely dice the onion and garlic clove. Wash the carrot, cut off the ends and also dice finely. Remove the tempeh from the packaging and crumble it with your hands in a bowl.

Heat 3 tbsp. of vegetable oil in a frying pan. Add the crumbled tempeh and fry for 4-5 minutes until it takes on some colour. Depending on the type of pan, add 1 tbsp.2 more vegetable oil if necessary. Then add onion, garlic and carrot cubes and fry for another 3 minutes. When frying, add paprika powder and cumin so that the spices are also roasted and develop their aroma well.

Caramelise tempeh briefly with date syrup and deglaze with 1-2 tbsp. balsamic vinegar. Add 5 tbsp. tomato paste and roast for 2 minutes. Then add the chopped tomatoes and season the pasta sauce with salt, pepper and some leaves of fresh thyme. (Note: You can of course dilute the sauce with water to stretch the consistency. But I myself do not add any additional liquid. The Bolognese tastes especially good when it is a bit crumblier and not a too liquid sauce. But that is a matter of taste)

Wash the basil, shake dry and stir a handful of chopped basil into the sauce. Then remove the tempeh Bolognese from the heat. It will be briefly warmed up again when the pasta is ready.

Cook vegan pasta (I used wholegrain rice pasta) in plenty of salted water according to package instructions until firm to the bite.

Warm up the Bolognese sauce again, mix with the cooked pasta and serve garnished with thyme.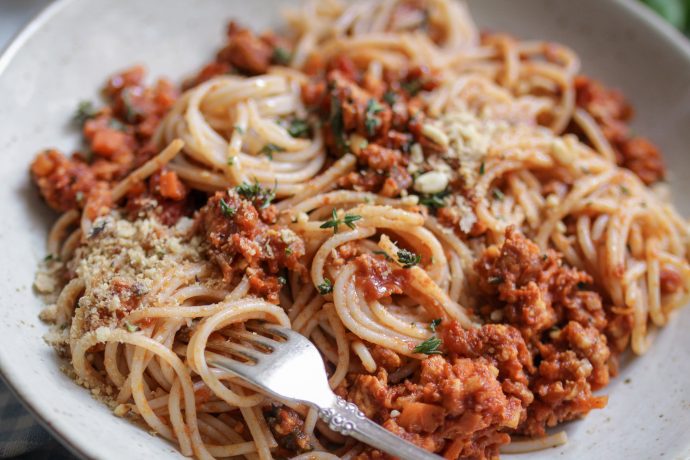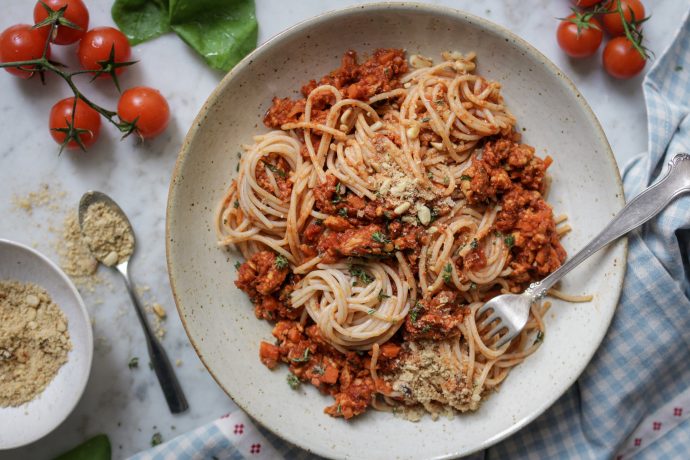 If you like, you can add pine nut parmesan. To do this, roast the pine nuts without fat in a pan until golden brown all around and crush them with all other ingredients as listed above in a mortar or hand mixer.