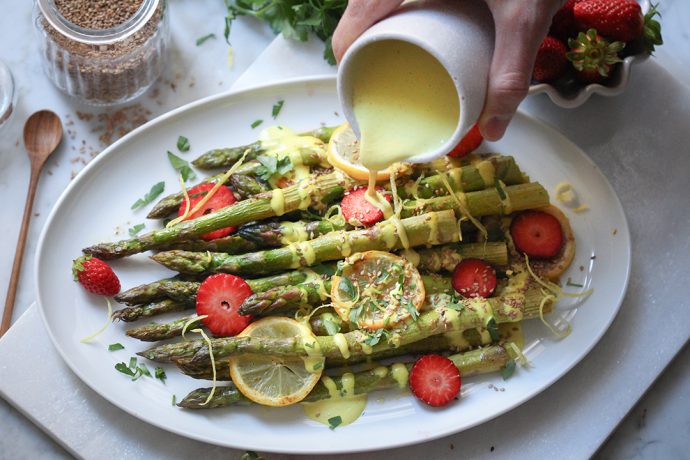 Zu meinen Favoriten hinzufügen!
Spring season is so adorable! After the long, cold and dark winter in Berlin (I always ask my boyfriend why we need to live in Winterfell… 🙂 ) finally, I can go on long and relaxed walks without freezing, all the trees show their first bright green leaves and the days get longer every day. But of course spring love is not just about more warmth, light and good weather, but also great seasonal vegetables and fruits. So, let's start with oven asparagus and a deliciously creamy lemon hollandaise. A meal that is simply awesome. I already found the first strawberries here, but of course you can wait a bit longer for the local strawberries to have their season. Whatever you like. Here is a tip from me: Try the super delicious Hollandaise as a dip for strawberries! Sounds weird? Yes, I know, but I could not stop eating the strawberries straight with the sauce. So, get the healthy, delicious vegetables! I'm looking forward to your feedback, all the best Lea

Ingredients (serves 2)
For the asparagus
500-550 g (17,6 oz) green asparagus

3 tbsp olive oil

1 tsp ras el-hanout (moroccan spice mix)

A pinch of cumin

Sea salt

Black pepper

1 lemon

Optiona: 1 tbsp sesame seeds for garnish
For the lemon Hollandaise
100 g (2/3 cup) cashew nuts

2 tbsp tahini

1 garlic clove

3 tbsp yeast flakes

1 tsp spicy mustard


Zests of 1 lemon

4 tbsp lemon juice

1 small tsp tumeric (for a nice golden color of the sauce)

Sea salt

Black pepper

200 ml (0.8 cup) plantbased milk (such as soy milk or almond milk)

A small bunch of parsley

Optional: 80 g (2.8 oz) strawberries
Variationsmöglichkeit: Ihr könnt dieses Rezept natürlich auch mit weißem Spargel machen und diesen mit der lecker cremigen Hollandaise servieren. Den weißen Spargel dafür schälen und in Wasser mit einer Prise Salz und einer Prise Zucker so lange kochen, bis er weich, aber noch ein wenig bissfest ist. Dann mit der Sauce und dazu vielleicht ein paar gekochten Salzkartoffeln & frischer Petersilie servieren.
Instructions (Soaking cashews overnight + 20 minutes for preparation + 25 minutes baking time)
Soak the cashews overnight or at least for 3-4 hours to get them soft for blending them into a creamy base for the sauce.

Preheat the oven to 200 °C (392 °F) circulating heat.

Wash the green asparagus spears and the woody ends. Transfer the asparagus into a casserole and mix with 3 tbsp olive oil, 1 tsp ras el-hanout, a pinch of cumin and a pinch of salt. Spread a washed and sliced lemon over the asparagus.

Bake asparagus and lemon slices at 200 °C (392 °F) circulating heat for 25-27. After 15 minutes of baking, flip over the asparagus spears with a folk to let them roast evenly.

For the Hollandaise sauce drain the soaked cashews and transfer to a highspeed blender. Add 2 tbsp tahini, a peeled garlic clove, 3 tbsp yeast flakes, 1 tsp spicy mustard and the lemon zests of half a lemon, 3-4 tbsp lemon juice, a small tsp tumeric, a pinch of salt and pepper and 200 ml plantbased milk. Blend until smooth. Season the sauce Hollandaise with salt and lemon juice to your taste and add some more plantbased milk or water for the desired consistency.

Drizzle the roasted asparagus with the remaining sauce/liquid from the casserole and the delicious Hollandaise. Garnish with strawberries to your liking and serve with lemon zests and garnished with sesame seeds