Zu meinen Favoriten hinzufügen!
Beautiful May is rhubarb peak season. And as long as we still have to wait (impatiently… :-)) for local strawberries, blueberries and raspberries, it's worth enjoying the rhubarb season to the fullest now. So today I want to show you a simple, but very delicious rhubarb pie recipe that you should definitely try. As you may know, I have Austrian roots. My family on my mother's side is from Carinthia and I myself was born in Villach and later grew up in Germany. Therefore, I learned to love many wonderful "Mehlspeisen" (as sweet beked treats are called in Austria) from childhood. They are legendary!!! Maybe you have already heard of or tried "Sachertorte", "Nussbeigerl", "Topfenstrudel" or "Linzer Torte"? This is one of the most popular "pastry classics". It is a super nice fruit cake – in Austria often filled with red currant jam and topped with a crispy pastry lattice. Preparing a very simple, vegan shortcrust pastry, I made this recipe with an awesome sweet-sour rhubarb filling. The result is a gorgeous and comforting cake the whole family and your friends will love.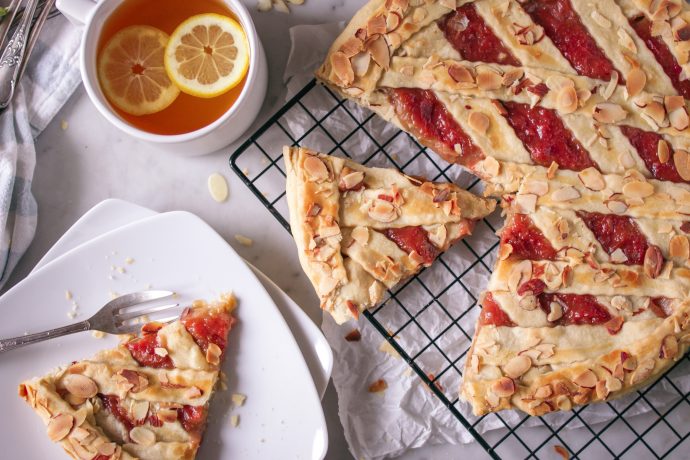 The recipe is super easy and you need only a few ingredients. So you're guaranteed to succeed and I bet even non-vegans will be convinced at any time. Here we go – I'll show you step by step how it works and already in an hour this wonderful cake can be on your table. Enjoy the spring & stay safe, warmly Lea.
Ingredients ( 1 cake/ 8 pieces of cake)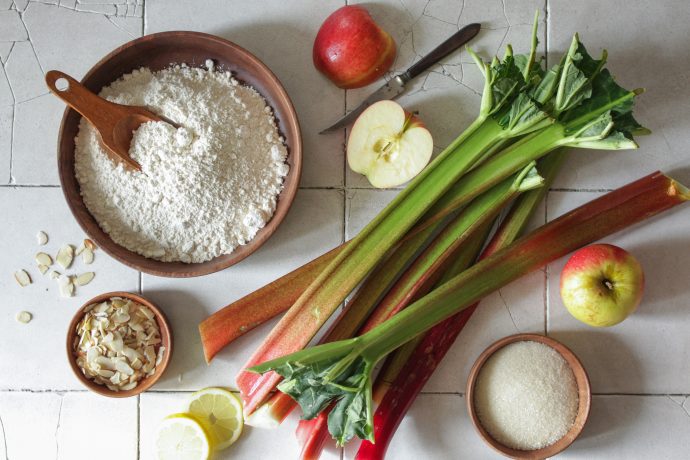 For the dough
250 g (8 oz/2 cups) (spelt) flour + 1-2 tsp. for the filling

130 (4.5 oz) g margarine + margarine for greasing the baking tin

1 pinch of salt

4 tbsp. cold water
Für die Füllung
300-320 g (10.5-11 oz) rhubarb

1 apple (approx. 3.5 oz)

1 small tbsp. of lemon juice

3 tbsp. marple syrup

1/2 tsp. ground vanilla (or 1 tsp. vanilla extract)

1-2 tbsp. cane sugar (optional)

Optional: 1-2 tbsp. pickling water/brine from red beet (you won't taste it in the cake, but it gives your filling a vivid red color)

1-2 tbsp soy milk to brush the dough (makes it nice and golden brown & let the flaked almonds stick to the cake)

15-20 g flaked almonds for garnish (optional)
Also: A round baking tin with the diameter of about 28 cm/11 inch
Instructions (25 minutes preparation + 30 minutes baking time)
Sift spelt flour into a bowl, add margarine cut into small flakes, add a pinch of salt and 4 tbsp. cold water and knead. On a well-floured work surface, knead the dough briskly into a smooth ball. Cover and store chilled in the fridge until we finished with the filling.

Wash rhubarb stalks and an apple, remove rhubarb leaves. Cut 300-320 g of rhubarb into small pieces. Core and dice the apple.

In a pot, heat fruit cubes with 1 tbsp. lemon juice, 3 tbsp. maple syrup and a pinch of ground vanilla. Simmer gently for about 7-8 minutes until the ingredients are soft. Then (optional) stir in 1-2 tbsp cane sugar, add 1-2 tbsp brine of pickled beet and dust the fruit pieces with 1-2 tsp flour. Stir in flour and puree ingredients with a hand blender until chunky. Season filling with maple syrup to your taste.

Take the pastry out of the fridge and roll out 2/3 of the pastry on a floured work surface. Grease baking pan with margarine and dust lightly with flour. Pour the dough into the tin and pull up the dough slightly on the edge of the tin.

Pour the rhubarb filling into the mold and spread. Fold the overhanging edge of the dough down on the inside.

Preheat oven to 200°C/392°F top and bottom heat (180°C/356°F convection oven).

Roll out the remaining dough on a lightly floured work surface and cut into strips.

Place the strips crossed over the filling and press lightly on the edge of the dough. Place 1-2 longer strips of dough around the whole cake. Brush the dough strips as well as the dough edge with soy milk (or another vegetable milk) and sprinkle with flaked almonds.

Bake rhubarb pie at 200°C/ 392°F top and bottom heat for 25-30 minutes, until the filling "bubbles" wonderfully and the pie is nice and golden brown (baking time may vary slightly depending on the oven model and age).

Take the rhubarb pie out of the oven, let it sit for 10-15 minutes to cool, remove it from the tin and enjoy it preferably while it is still warm from the oven.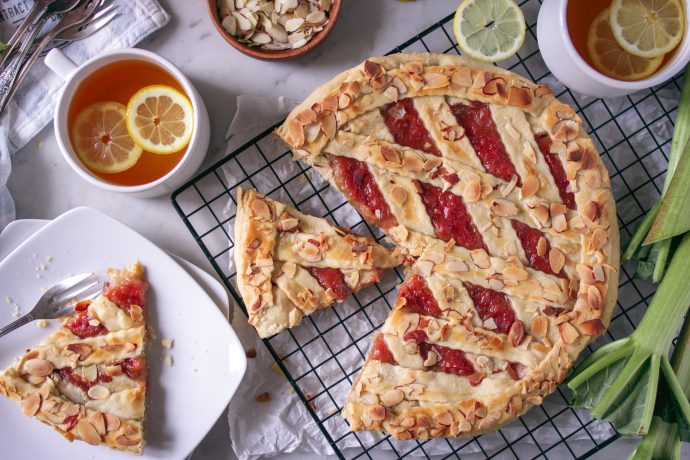 It goes very well with sweet, vegan coconut cream and ice cream in the summer, of course. You can also vary the filling of this cake depending on the season. It also works well with strawberries, plums or apricots.
As always, I look forward to your feedback in the comments. How did the cake turn out and who else did enjoy it? I am curious and wish you and your loved ones "Bon Appétit"