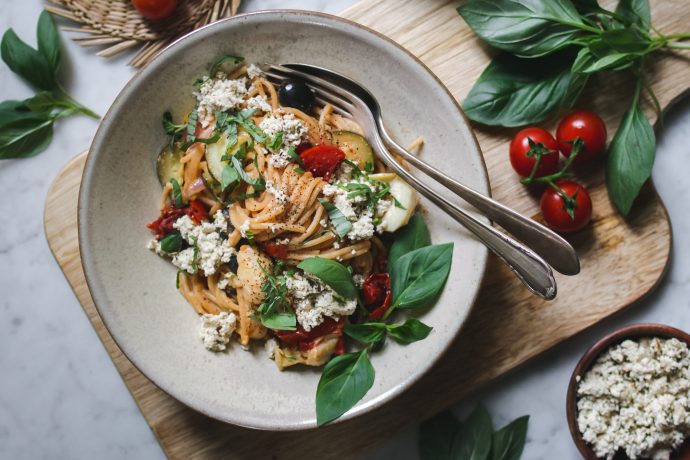 Zu meinen Favoriten hinzufügen!
"One pot pasta" – I'm sure you already heard about that, right? But did you ever try? Or have you ever wondered if this really works or if it's just "slush in a pot"? Photos showing spaghetti and delicious ingredients in just one pot usually look very promising and inviting. But I must say, I was extremely hesitant for a long time and didn't believe that a "one-pot pasta" (where pasta and sauce ingredients are cooked in one pot at the same time) could be a good idea. But curious as I am, I had to try it of course. And… it works, for real!! My boyfriend Julian even said it was the best pasta I've ever made and we both had a big grin of pleasure on our faces as we enjoyed this "Greek style pasta pot". So today I'm going to show you how you too can make a super simple, quick and extremely delicious pasta in just one pot.
Make sure you use vegan pasta for this recipe, cooking for about 12-14 minutes to be "al dente". I chose vegan kamut pasta (from the health food store), but it should work fine with any type of classic spaghetti. I would advise against lentil pasta or rice pasta for this recipe,  as they tend to foam quite a bit when cooked. So let's choose classic spaghetti – wheat, whole wheat, spelt or kamut – the choice is huge.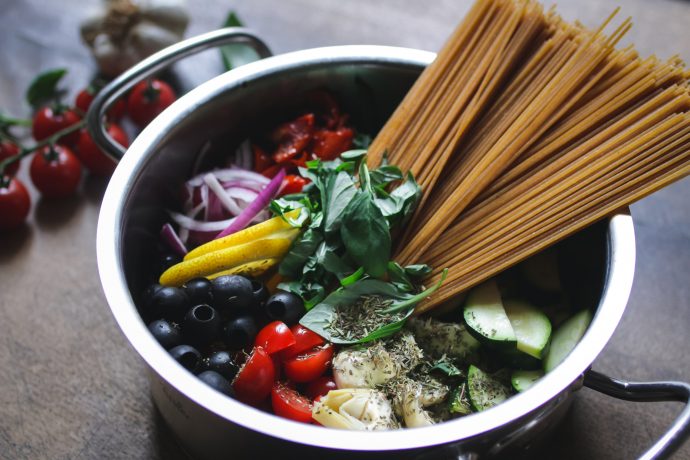 What else is there to consider? Of course, you can experiment with the fresh ingredients and herbs as you like. I opted for a mix of fresh vegetables (tomatoes, zucchini), pickled vegetables (artichokes, sun-dried tomatoes, olives) and aromatic onions, garlic and herbs. Two slices of lemon provide a perfect balance of flavors. The pickled sun-dried tomatoes have lots of natural umami and the dark olives have an intense flavor. This prevents the pasta from tasting " lax" (not flavorful/intense enough). I also always use the oil of pickled sun-dried tomatoes here and in other dishes as well for additional seasoning. While the fresh ingredients and the artichokes simmer to a sauce, the dried tomato pieces and olives remain intact, so that the pasta also looks really good. My additional tip: I add a few chopped dried tomato pieces and olives for garnish just before serving. Another little tip from me: I used "Thai basil" instead of classic basil. Thai basil not only tastes very intense and lemony, but it adds an extra flavor accent here that is really incredible. But classic basil is of course also suitable. I'm really looking forward to your feedback. How did your "one pot pasta" turn out and what do you say, "Is it a winner?!" I bet that "yes". Enjoy, xoxoxo Lea
Ingredients (serves 2)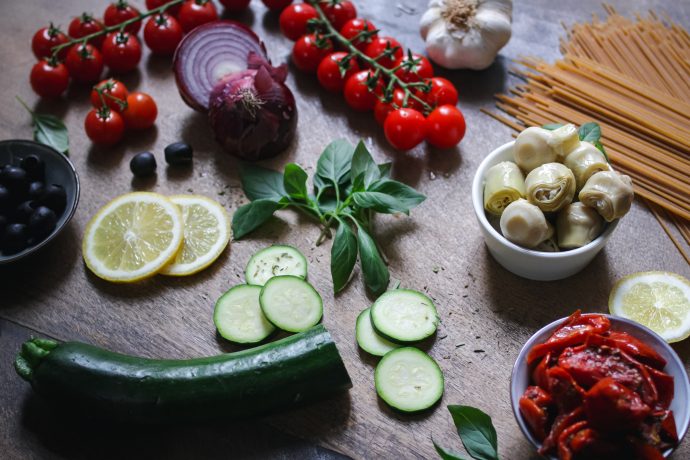 200 g (7.05 oz) vegan pasta of your choice

50-70 g (1.7-2.4 oz) onions

1 clove of garlic

150 g (5.3 oz) Cocktail or cherry tomatoes

150-180 (5.3 – 6.3 oz) g pickled artichokes, drained

120 g (4.23 oz) zucchini

80-100 g (2.8 – 3.5 oz) dried, pickled tomatoes

2 slices lemon, non-treated/organic (optional)

40 g (1.4 oz) black or green olives, pitted

Salt

1 tbsp. Herbs of Provence

A bunch of (Thai) basil

600 ml (20 fl. oz) water

1 tsp. vegetable stock powder/broth

Pepper to taste

1 tbsp. cashew paste (or almond paste)
For the vegan tofu "feta"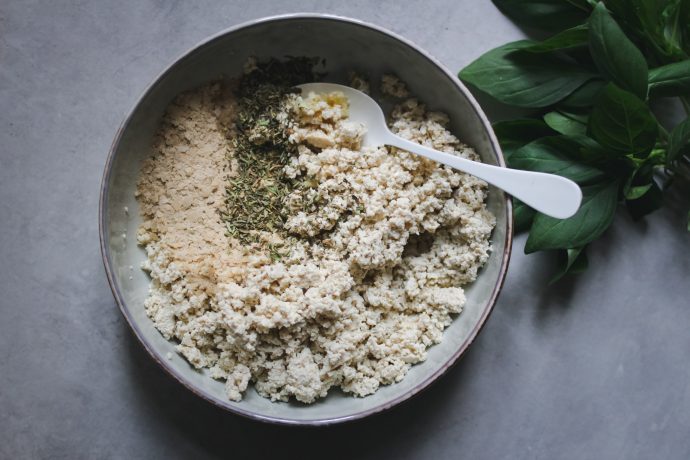 100 g (3.5 oz) firm tofu

1-2 tsp. oil of the pickled tomatoes (or olive oil)

1 small clove of garlic, pressed (or 1/2 tsp garlic powder)

1 small tbsp. Herbs of Provence

1 tbsp. yeast flakes

1 tsp apple cider vinegar (or lemon juice)
Instructions (approx. 20 minutes preparation time)
For the tofu feta to be particularly aromatic, I start with its preparation in this recipe. So the tofu feta can marinate and take the intense flavor of the herbs well until serving. For this, finely crumble the tofu into a bowl. Mix tofu with 1-2 tsp. of oil of the pickled tomatoes, garlic clove, herbs de Provence, yeast flakes and apple cider vinegar and then let it sit until serving.

For our "One-Pot Pasta", peel onions, halve and cut into fine strips. Peel and chop the garlic clove. Wash and quarter cherry tomatoes. Drain and halve pickled artichokes. Wash zucchini, cut in half and slice. Chop drained sun-dried tomatoes. Cut off 2 slices of lemon, drain pitted olives.

Place vegan pasta in a high pot with onion strips, minced garlic, quartered cherry tomatoes, halved artichokes, zucchini chunks, chopped sun-dried tomatoes, 2 lemon slices, olives, 1 pinch of salt, 1-2 teaspoons of herbs de Provence, and plenty of chopped basil.

Add 600 ml (20 fl. oz) of water to the ingredients and bring to a boil, add vegetable broth powder and carefully press the pasta into the liquid (as soon as it becomes flexible). Simmer pasta gently for 10 minutes, then stir well. Depending on the type of pasta, you may need to add another 100 ml (3.4 fl. oz) of water.

After 10 minutes, mix the pasta well and simmer gently for another 5-7 minutes until the pasta is "al dente". Now stir in 1 tbsp. cashew paste and season the pasta with salt and pepper. I also add another tsp. of the aromatic oil of the pickled tomatoes for seasoning. Possibly add a little more herbs de Provence.

Place pasta in two bowls, top with a few additional pieces of chopped pickled tomatoes, sprinkle with plenty of tofu feta and pepper again. Serve pasta hot garnished with plenty of aromatic (Thai) basil.