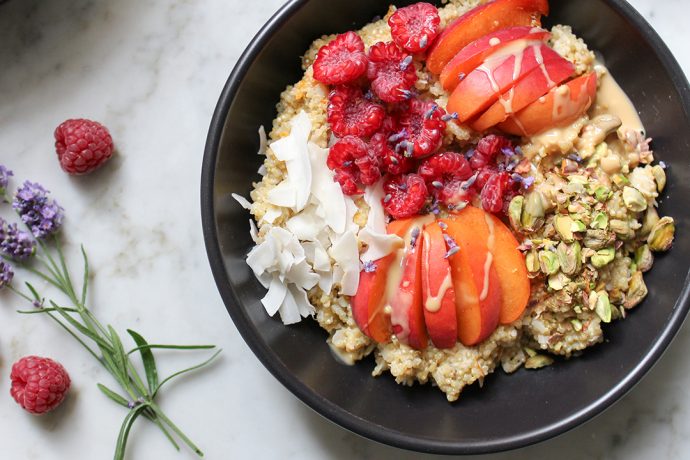 Zu meinen Favoriten hinzufügen!
Doesn't this delicious coconut quinoa porridge with apricots, raspberries and peanuts look super tempting?! Quinoa is, besides oats, chia seeds and millet, my favorite ingredient for a yummie, long-lasting breakfast. Quinoa not only tastes good, it is also one of the most protein-rich plant foods ever. Quinoa contains all nine essential amino acids that the body can not produce itself. Also, calcium, iron, magnesium and vitamin E can be abundantly found in the delicious, nutty grain, which is also gluten-free. But enough of the praise to quinoa. This wonderful, warm porridge with coconut, apricots and raspberries is completely sugar-free except for the sweetness of the fruits. I just sweet it with a ripe, smashed banana, which I add to the simmering quinoa. With this porridge you have in any case an all-round healthy and energetic start of the day. I am looking forward to your feedback. See you soon, Lea

Ingredients (2 servings)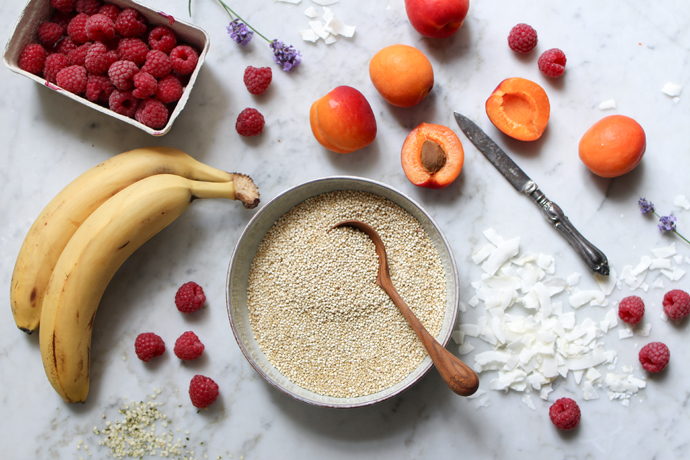 200 g (1 1/4 cups) quinoa

350 ml (1 1/2 cups) plantbased milk (e.g. almond milk or rice milk)

1 ripe banana

4 apricots

1 small tsp ground vanilla or 1 tsp vanilla extract

30-40 g (1/3 cup) desiccated coconut

60 g ( 1/2 cup) fresh raspberries

20 g (1/8 cup) unsalted pistachios

2 tbsp desiccated coconut flakes

Peanut butter to your liking

Optional: lavender flowers for garnish
Instructions (25 minutes)
Thoroughly rinse the quinoa in a fine-mesh sieve. This removes the slightly bitter taste of quinoa. Then put the quinoa with 350 ml plant drink (or water) in a saucepan and heat. When the quinoa is boiling, reduce the heat and simmer the quinoa gently for about 17 minutes. If necessary, add a little more liquid.

While the quinoa is cooking, finely crush a ripe banana with a fork and stir in the simmering quinoa. Wash 2 apricots, remove the stones, finely dice and add. Add a small teaspoon of ground vanilla or vanilla extract.

When the quinoa is cooked, fold in the desiccated/grated coconut and let the quinoa soak for another 5 minutes with the lid closed.

Wash 2 additional apricots, remove the stones and cut into slices. Wash raspberries carefully. Peel and chop pistachios.

Put the cooked quinoa into two bowls. Spread the apricot slices, raspberries and chopped pistachios on the quinoa. Add coconut flakes and peanut sauce as you like. Enjoy the meal!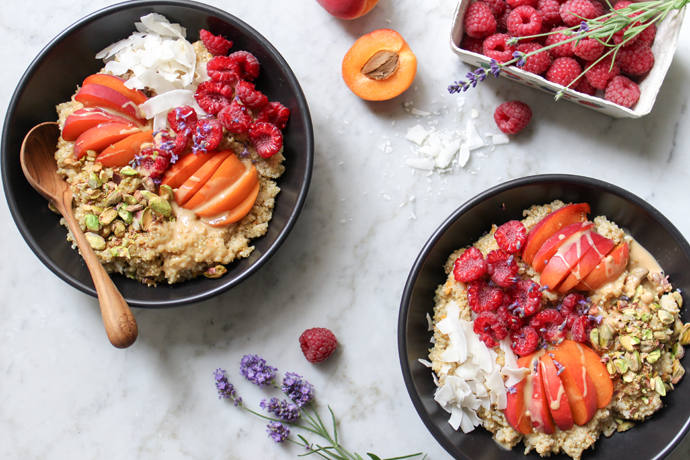 If you like, you can also sprinkle a few lavender flowers over this delicious breakfast.