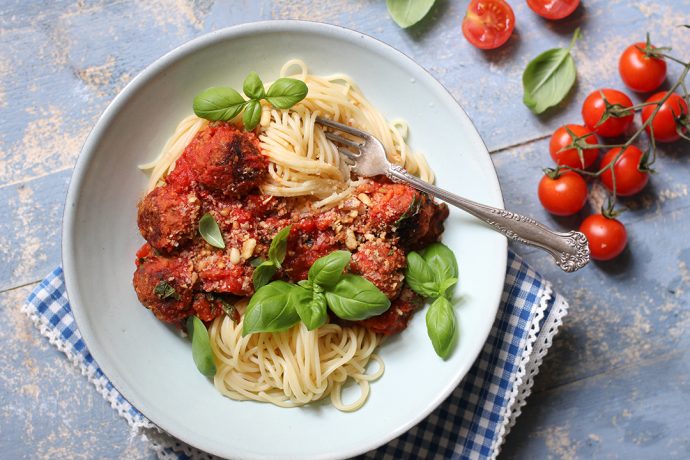 Zu meinen Favoriten hinzufügen!
Spaghetti with tomato sauce and meatballs was the favorite recipe of my childhood. I can't remember a dish that I liked as much as pasta with the delicious balls my grandma made for me in perfection. She always prepared the spaghetti for me with so much love and dedication, that I grew up as a real pasta fan. And on a plant-based diet you don't have to forego this goodness. Vegan "neat balls"/ dumplings are super easy to make. I especially like using beans and spelt for the balls, as they get wonderfully juicy and aromatic. In addition the provide an extra portion of protein. I'll show you in this recipe how you can easily prepare them, so that you too can revel in pasta heaven. Looking forward to your feedback, yours Lea.
Ingredients (serves 2)
For the niceballs
1 small onion (1.4 oz)
0.5 cups/2.8oz minced/kibbled green spelt
3-4 tbsp olive oil
1 tbsp soy sauce
1.5 cups cooked red kidney beans
2 tbsp tomato paste
3/4 cup breadcrumbs/panko
1 tbsp herbes de Provence or dried thyme
1 tbsp paprika powder
1 tsp cumin
Sea salt
Black pepper
1 garlic clove
For the tomato sauce & pasta
1 garlic clove
1-2 tbsp olive oil
4 tbsp tomato paste
1 can of chopped tomatoes (14 oz)
1/2 a bunch of fresh basil
Salt & pepper
1 tbsp paprika powder
1-2 tsp agave syrup
8.8 oz vegan pasta of choice
Pine nut parmesan
25 g pine nuts roasted
1 tbsp of nutritional yeast
1 tsp of sea salt
Instructions (45 minutes)
Finely dice the onion. Rinse the minced/kibbled green spelt in a fine-mesh sieve . Heat 1 tbsp of olive oil in a pan. Roast minced onion for about 2 minutes. Add green spelt and 0.5-0.75 cup of water, a tbsp soy sauce, stir and let cook for 4-5 minutes until liquid is completely absorbed and green-rye cooked. Let it cool down and soak for about 10-15 minutes.

Blend cooked beans with 2 tbsp of tomato paste and 1 tbsp of water. Mix cooked green spelt with kidney bean puree, breadcrumbs, herbes de provence, paprika powder, cumin, salt and pepper. Form little balls with your hands. If mixture is too wet, add more breadcrumbs .

Heat 2-3 tbsp of olive oil in a frying pan. Dice garlic clove. Fry niceballs in hot oil till golden brown. Add minced garlic during last 2 minutes of roasting.

Mince a second garlic glove. Heat 1-2 tbsp olive oil in a frying pan and roast the garlic. Add 4 tbsp of tomato paste, a can of chopped tomatoes and let it simmer for some minutes. Chop half a bunch of Basil and leave some leaves for garnish. Stir in chopped basil and season with salt, pepper, paprika powder and 1-2 tsp of agave syrup.

Cook vegan pasta of your choice according to packet instruction in salt water.

Crush ingredients for pine nut parmesan in a mortar

Warm up niceballs in your tomato sauce and serve pasta sprinkled with pine nut parmesan and garnished with basil leaves.