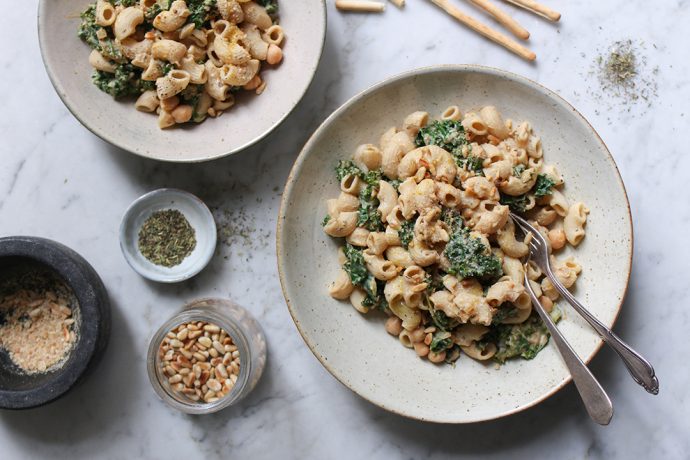 Zu meinen Favoriten hinzufügen!
You like hummus? Then you will love this savory hummus pasta with kale and pine nut parmesan. The mixture of the creamy hummus, the aromatic kale and the nutty parmesan makes it a real soulfood recipe. I like to cook it especially for non-vegan guests, as it is such a satisfying dish and prepared within no time. Looking forward to your feedback, all the best Lea
Ingredients (serves 2)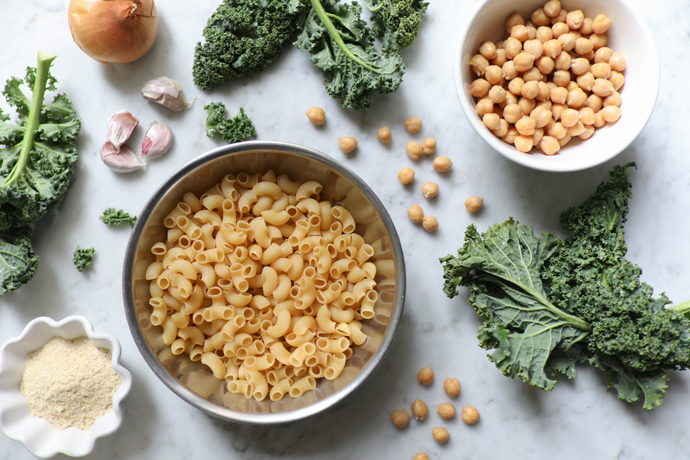 1 clove of garlic

1 can/glass of cooked chickpeas (240 g/8.4 oz drained net weight)

1 tsp hot mustard

4 tbsp yeast flakes (15 g/0.5 oz)

1 tbsp tahini

1 lemon

1 tbsp gluten free soy sauce

170 ml (0.71 cup) plantbased milk (e.G. soy milk or rice milk)

1 big onion (100 g/3.5 oz)

150 g/5.2 oz kale

Sea salt

Black pepper

2 tsp vegetable oil

1 tbsp herbes de Provence

200 g (7 oz) vegan pasta of your choice
Optional: pine nut parmesan
20 g (0.7 oz) pine nuts (or cashews)

1 tsp salt

1-2 tbsp yeast flakes
Instructions (25 minutes)
Peel the garlic clove and rinse the cooked chickpeas. Set aside 35 g (1.2 oz) of the chickpeas for garnish.

Put the rest of the cooked chickpeas, the peeled garlic clove, 1 tsp of hot mustard, the yeast flakes, 1 tbsp of tahini, 1 tbsp of lemon juice, 1 tbsp of soy sauce and 170 ml plantbased milk in a high-speed blender and blend to a creamy sauce.

Peel and chop the onion. Wash the kale, remove the hard stems and chop it.

Heat 2 tsp vegetable oil in a frying pan. Roast the chopped onion for some minutes, add the kale and keep on roasting for 2-3 minutes. Season with salt, pepper and lemon juice. Then pour the hummus into the pan and add some water till you have a consistency to your liking (I added 150 ml/ 0.6 cup water).  Heat the sauce, stir in herbes de Provence and salt it to your taste.

Cook the vegan pasta until al dente according to packet instructions in salted water. Drain the pasta afterwards and mix it with the sauce in the frying pan. Heat the ingredients.

For a vegan parmesan "cheese2 roast the pine nuts without any additional oil in a frying pan till golden. Transfer the roasted nuts into a mortar, add yeast flakes and salt and crush.

Serve the hummus pasta garnished with the rest of the chickpeas and sprinkle with the vegan pine nut parmesan.