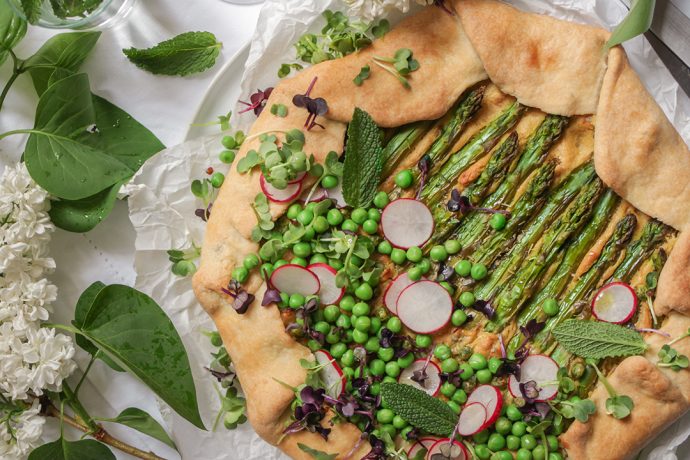 Zu meinen Favoriten hinzufügen!
The asparagus season is in full swing in Berlin. I don't know how omnipresent asparagus really is in other countries. But living the asparagus season in Germany is quite unique. Did you know that asparagus is so popular in Germany and grows so well here (we have lots of sandy soil!), that our country has its own "asparagus route" (like the wine route in France). The cultivation areas for high quality asparagus reach far from North Rhine Westphalia via Lower Saxony till Brandenburg, nearby Berlin. This means, good asparagus recipes as well as asparagus classics are a "must have" for German bloggers. No problem for me, as I'm a real asparagus lover! So here we go with a new recipe that is as delicious as an eye-catcher: A super aromatic galette with a nice crust and lots of "spring vibes". Though the galette may looks a bit fancy to some of you, no worries, it's quickly made. It consists only of an easy dough, a delicate soy cream and fresh green asparagus. Green asparagus not only tastes even more intense than the white spears, you can also skip the peeling. Just wash the spears and cut the rough ends and you are fine to go. Ready?! Let's do it. I'm looking forward to your comments, enjoy.
Ingredients (serves 2-4)
For the dough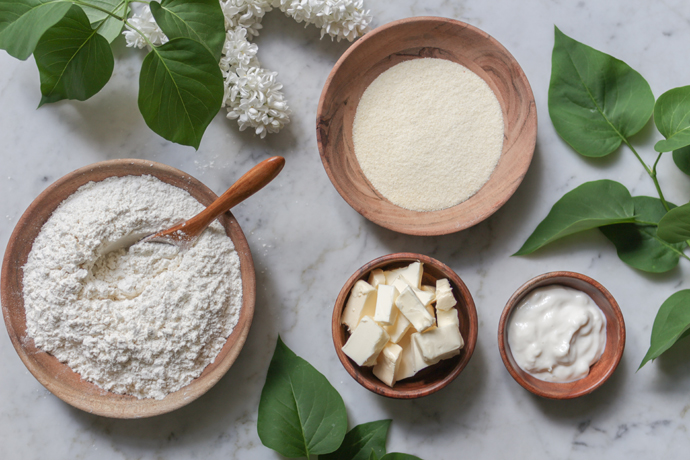 180 g (1.5 cups) (spelt) flour + flour for dusting the work surface

50 g (1/4 cup) wheat semolina (durum wheat)

1 pinch of salt

100 g (3.5 oz) margarine

2 tbsp unsweetened soy yoghurt

40 ml cold water
For the filling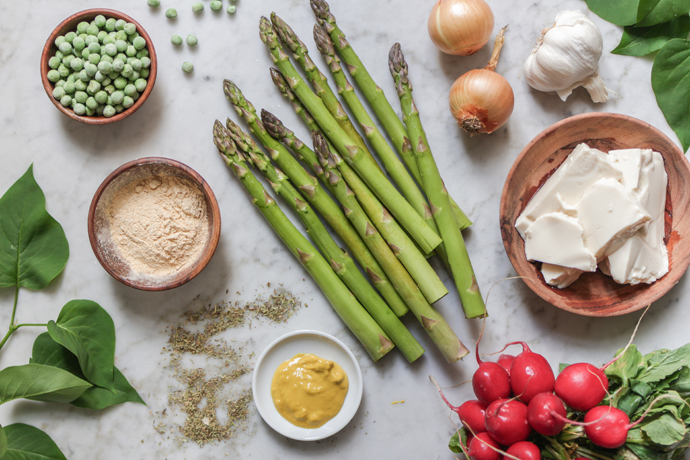 500 g (17.6 oz) green asparagus

100 g (3.5 oz) onions

1 small garlic clove

1-2 tbsp vegetable oil

300 g (10.5 oz) silken tofu

50 g (0.5 cup) chickpea flour

2 tbsp yeast flakes

1 tsp spicy mustard

1/2 tsp turmeric (optional for a nice golden color of the filling cream)

Sea salt

Black pepper

1 tsp herbes of Provence

2-3 tbsp olive oil

1 tbsp plantbased milk (for brushing the dough rim to get a nice crust with a golden color)

60 g (2.1 oz) frozen peas

Optional: 2-3 small radish for garnish

Optional: sprouts and mint leaves to your liking
Instructions (30 minutes preparation time + 35 minutes baking time)
Mix flour, semolina wheat and a large pinch of sea salt in a bowl. Cut 100 g of margarine into small pieces and add it with 2 tbsp of soy yoghurt and 40 ml of very cold water to the flour. Quickly knead a dough. Take the dough out of the bowl and knead it briefly on a well-floured work surface. Use so much flour until a smooth dough is produced.

Let the dough sit covered for about 20 minutes in your fridge.

Preheat the oven to 200 degrees °C (392 °F) and cover a tray with baking paper.

Peel the onion(s) and a small garlic clove and finely dice. Sauté the onion and garlic cubes with 1-2 tablespoons of vegetable oil in the pan for about 3 minutes.

Blend the silken tofu, chickpea flour, 2 heaped tbsp of yeast flakes, 1 tsp of spicy mustard and a large pinch of salt and pepper and a trace of turmeric in a blender. Mix the blended tofu filling with the fried onions and season with salt.

Remove the dough from your fridge and roll it out on a floured work surface. Put the dough on the baking sheet.

Spread the tofu cream on the middle of the dough (leave a border/see picture). Sprinkle the tofu mass with 1 teaspoon herbes of Provence. Wash the asparagus spears, cut hard ends, place the green asparagus on the filling and lightly press. Put a small amount of the creamy tofu in the lower third over the asparagus. Sprinkle 1 tbsp of peas over it.

Sprinkle the green asparagus with 1-2 tbsp of olive oil, lightly salt and fold the edge of the pastry over the filling. Brush dough edge with a little bit of plant based milk (this will give the crust a nice golden color).

Bake the asparagus galette at 200 °C (392°F) for 35 minutes until the dough gets golden brown. But caution, the baking time may vary depending on your oven type and age. The galette is ready when the dough edge has taken on color and the filling has risen and has also taken on color. While the galette is in the oven, defrost the remaining peas in warm water.

Take the galette out of the oven and serve with the remaining peas, some radish slices and garnished with mint leaves and sprouts.
In addition, I drizzle a bit of high-quality olive oil over the galette.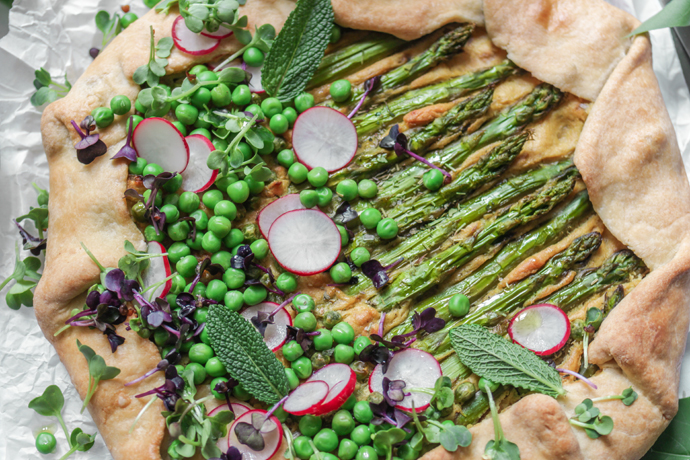 Enjoy! I'm looking forward to your comments on this delicious spring-dish.