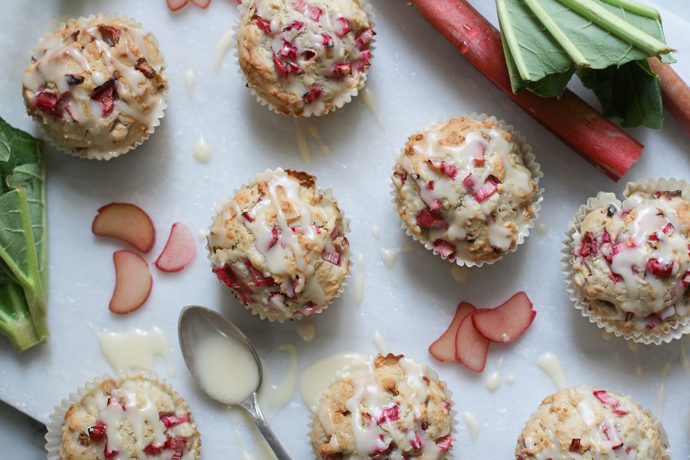 Zu meinen Favoriten hinzufügen!
It's time for a fruity delicious muffin recipe here on veggies, don't you think?! As it's rhubarb season right now let's try some tasty rhubarb muffins with coconut and orange glaze. Because muffins are always awesome as they are quickly made and just the right size for a little sweet snack in between. You only need 15 minutes working time for this dough. Just put all the ingredients except the rhubarb in a bowl, stir a creamy dough and then fold chopped rhubarb under. After 25 minutes of baking, you can already enjoy the warm sweet mini-cakes. Since muffins are so easy to prepare, I bake them quite often when I'm craving sweets in the evening or after a long working day.  So, go get your mixing bowl and enjoy this spring dessert. Rhubarb is indeed the harbinger for this probably most beautiful time of the year and that is right in front of us. Jippieh! Sincerely your Lea

Ingredients (for 12 muffins)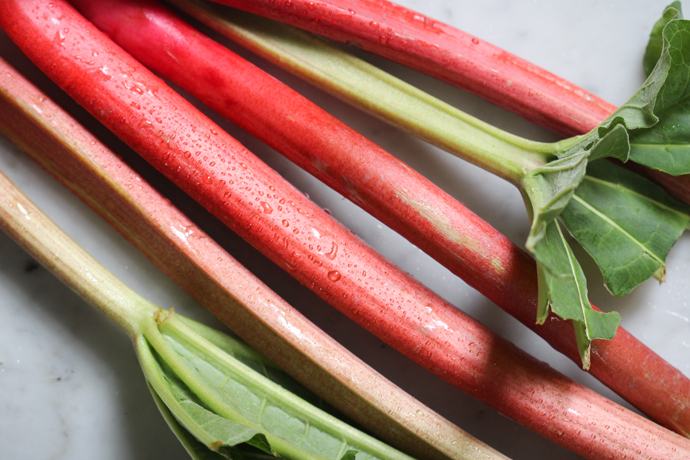 150 g (5.2 oz) rhubarb (one big or two small stalks)

300 g (2 cups) (spelt) flour

50 g (1/2 cup) desiccated shredded coconut

80 g (0.4 cups) cane sugar

1 tsp ground vanilla or 1 tsp vanilla extract

2 tsp baking powder

110 g (3/8 cup + 1 tbsp) soy yoghurt

1 pinch of salt

3 tbsp maple syrup

200 ml (0.8 cup) coconut milk

2 tbsp coconut oil
In addition: A muffin baking tray for 12 muffins
For the glazing
50 g (0.4 cups/ 1.7 oz) icing sugar

1 tbsp orange or lemon juice
Instructions (15 minutes preparation time + 25 minutes baking time)
Preheat the oven to 180 degree °C (356°F) circulating heat. Prepare your baking tray with muffin paper cuts.

Wash the rhubarb stalk, halve 1-2 times and cut into thin cubes. Set aside a few rhubarb cubes for garnish (3-4 tbsp).

In a bowl and mix all the listed ingredients (except the rhubarb) to a creamy dough (I used a hand mixer). Then, fold in the rhubarb pieces.

Pour the muffin dough into the muffin paper cups. Take the rest of the rhubarb cubes and press it into the surface of the dough.

Bake the muffins at 180 degree °C (356°F)circulating heat for about 25 minutes.

Remove muffins from the oven and let them cool for some minutes. Meanwhile mix icing sugar with orange or lemon juice and drizzle over your fruity mini cakes. Enjoy!