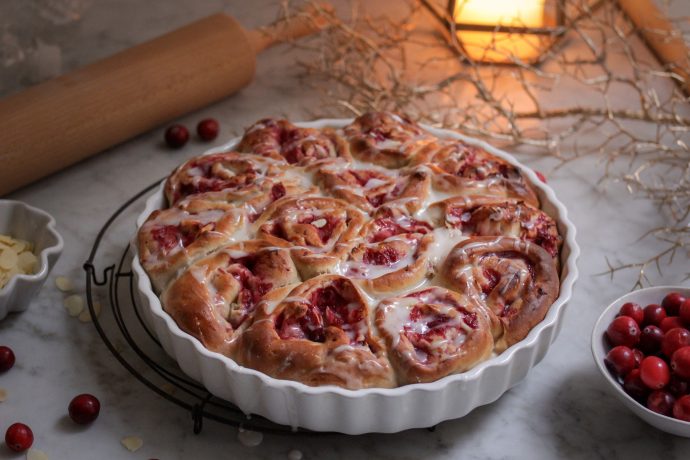 Zu meinen Favoriten hinzufügen!
These fluffy, vegan sweet buns ("Hefeschnecken" in German, what means literally translated "Yeast Snails") or yeast rolls are not only beautiful to look at, they also taste wonderfully fruity and pleasantly sweet. Not only do they have a classic lemon icing, they are also filled with cranberries and refined with marzipan. A perfect recipe to spoil you, your loved ones and guests and a great opportunity to process fresh cranberries, which are offered everywhere in autumn and winter. Cranberries can't be eaten raw, but cooked and combined with apple, cinnamon and orange, they have a berry-fruity aroma that fits perfectly to the cold season. Since I am a big fan of marzipan, I have also added vegan marzipan to the filling, but this is optional and can simply be omitted. Just as you like it. For the fluffy, vegan yeast dough I once again used "dry yeast". You can also use half a cube of fresh yeast, but I myself have had very good experiences with dry yeast. It has a long shelf life, so I always have it at home and the dough really ALWAYS rises. Three tips for the perfect yeast dough: The plantbased milk we use for the dough should be very warm but not too hot or boiling. Because the yeast likes it warm, but not too hot. Yeast dough is also very sensitive to draughts. Cover the dough while rising and put it in a warm place without draughts (this is in my bathroom at the heater…laugh). My last tip: When you have filled the dough and rolled it up, don't bake the buns immediately, but let the prepared, filled buns rise again for some time. Cover the mould again and let the rolls sit for another 15-20 minutes. Then the sweet buns become particularly tender and fluffy. Enjoy, yours Lea.
Ingredients (serves 6-8)
For the yeast dough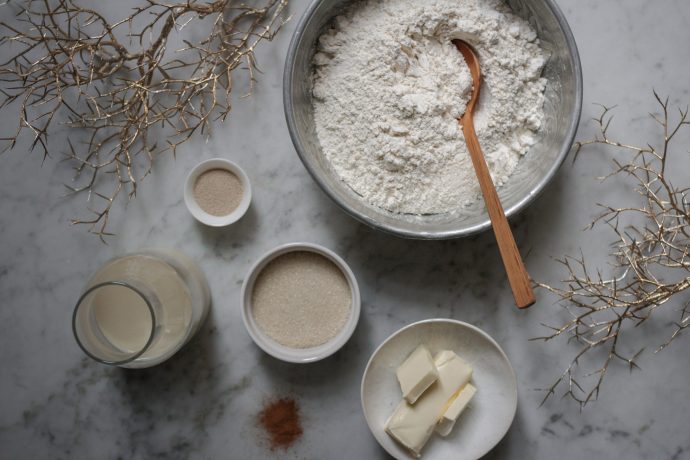 500 g (4 cups) (spelt) flour

1 packet of dry yeast (or 1/2 cube of fresh baking yeast)

80 g (0.4 cups) cane sugar

1 tsp. cinnamon

250 ml (1 cup) plantbased milk

70 g (2.4 oz) margarine
For filling & garnish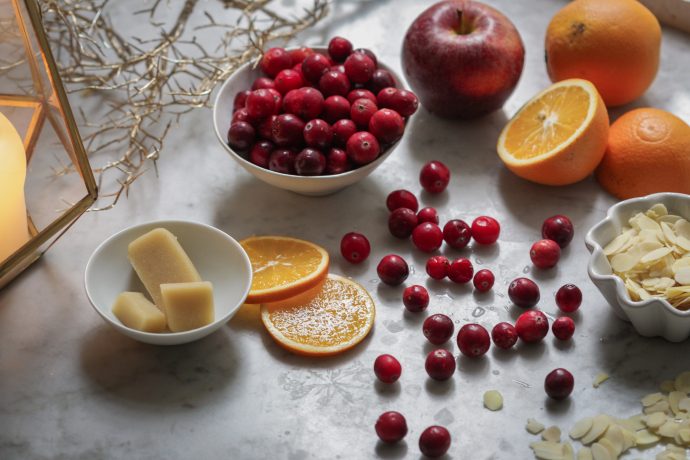 250 g (8.8 oz) cranberries

1 apple

Fresh juice of 1 orange | approx. 50 ml orange juice

4 tbsp. maple syrup or agave syrup

1-2 tsp. cinnamon

35 g (1.2 oz) margarine

25 g (0.9 oz) almond flakes resp. chopped almonds + some more for garnish

30 g (1.05 oz) vegan marzipan

Some icing sugar for dusting (optional)
For the glazing
50 g icing sugar

2 tbsp. lemon juice
Instructions (30 minutes preparation time + 65 minutes for letting sit the dough + 24 minutes baking)
Mix spelt flour with a packet of dry yeast, cane sugar and 1 tsp. cinnamon. Heat the plantbased milk and melt the margarine in it. Then mix the warm plantbased milk (very warm, but not boiling or too hot!!) with the dry ingredients and knead for 3-4 minutes until the dough is smooth.

Cover the yeast dough and let it rise in a warm place for 45-60 minutes.

Wash the cranberries. Wash an apple and grate finely (see next picture).

Heat the grated apple and cranberries in a saucepan without oil. Simmer for a few minutes until the cranberries start to pop (you can hear it popping!!). Add 4 tbsp maple syrup and 1-2 tsp cinnamon and caramelise the cranberries lightly. Add the orange juice and let it simmer gently for another 4-5 minutes. Puree the cranberries and season the sauce/filling with agave syrup or maple syrup.

Melt the margarine in a saucepan and spread on a baking tin. I use a classic tart tin with a diameter of 27 cm (10.62 inch). Keep 1 tablespoon of liquid margarine for later use.

Knead the risen yeast dough vigorously on a floured work surface and roll out in a rectangular shape (dimensions of the rolled out dough sheet approx. 55 x 35 cm/21.6×13.7 inch). Spread the cranberry sauce on the dough. Crumble the marzipan between your fingers and spread over it. Sprinkle the almond flakes over the filling.

Roll up the dough from the long side, cut it into 12-14 pieces, layer them upright into the greased baking tin, open them slightly with your fingers and let them rest for another 15-20 minutes (the more they rise, the more fluffy the result!). Heat the oven to 190 °C/ 374 ° top and bottom heat.

Bake the sweet buns at 190 °C/374 °F top and bottom heat for 17-20 minutes. After 10 minutes baking time brush the buns with melted margarine.

Mix the icing sugar and lemon juice to a glaze and sprinkle over the fresh sweet buns. Sprinkle the buns with icing sugar and garnish with almond flakes.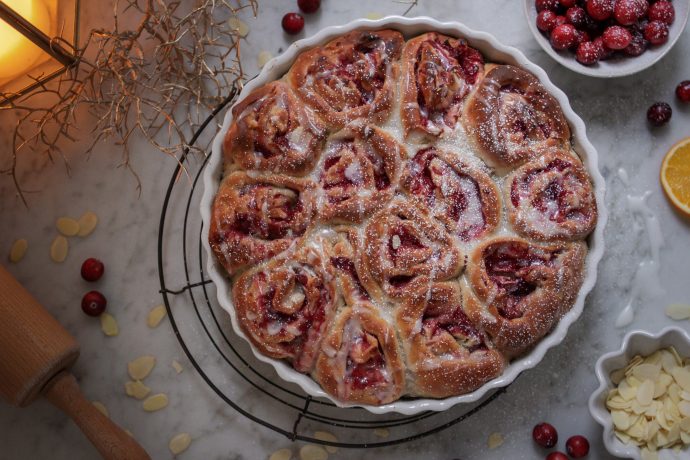 If you like, you can dust the sweet buns with icing sugar.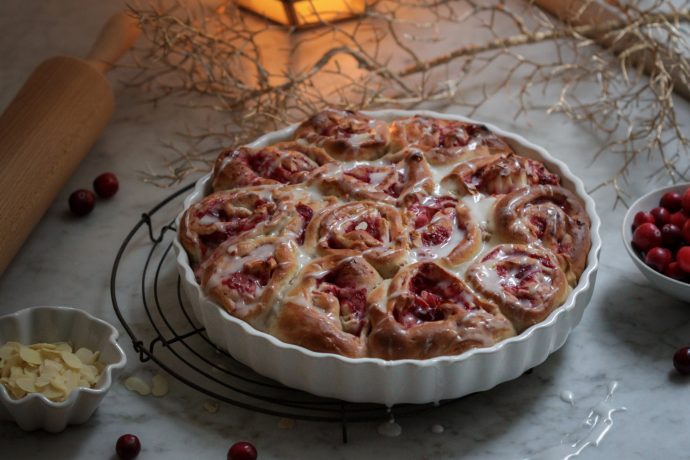 The portion is enough for 6-8 persons. The sweet buns become incredibly fluffy, soft and fruity. It is also a delicious dessert for Christmas.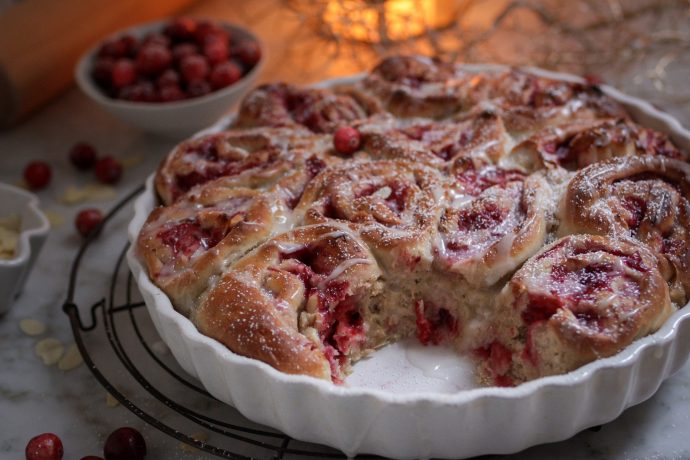 The vegan sweet buns are so soft and wonderful. The cranberries make them fruity and particularly tasty.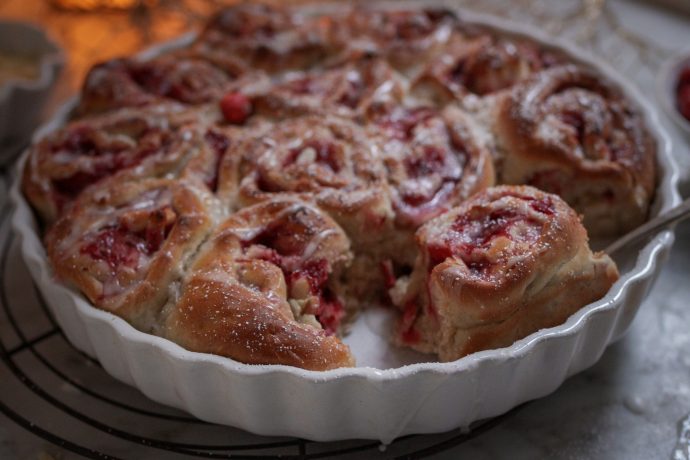 Zutaten (für 12 Schnecken)
Für den Hefeteig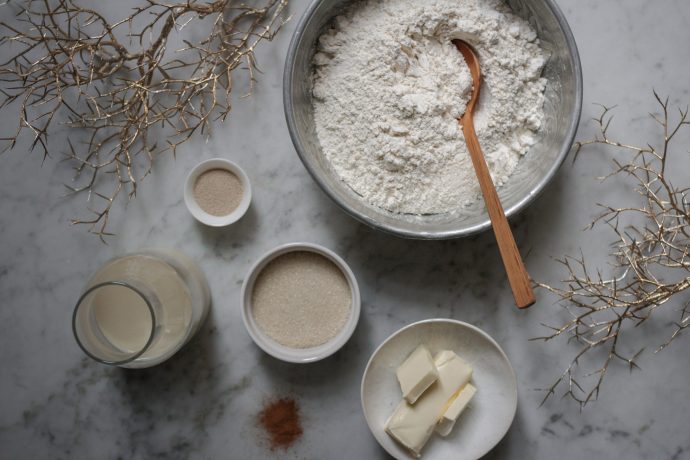 500 g Dinkelmehl type 630

1 Päckchen Trockenhefe (oder 1/2 Würfel frische Hefe in der warmen Flüssigkeit auflösen)

80 g Rohrzucker

1 TL Zimt

250 ml Pflanzendrink

70 g Margarine (z.B. Bio-Alsan)
Für die Füllung & zum Garnieren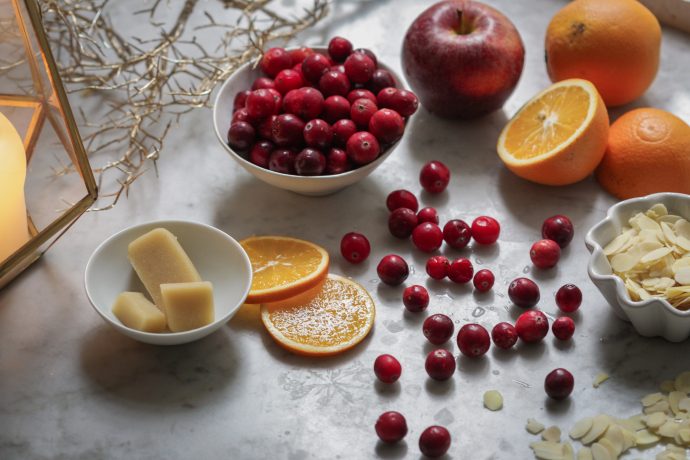 250 g Cranberries

1 Apfel

Saft von 1 Orange | ca. 50 ml Orangensaft

4 EL Ahornsirup (oder Agavendicksaft oder Reissirup)

1-2 TL Zimt

35 g Margarine (z.B. Bio-Alsan)

25 g Mandelblättchen + Mandelblättchen zum Garnieren

30 g veganes Rohmarzipan

Etwas Puderzucker zum Bestäuben
Für die Glasur
50 g Puderzucker

2 EL Zitronensaft
Zubereitung (30 Minuten Arbeitszeit – 65 Minuten Ruhezeit – 24 Minuten Backzeit)
500 g Dinkelmehl mit einem Päckchen Trockenhefe, 80 g Rohrzucker und 1 TL Zimt vermischen. 250 ml Pflanzendrink erwärmen und 70 g Margarine darin schmelzen lassen. Den warmen Pflanzendrink (sehr warm, nicht kochend!!) anschließend mit den trockenen Zutaten vermischen und 3-4 Minuten zu einem geschmeidigen Teig verkneten.

Hefeteig an einem warmen Ort abgedeckt 45-60 Minuten aufgehen lassen.
250 g Cranberries waschen. Einen Apfel waschen und mit einer Reibe fein aufreiben. Ich benutze dafür meine geliebte und hier auf dem Blog schon vielfach präsentierte Julienne-Reibe von Gefu* (unbeauftragte Werbung). MIt ihr mache ich z.B. auch Zucchini-Spaghetti und reibe Möhren und Rote Bete auf.

Apfelraspeln und Cranberries ohne Öl in einem Topf erhitzen. Einige Minuten köcheln lassen, bis die Cranberries beginnen, aufzuspringen (es "poppt" hörbar). 4 EL Ahornsirup sowie 1-2 TL Zimt untermengen und die Cranberries leicht karamellisieren lassen. 50 ml frisch gepressten Orangensaft in den Topf gießen und nochmals 4-5 Minuten sachte köcheln lassen. Cranberries mit einem Schneidstab pürieren und die Fruchtsoße mit Agavendicksaft oder Ahornsirup abschmecken.

Margarine in einem Topf schmelzen lassen und eine Backform damit ausstreichen. Ich benutze eine klassische Tarte-Form mit 27 cm Durchmesser*. 1 EL flüssige Margarine für später vorhalten.
Den aufgegangenen Hefeteig auf einer bemehlten Arbeitsfläche kräftig durchkneten und rechteckig ausrollen (Maße der ausgerollten Teigplatte ca. 55x 35 cm). Teig mit der Cranberry-Soße bestreichen. Marzipan zwischen den Fingern zerbröseln und darüber verteilen. Mandelblättchen über die Füllung streuen.

Teig von der Längsseite/langen Seite her aufrollen, in 12-14 Stücke schneiden, diese aufrecht in die gefettete Backform schichten, mit den Fingern leicht öffnen/aufdrücken und nochmals 15-20 Minuten abgedeckt ruhen lassen (je mehr sie dann noch aufgehen, desto "fluffiger" wird das Ergebnis!). Ofen auf 190 Grad Ober- und Unterhitze erwärmen.

Hefeschnecken bei 190 Grad Ober- und Unterhitze 17-20 Minuten backen. Nach 10 Minuten Backzeit die Schnecken mit zerlassener Margarine bestreichen.
Aus Puderzucker und Zitronensaft eine Glasur anrühren und die frischen Hefeschnecken damit beträufeln. Hefeschnecken nach Belieben mit Puderzucker bestäuben und Mandelblättchen garnieren.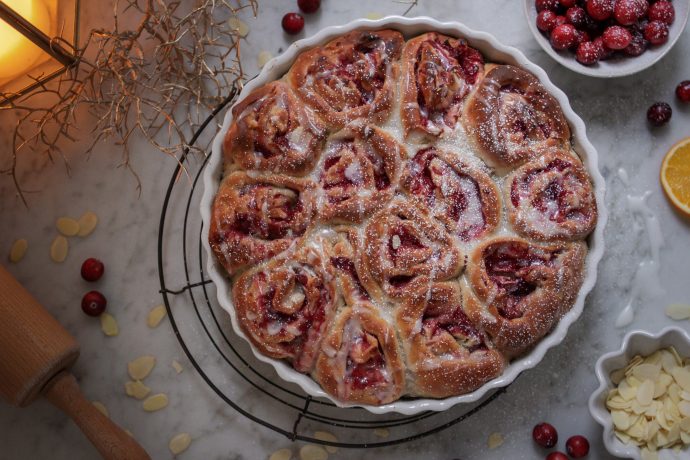 Wenn Ihr möchtet, könnt Ihr die Hefeschnecken zusätzlich mit Puderzucker bestäuben.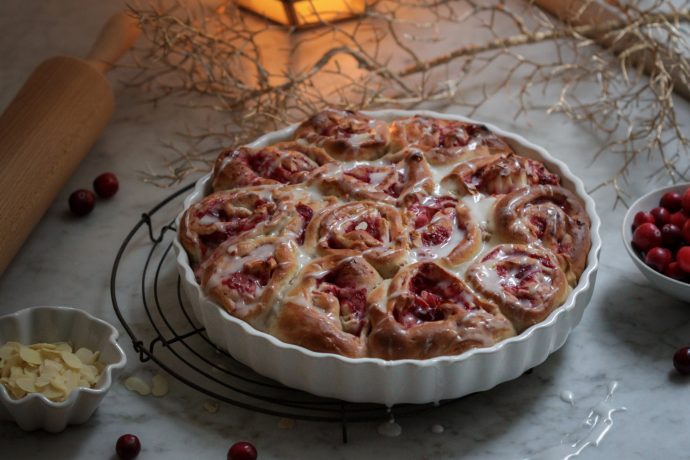 Die Portion reicht für 6-8 Personen. Die Schnecken werden unglaublich fluffig, weich und fruchtig. Es ist auch ein herrliches Dessert für Weihnachten.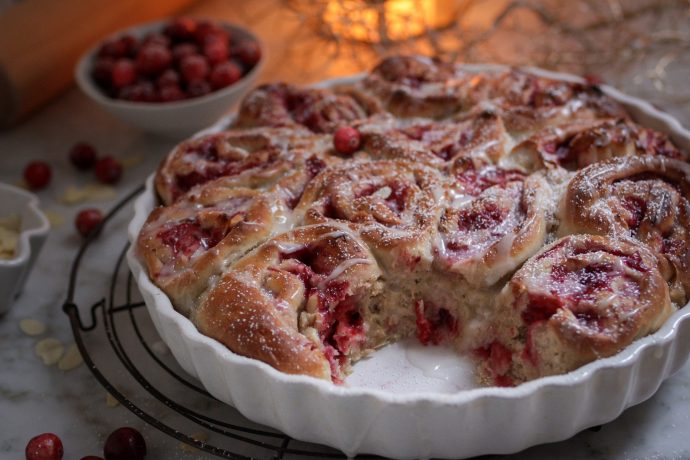 So weich und herrlich werden die veganen Hefeschnecken. Die Cranberries machen sie fruchtig und besonders lecker.