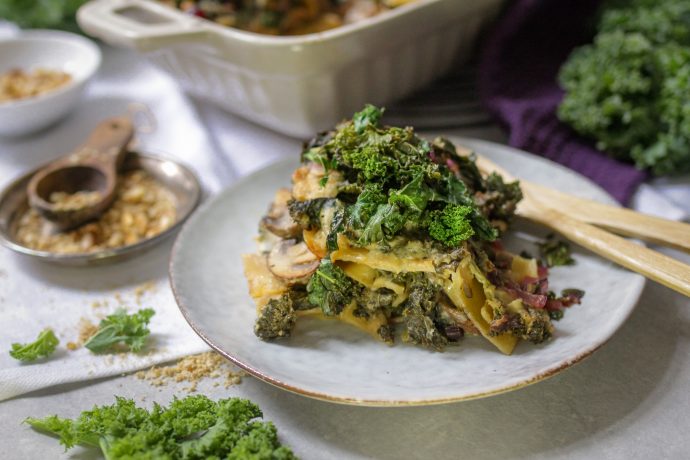 Zu meinen Favoriten hinzufügen!
It's time for delicious kale and creamy cream mushrooms between fine pasta sheets! Yes, it's time for a delicious winter lasagna. As you may know, I am a big fan of seasonal cooking. It simply fits to what our body needs. In spring we are awakened from our hibernation by bitter wild garlic and draining asparagus that stimulates our organism. In summer, when berries and juicy fruits are ripe and green salad is in the garden, we feel like crunchy, refreshing and light dishes. In autumn and of course during winter time the body demands hearty, creamy and satisfying dishes and fermented foods to get you through the cold weather. Also that citrus fruits now support our immune system with an extra portion of vitamin C is brilliant! So nature gives us exactly what we need. Strawberries, asparagus and melons in winter, on the other hand, are not only cause huge unnecessary CO2 footprints (if you live in Europe of course), but are also simply unsuitable for what my body now demands. For grey cold days, this delicious vegan kale lasagna with creamy mushrooms is simply perfect. It is especially rich and has a great, slightly nutty taste due to the kale. I also love to add pumpkin seeds for some extra crunch. If you like, you can also replace kale with savoy cabbage in this recipe. Enjoy the season! Yours Lea.
Ingredients (serves 3-4)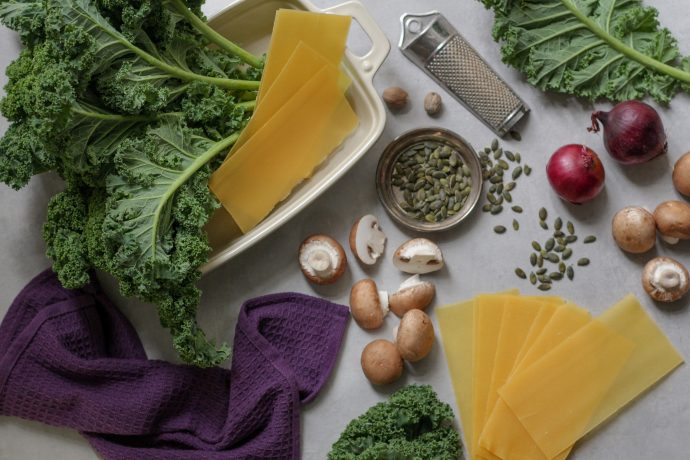 2 medium onions

1 small clove of garlic

300 g (20.5 oz) kale (Gewicht mit Rippe gewogen, Gewicht nur Blätter: 190 g)

25 g (0.88 oz) pumpkin sseds

300 g (10.58 oz) champignons

3-4 tbsp. vegetable oil

1-2 tsp. lemon juice

2 tbsp. vegan balsamic vinegar

Salt & pepper

A pinch of freshly grind nutmeg

1 tbsp. soy sauce

1-2 tbsp almond paste

1 tsp. hot mustard

1 tbsp. yeast flakes

1/2-1 packet of vegan lasagne pasta sheets

Optional: roasted pine nuts for garnish
For the creamy béchamel
35 g (1.23 oz) margarine

35 g (0.2 cups) flour

450-480 ml (1.9 cups) plantbased milk (e.g. almond milk or oat milk)

3 tbsp. yeast flakes

1 tbsp. soy sauce

Salt & pepper
Instructions (35 minutes preparation + 25 minutes baking time)
Peel and mince onions and garlic clove. Remove the kale leaves from the hard stalk and wash. Crush or chop the kale a little (it needn't to become too fine). Also chop the pumpkin seeds with a sturdy knife. Clean and slice the champignons.

Heat 2 tbsp vegetable oil in a large pan. Briefly sauté half(!) of the onions and the chopped garlic. Then add the chopped kale and fry for 2-3 minutes. Turn the kale leaves from time to time with a wooden spoon. After 2-3 minutes add the chopped pumpkin seeds and sprinkle with lemon juice. Add 2 tbsp. balsamic vinegar and season the kale with salt, pepper and freshly grated nutmeg. After about 4 minutes cooking time, remove the kale from the heat. It should still be nicely green and not brownish or overcooked.

Again, heat 1-2 tbsp vegetable oil in a pan and sauté the remaining onion cubes until translucent. Add the sliced mushrooms and fry for 2-3 minutes until slightly soft. Season the mushrooms with 1 tbsp soy sauce. Then stir in 1-2 tbsp almond paste, 1 tsp. hot mustard and 1 tbsp yeast flakes as well as 100 ml water (or plantbased milk, if you like). Season mushroom cream sauce with salt and pepper to taste.

Preheat oven to 200 °C/ 392 °F fan.

In a final step, prepare the béchamel sauce. Melt 35 g margarine in a saucepan. Add 35 g flour and immediately stir in 450-480 ml plantbased milk. Whisk constantly. Stir in 3 tbsp. yeast flakes and 1 tbsp. soy sauce and season to taste with salt. Now all three lasagne fillings are ready.

Brush the lasagne dish with oil or grease with margarine. As the first layer, spread a little bit of béchamel sauce over the base and layer the lasagne sheets on top. Then fill in some of the kale and cover this layer with béchamel (not too much – you still need some béchamel to finish). Place the pasta sheets on top. Add more kale and then the creamy mushrooms. Add another layer of pasta. Spread the rest of the green cabbage (except for a little for garnish) and the rest of the béchamel over it.

Bake kale lasagne at 200 °C/ 392 °F fan in a preheated oven for about 25 minutes.

After baking, let the lasagne cool for 20-30 minutes before cutting. Garnish the lasagne with the left-over kale and season it with fresh pepper. Add some roasted pine nuts if you like & enjoy.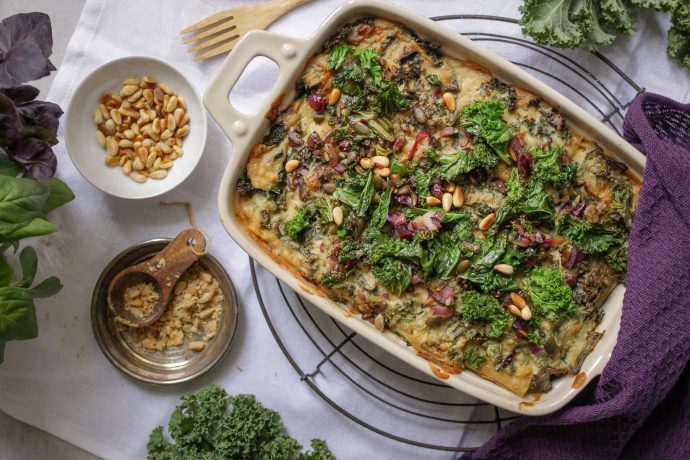 You can do the recipe also with savoy cabbage instead of kale if you like.