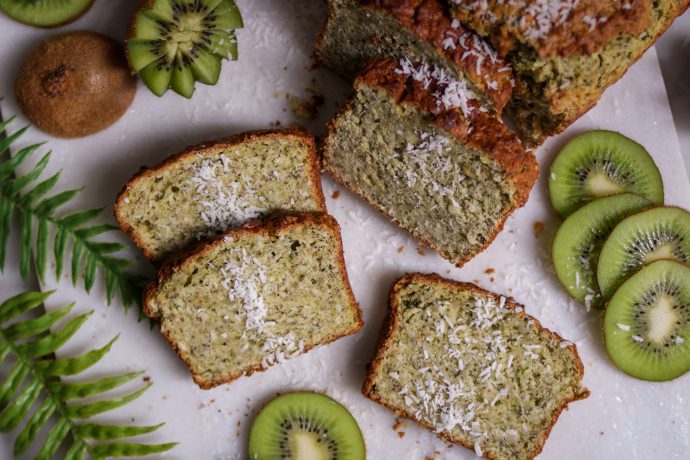 Zu meinen Favoriten hinzufügen!
Kiwis are one of my favorite fruits ever. I love their funny hairy, egg like look as much as the refreshing taste of their bright green pulp. I also often use kiwis as eye-catcher for my breakfast porridge as it's super easy to cut them into a fun star shape. Just insert the point of your knife into the kiwi skin and make diagonal slices around the entire kiwi, pull the slices apart to separate and enjoy the beautiful look.
I bet lots of you already know this little kiwi carving tricks. But here are three facts about kiwi you may didn't know so far. First, when your kiwi is of good quality and ripe, you can eat it with the skin. Just wash the kiwifruit thoroughly and rub off a bit of their tiny "hairs". Second, kiwis are not originally from New Zealand, but formerly stem from China. And today, the European Union is among the largest producers and exporters of kiwifruits in the world. European kiwis are especially valued for their great quality. Third, believe it or not, you can bake a wonderful cake using fresh kiwifruits. The cake tastes absolutely delicious. It's a soft, juicy sponge cake with a wonderful lemony note. I bet your guests will be impressed when you serve them kiwis in form of a yummy cake. And they'll love it anyway. So enjoy, all the best Lea
*The following recipe is sponsored by "Enjoy – it's from Europe", a European Fruits promotion campaign with the objective to increase awareness on the health benefits deriving from fruits and the wealth of European fruits available.
Ingredients for one kiwi cake (serves 8, use a baking tin of 8.2-10.6 inch length)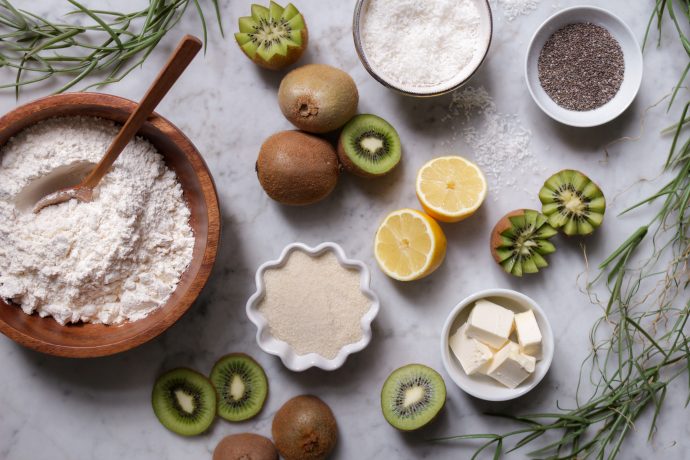 4 kiwi fruits

2 tbsp. lemon juice

35 g (1.2 oz) chia seeds (3 heaped tbsp.)

250 g (2 cups) spelt flour

50 g (1/2 cup)desiccated coconut

A pinch of salt

1 tsp. baking powder

1 tsp. baking soda (or more baking powder)

60 g (2.1 oz) margarine

100 g (3.5 oz) raw cane sugar

1 tsp. ground vanilla or 1-2 tsp. vanilla extract

Optional for an intense green coloring: 2 tsp. Matcha tea powder

Optional: 1 tbsp. poppy seeds
Instructions (2 hours soaking chia seeds + 15-20 minutes preparation + 35 minutes baking time)
Peel 4 kiwis and puree them with 1 tablespoon lemon juice in a blender.

Stir three heaped tbsp. chia seeds into the kiwi puree and leave to swell in the fridge for at least 2 hours. Stir the puree once in between. The chia seeds should thicken nicely and turn the the kiwi puree into a jelly-like mass.

Grease baking tin with margarine and dust with some flour. Preheat oven to 180° C/ 356°F fan.

Sift the flour into a bowl and mix loosely with the desiccated coconut, a large pinch of salt and 1 heaped tsp. of baking powder and 1 tsp. baking soda.

Melt the margarine in a pot, whisk in thoroughly raw cane sugar and the vanilla extract.

Stir the kiwi -chia-jelly into the flour mixture and immediately afterwards add the melted margarine-sugar mixture. Then stir the dough vigorously with a spoon until the ingredients are evenly mixed.

Finally, for a nice coloring and as an optional measure, stir in 2 tsp. of Matcha tea powder and fold in 1 tbsp. of poppy seeds.

Spread the dough into the greased baking tin.

Bake the kiwi cake at 180°C/356°F fan for 30-35 minutes. About 10 minutes before the end of the baking time, cover the cake with some parchment paper so that the surface does not brown too much.

After the baking time (stick test) let it rest for another 10 minutes in the residual heat with the oven door slightly open.

Allow to cool the cake for at least 30 minutes before cutting. Enjoy this delicious kiwi cake!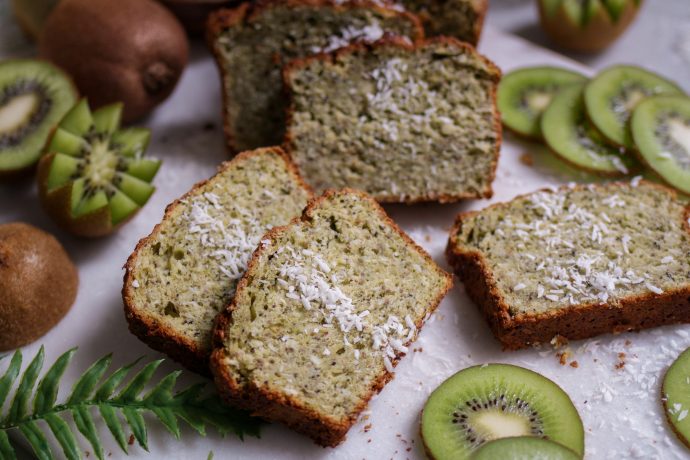 Tip: The consistency of the cake is best after storing it in fridge for one night.