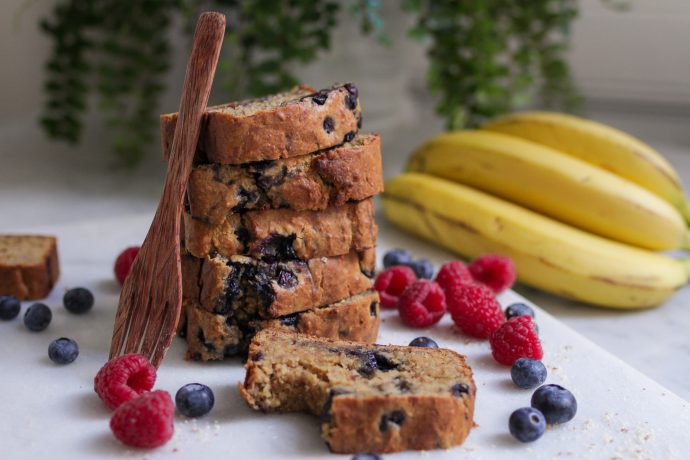 Zu meinen Favoriten hinzufügen!
This vegan banana bread ist so much goodness in a loaf! You know, I've really got a sweet tooth, but I'm not so much into creamy heavy cakes. Instead I appreciate the fine sweetness and moist texture of a really good banana bread. It's a real soulfood treat sweetened with banana itself and coconut sugar. By the way: Are you familiar with coconut sugar or do you already use it? I really love coconut sugar as it adds an awesome caramel flavor to the banana bread and contains minerals and vitamins as well. The recipe for this delicious loaf is super easy. Just whisk together all the ingredients in a bowl and fill the quickly made batter into a loaf pan. That's it! 35  minutes baking time later you can already indulge yourself in this wonderful sweet treat. I bet, you already have most of the ingredients at home. So, don't wait and enjoy. All the best Lea.
Ingredients (One loaf, serves 4-6)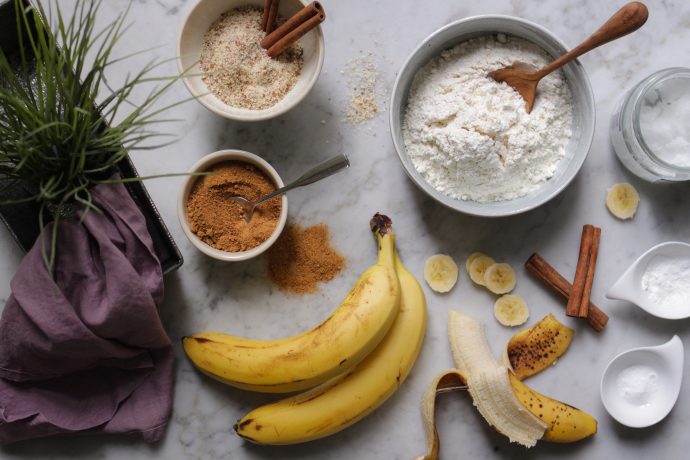 1,5 ripe bananas

200 g (7.05 oz/ 1.6 cups) (spelt) flour type 630

80 g (2.82 oz) ground almonds (or hazelnuts)

50 g (1/2 cup) coconut sugar (non liquid)

1 pinch of salt

1 tbsp. cinnamon

1 tsp. baking powder

1 tsp. baking soda (or just more baking powder)

1 tbsp. apple cider vinegar (or lemon juice)

60 ml (2.02 oz) coconut oil + some oil or margarine for greasing the baking pan

150 ml (2/3 cup) plantbased milk  (e.g. oat milk)

50-70 g (1.7 – 2.4 oz) frozen blueberries

Optional: Drizzle your banana bread with dark almond butter and date syrup. This tastes so good!
Also: A small loaf pan 25 x 11 cm (9.8 x 4.3 inch)
Instructions (15 minutes preparation + 35 minutes baking time)
Preheat oven to 180 °C/ 356 °F circulating heat/fan and brush a loaf pan with coconut oil (or margarine).

Peel one and a half bananas and mash them finely with a fork till you get a kind of "banana cream".

In a medium bowl wisk together flour, ground almonds, coconut sugar, mashed banana, a pinch of salt and 1 tbsp. cinnamon. Add baking powder and baking soda and drizzle 1 tbsp. cider vinegar directly onto the baking soda until it begins to foam.

Add coconut oil and plantbased milk and stir with a spoon to make an even batter.

Gently fold in the frozen blueberries and pour the batter into the prepared pan.

Bake banana bread at 180 °C/ 356 °F circulating heat/fan for approx. 35-38 minutes (check the doneness with a wooden stick).

Let banana bread cool down, remove from the pan and enjoy.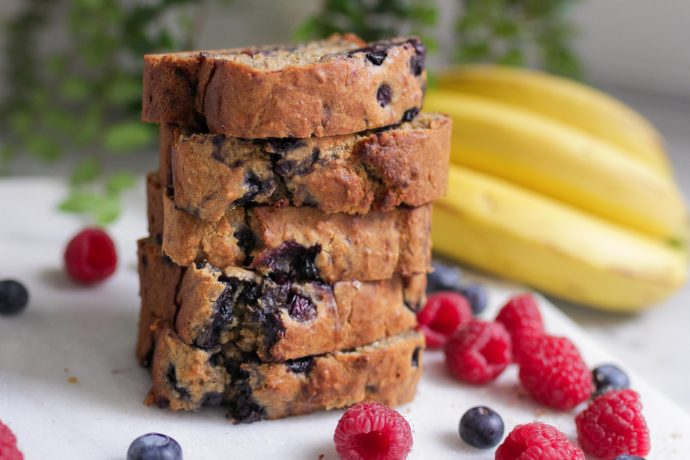 I especially love eating my banana bread with dark almond butter and date syrup. This is super delicious.