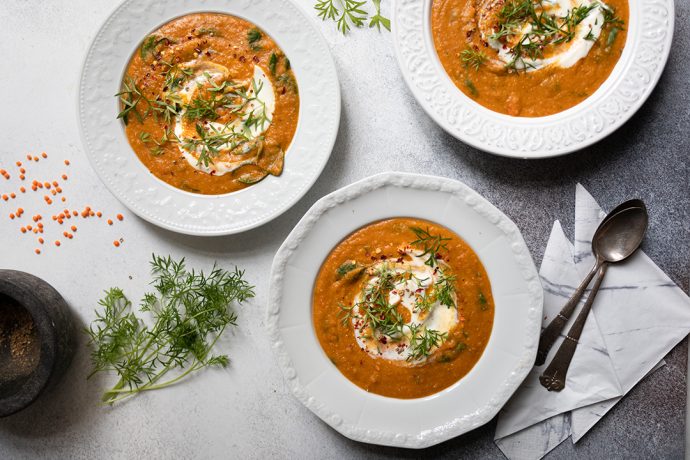 Zu meinen Favoriten hinzufügen!
This delicious red lentil soup is a real protein powerhouse and full of flavor. It's one of my favorite soups as I usually have all the ingredients on hand. You just need the red lentils (easy to store in a glass container), onions, carrots, some celery stalks and a small variety of spices. As the soup is super creamy and rich, I normally eat it as a main dish and not only as starter. Red lentils should be an integral part of your plantbased diet as they provide not only a vast amount of protein but also iron, zinc, folacin and magnesium. So, I hope you love this soup as much as I do. All the best, Lea 
Ingredients (serves 4)
1 medium onion

1 small clove of garlic

270 g (9.5 oz) carrots

120 g  (4 oz) celery stalks

250 g (1 1/4 cups) red lentils

1 tsp cilantro seeds (crushed in a mortar)

2 tsp sesame oil (or another vegetable oil)

1 tbsp vegan red curry paste

1 tsp tumeric

1 small tsp cumin

1 tsp garam masala

2 tbsp gluten free soy sauce (or salt for a soy free version)

1-2 tbsp lemon juice

Two handful baby spinach

Optional: 2 tbsp sriracha chili sauce

Optional: some fresh cilantro leaves

Optional: sesame seeds for garnish

Optional: 1 vegetable yoghurt (soy or coconut) for garnish

Optional: chili flakes to yur liking
Good to now: In case you wonder what fresh herb you see in the recipe picture – its "wild cilantro". I buy it in our super market in Berlin. They have a nice "indoor farm" with fresh herbs. There I discovered wild cilantro for the first time and instantaneously fell in love with it. It's not only beautiful with its delicate leaves but also tastes super intense. The taste is the same as "normal" cilantro but even more aromatic. Hope you can find this sort of cilantro at your place, too.
Instructions (35 minutes preparation time)
Peel and cut the onion and the garlic clove. Wash carrots and the celery stalks and chop them. Rinse red lentils with water in a finely woven strainer and crush the cilantro seeds in a mortar.

Heat 2 tsp of sesame oil in a pot. Soften onion and garlic cubes. Add the chopped carrot and celery stalks and roast it for 2-3 minutes.

Add the crushed cilantro seeds till it develops an aromatic smell. Then add red curry paste, the rinsed lentils and 850 ml (3.5 cups) water.

Bring it to a boil, then reduce heat and let the ingredients simmer for about 12 minutes, till the lentils and the veggies get soft.

Puree the soup with a hand blender (or in a blender) and season it with tumeric, cumin, garam masala, soy sauce (or salt) and lemon juice. Dilute the soup with water to your liking.

Let the soup cook/simmer for another 5 minutes and add two handful of washed baby spinach. If you like, also add some chopped cilantro.

Pour the soup into bowls and serve it hot garnished with vegan yoghurt, cilantro and sesame seeds (and some chili flakes, if you like)