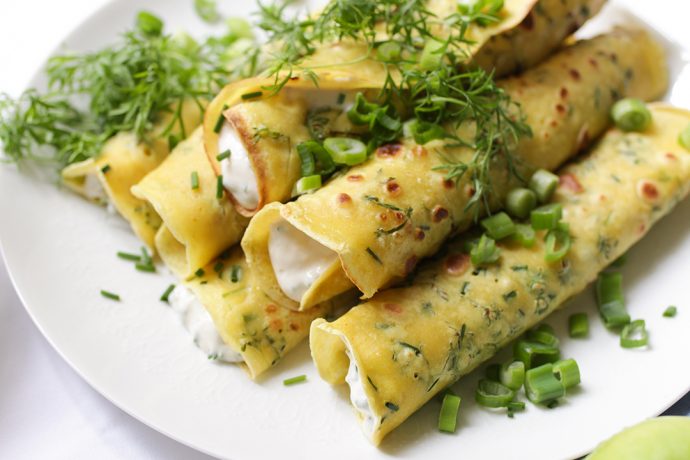 Zu meinen Favoriten hinzufügen!
Vegan pancakes are always a good idea. They are quickly made, super soft and so versatile. You can serve them with any filling or veggies to your taste. This is a "spring version" with fresh herbs and vegan curd (Greek yoghurt) for brunch or as delicious snack, but you can also enjoy them also stuffed with spinach and tomatoes or grilled veggies, such as zucchini, mushrooms or bell pepper. What is your favorite? Enjoy this recipe and make yourself a great time, yours Lea
Ingredients (serves 2-4/ 8 pancakes)
For the pancakes
300 g (2.5 cups) flour (I used spelt flour)

500 ml (2 1/4 cups) plantbased milk

A dash of sea salt

0.5 tsp curcuma (for a nice golden color)  Kurkuma

1 bunch of chives and/or parsley and/or cilantro or other fresh herbs to your liking

plantbased oil for baking the flapjacks in a pan

2-3 spring onions (optional)
For herbed curd/Greek yoghurt
400 g (1.4 cups or 14 oz) vegan curd (Greek yoghurt)

3 tbsp lemon juice

1 tsp tahini

Sea salt

A handful of fresh herbs
Instructions (20-25 minutes)
Wash, dry and chop the herbs (one part for the pancakes and a big handful for the vegan curd)

Stir together the vegan curd, 2 tbsp of lime juice, 1 tsp tahini, a dash of sea salt and a handful of chopped herbs. Season the curd with some more salt and lemon juice to your  taste.

For the pancake batter sift the flour into a bowl. Add a dash of sea salt, a bit of curcuma and the plantbased milk and stir a soft dough. Fold under two handful of chopped fresh herbs.

Heat some drops of plantbased oil in a non-stick shallow pan. Spread a portion dough evenly in the pan and flip over after the pancakes lifts a little bit from the side (after 1-2 minutes). Than bake nice golden from the other side , too. Bake the pancakes one after the other from both sides and keep warm in the oven.

Fill or serve the soft golden pancakes with the herbed curd/Greek yoghurt. Spread additional fresh herbs and chopped spring onions over the pancakes and enjoy!